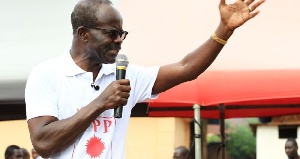 "…But the people are tired of listening to and reading about hope when we face senseless deaths on our roads, in our hospitals and homes; when politically clothed groups act with impunity; and when our farms and rivers are destroyed. All we need are a few doers to right our wrongs, fix our problems and lead us to the light of the new dawn" (Kwesi Nduom).
The stark reality and irony of our internal colonialism

Kwesi Nduom's provocative observation is a statement of fact.

No man or women of conscience will question the truthful and factual substance of this simple statement.

Ghanaian politicians are known for their habitual greatness as preachers and singers.

The perennial problems of galamsey, open defecation, institutional corruption, poor public services, extreme partisan politics, preventable deaths in hospitals and homes, rape of the public purse by both leading political parties, ballooning unemployment and national debt, deteriorating educational system, gross misuse and mismanagement of environmental resources, senseless road/motor vehicle accidents to name a few, have received only casual redress in the political calculus of the New Patriotic Party (NPP) and the National Democratic Congress (NDC).

Yet, technically speaking, this laundry list of problems is not the major issue we face as a people.

Leadership is.

In fact the lack of quality and patriotic leadership is the greatest problem we face as a people.

We should note that great nations are made of and led by great leaders, of the highly patriotic and visionary and conscionable and incorruptible type, not the type we have seen in Ghana and across Africa.

Of course, we are not saying this complex question of leadership failure is unique to Ghana or Africa per se.

It is a global issue regardless, although our central focus is on Ghana and Africa. Therefore, our criticism of Ghanaian and African leadership is not based on the point of view of a rigid framology of essentialism. In short, leadership failure is an integral component of the character traits of humanity. With our declared caveat out of the way, let's listen to Uganda's Yoweri Museveni for instance:

"As Hitler did to bring Germany together, we should also do it here. Hitler was a smart guy, but he went a bit too far for wanting to conquer the world."

Even if it means building concentration camps and gas chambers and roasting, frying and slaughtering his fellow Africans in them?

Museveni is not demonstrating an iota of strategic humanism in the moral architecture of his megalomaniacal bones.

Obviously this is a man who considers his fellow Africans as expendable communities in the ideological marketplace of Eurocentric African politics.

Or, ex-President Kufuor rewarding his mediocre political appointees with expensive gold chains. Clearly, then, a leader who is mediocre in his political vision, performance and actions will be defined by the debasing mediocrity of his political appointees. A frog doesn't beget a bird. There's no two ways about it.

Or ex-President Mahama, who went into a meeting more than four hours late with members of the diplomatic corps and Ghanaian traditional leaders and elsewhere, that is previous to this condemnable episode, with another team of South Korean ambassador to Ghana and South Korean engineers where the ex-President Mahama was again late.

Yet he and his administration saw no need to apologize for his unprofessional lateness.
Let's just add here, that punctuality is a scare currency in the political economy of the Ghanaian body politic.

It is an extinct language with no possibility of active resurrection in our lazy political process.

Punctuality is an exotic language for those with superhuman qualities, and many Ghanaians unfortunately have accepted this dogma without question, largely because the Ghanaian politician and clergy have succeeded in making the ordinary citizen feel that he is somehow subhuman.

Nevertheless, we could still advance a tentative argument that ex-President Mahama's unprofessional attitude was probably driven by a compensatory reactionary riposte to his earlier shabby treatment by the Scottish Parliament, given the presence of Ron Strikker William (Ambassador of the Kingdom of the Netherlands), William Hanna (the Head of the European Union Delegation to Ghana), and Andrew Barnes (Australia High Commissioner) among members of the diplomatic corps.

The only major drawback is that there just does not seem to exist sufficient evidence to execute this theory.

If indeed ex-President Mahama felt so strongly about his disrespectful and dishonorable treatment at the hands of his host, the best option was for him and his advisors to protest it and even to reject the honor.

Instead, he did neither.

He went ahead to savor the honor because it was coming from his patrons—his former slave and colonial master.

One thing is certain: The Scottish Parliament will not have treated an Asian leader, say Chinese or Japanese or Indian or South Korean, the way it treated ex-President Mahama. The simple truth is that we cannot expect Europe, the West for that matter, to respect us if we lack self-respect, if we don't respect ourselves.

Yet the best our negrified, Eurocentric and bovaristic leaders can do for us as a people, is merely to represent their former slave and colonial masters on the local scene in the best way possible, perhaps in a way these former slave and colonial masters could never have imagined replicating in the continent today.

Today the best political leaders we have on the continent are house niggers. This is why Helen Zille, former South African main opposition leader, of the Democratic Alliance (DA) party, could look into the wicked faces of these Eurocentric house niggers who call themselves presidents and without mincing words, tell them:

"For those claiming legacy of colonialism was ONLY negative, think of our independent judiciary, transport infrastructure, piped water etc.,...

"Would we have had a transition into specialized health care and medication without colonial influence? Just be honest, please!"

Food for thought: some critical perspectives

Zille sees Jacob Zuma and his top Indian advisors and cronies tearing down the edifice of little progress chalked in post-Apartheid South Africa.

Yet her nostalgic reference to colonialism although inappropriate and strategically inopportune and highly provocative, and most likely to offend or stoke a storm of anger in Black South Africa, somewhat makes a compelling case for dislodging these armies of negrified and bovaristic political gangsters from their privileged zones of comfort.

Let's be clear here. She probably does not see any potential difference between colonialism and the kind of nepotism, harmful elitism, cronyism, and institutional corruption which the mediocre leadership of Jacob Zuma represents.

It is, however, deeply sad to hear a reformed descendant of slavery, imperialism and colonialism indirectly call out our leaders in such demeaning terms.
On the other side of the ideological spectrum was Frantz Fanon who couldn't miss the painful truth about post-colonial Africa, when he expressed his discomfort and trepidation about post-colonial African leadership strongly taking after the anti-humanistic character of the masters and authors of slavery, colonialism and imperialism.

Wole Soyinka seems to agree with Fanon in substance when he too remarked "the oppressive boot and the irrelevance of the color of the foot that wears it" (see also his book "Of Africa").

Granted, one would have thought Jacob Zuma had learnt from the experience and hard lessons of Thabo Mbeki when he, the latter, assumed the political likeness of America's Richard Nixon. From Charles Taylor to Emperor Bokassa to Idi Amin to Jacob Zuma, the respective lyrical contents of the songs about the abject failure of political leadership in and across Africa appear to be nearly the same.

Listen to Wiyala's "Africa":

"The land is good, the land is fine

"Gold we have, diamond we mine

"Yet we fight; we cover it all blood

"Tell me why we wallow in the mud

"Africa! Africa! Africa! Mama Africa

"We cry for peace…Africa!

"Tell me why you fight…tell me why we fight!"

That sought-after peace quickly dissolves in galamsey-polluted rivers, forests, and lands. For us though, what is important about Wiyala's "Africa" is that it takes up the central themes of Culture's "Tribal War" and the Edward Zwick-directed movie "Blood Diamond," although her pointed lyricism turns Peter Tosh's "Mama Africa" completely upside down. This is instructive.

Closing remarks: additional observations and concerns

Politics and democracy have become a means to unjust, illegal enrichment and material aggrandizement for members of Ghana's ruling class.

In Ghana bureaucracies are purposefully created to reward foot soldiers and persons, who contribute to their party's electoral success, rather than filling these bureaucracies with men and women of unimaginable political vision and technocratic insight, with men and women who demonstrate unquestionable loyalty to the nation, with men and women who are more than capable of technocratic and administrative finesse.

Ayi Kwei Armah's "The Beautyful Ones Are Not Yet Born" speaks to this fatalistic anomaly in our political genes.

It is as though we have completely outsourced our natural intelligence to superstition, mediocrity, mediocrity, extreme partisan politics, and material greed, creating an absence of national consciousness in the Ghanaian body politic.

We also seem to have failed at every turn of national leadership—political, religious and traditional. For our leaders are only as good as the servile agents and local champions of international capitalism, merely as good as house niggers.
Again, galamsey, open defecation, institutional corruption and the other multitude of national ills are not the real problems confronting Ghanaians.

Leadership is!

For instance pseudo-democrat Akufo-Addo, an elected leader whose plagiarized inaugural speech condemns "Third World Standards," endorses the rule of law and public safety and judicial fairness in no uncertain terms, suddenly sets his political dogs, the Invincible Forces and the Delta Force, loose on Ghanaian citizens, mostly his real and imagined political enemies.

But Akufo-Addo, an ideologue and political theologian behind the character mask of the "All-Die-Be-Die Yen Akanfuo" construction, is not alone in this regard, that is those politicians and their supporters who identify with our creeping culture of political violence. Let's consider a few notable examples:

Monti 3's reported threat to "kill and rape judges."

Naaba Abdulai's "I kill people every day."

Kennedy Agyapong's alleged instructions to Akans, specifically Asantes, "to massacre Ewes and Gas."

Notwithstanding the above, we are certain the morally endarkened Akufo-Addo is merely paying lip service to what should actually be done to his vigilante cottage industry of political dogs on whether to dismantle them.

In one of previous essays for instance, we alluded to the concept of "sovereign immunity" and its larger implications for the political strategy of attaining power and influence, and of entrenching that power and influence in our political economy, yet, above all, we also do know for a fact that the kind of imperial presidency, executive dominance, abuse of incumbency, arrogance of power, vigilante politics, and coercive power the ruling class exercises in our open-defecation, galamsey democracy is gradually turning our beloved country into an Orwellian backwater of Dostoevskian buffoons. Our leaders will do anything to grab political power and influence by any means necessary.

This is probably one of the major reasons imported Western democracy is now Africa's greatest enemy. Thus, assuming power via this fraudulent political process some call "democracy" apparently means more to these quack and wannabe politicians than developing Africa and putting sustainable systems in place to develop human capital for the continent and harnessing the potential resources of this wellspring of human capital for sustainable development and growth.

There is, however, no doubt in our minds that internal colonialism frustrates these noble and progressive efforts. Unfortunately these negrified internal colonialists and colonizers, local political slavers and imperialists, to say the least, are largely to blame for our continued mess. What is more, unlike these negrified agents and authors of our internal colonialism, Nkrumah invested his unstinted loyalty in preserving the dignity of African humanity in particular and humanity in general, while his conscience dictated the terms and parameters of global humanism.

We therefore need the kind of vigorous national mentation that will overthrow these cruel politicians. In other words we demand for the kind of critical mass that will overthrow the status quo and usher in true sustainable development and growth, to benefit the present and future generations. And what Bob Marley called "Natural Mystic" was as true yesterday as it is today and will be so forever. Listen to him:

"There is a natural mystic

"Blowing through the air

"This could be the first trumpet

"Might as well be the last

It is no news that our sleeping leaders are overlooking or underestimating this inner urge, this inner drive, if you will—for true, sustainable change. On the other hand the people themselves, who should be driving this inner prompting for genuine change, appear to have gone into hibernation. What Bob Marley aptly called "natural mystic" is waiting for that critical mass to ensure it blows up the wicked faces and prosthetic heads of these politicians. Finally, what he also called "Wake Up & Live" is instructive here:

"Wake up and live!
"Rise ye mighty people

"There is work to be done…

"Rise from your sleepless slumber…"

Yes, our leaders need to move far away from the worship of shadows and illusions and seek embrace reality.

What happened to the patriotic passion which Nkrumah, the quintessential genius and apostle of African decolonization who saved an entire generation of humanity from the tyranny of colonialism and imperialism—brought to bear on Ghanaian, African and global politics—only for his negrified and bovaristic successors to take us back to the gripping tyranny of internal colonialism—the political and social depravity of the Invincible Forces and the Delta Force among others?

Thus Akufo-Addo and his government will have to share the blame for the continued existence of these politically affiliated groups with the Bureau of National Investigations (BNI), the Criminal Investigations Department (CID), the Ghana Bar Association (GBA), and every other institution tasked with safeguarding our national security interests.

Further, the GBA's condemnation of the actions of the Delta Force against one of its own, that's the Kumasi Circuit Court Attack Controversy, did not go far enough. The GBA should immediately dispatch a strongly worded petition to the president asking him to disband the group, and barring any political action on the part of the presidency in this matter, the GBA should take it upon itself to institute a qui tam lawsuit against the groups since their actions and very existence are contrary to the spirit and letter of the national constitution. Now, regarding the spectacular creeping tyranny of the Invincible Forces and the Delta Force, Akufo-Addo might as well want to consider what Soyinka had to say about Boko Haram:

"We must learn to accept the fact that not all who walk on two legs belong to the commonality of humans. I view Boko Haram in that light."

Where is the love these leaders profess to Ghanaians when they want votes? Aren't we aware that the size of Nkrumah's love for Ghana and Africa was and still is only matched by his fearless willingness to die for Africa and Africans, even if it meant putting Ghana and Africa on the same technological, scientific, and industrial map as the West and the emerging economies of the East?

None of our leaders today can boast of the same power of vision and foresight, technocratic insight, and patriotic dedication to the cause of African transhumanism as Nkrumah. This is not nostalgic romanticism. Rather, it is a fact borne out of pragmatism and not out of ideological selfishness on our part.

Our contemporary leaders are all lying preachers and lip-syncers. Milli Vanilli did a better job!

We shall return…

REFERENCES

Ghanaweb. "We Need Leaders To Walk The Talk; Not Hope Messages—Nduom." April 15, 2017.

T.J. Strydom. "South African Opposition Figure Probed by Own Party After Colonialism Tweet." March 16, 2017. U.S. & World News/Reuters.

Ghanaweb. "Mahama's Lateness Angers Diplomatic Envoys." November 27, 2017.