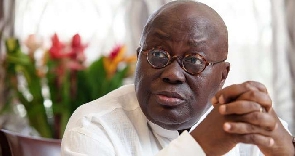 Much as the 2016 independent presidential candidate, Jacob Osei Yeboah (JOY) is absolutely right in asserting that in Ghana, the justice net often catches the emaciated fish and the fat ones easily slip through the justice net, his assessment that the Special Prosecutor will remain a toothless bulldog is somewhat specious and pessimistically unrealistic (See:' Special Prosecutor will only jail houseflies'-Jacob Osei Yeboah; 3news.com.gh/ghanaweb.com, 09/01/2018).
Jacob Osei Yeboah is said to have lamented: "I have heard there is something the president assented to call Independent Prosecutor". "It is only houseflies that it will jail." "They are not coming to do anything. It will end up on the shelves."

Judging from JOY's unpardonable incertitude, one cannot be far from right for suggesting that our development has been beclouded by needless dubieties, -----'we can't do and won't do attitude'.

With all due respect and without seeking to be condescending on this occasion, I will venture to state that the 2016 independent presidential candidate's inexorable scepticism and somewhat brutalised claims give oxygen to the inane views of the supremacists like the impolitic Turkish Taxi Driver, who once indiscreetly pontificated that "Africans are "lousy people with no innovative skills".

All the same, we must forgive the impolitic Turkish Taxi Driver and rather direct our frustrations towards the pessimists like Jacob Osei Yeboah, who have been needlessly holding back our advancement with their can't do and won't do attitude. .

Disappointingly, we are often judged by our western counterparts as unproductive and incapable lots who aren't willing to contribute meaningfully to the advancement of humanity.

It is for this reason that every patriot must be extremely concerned, when sceptics like JOY try their level best to trample upon an expedient idea such as the creation of the Special Prosecutor's office in our fight against the unbridled sleazes and corruption.
We should, however, not lose sight of the fact that all the wonderful inventions we are enjoying today were mere aspirations of the ambitious inventors, who positively matched their thoughts with their skills and delivered the goods to the benefit of humanity.

Apparently, the general believe is that visionary leaders are noted for their positivism, idealized influence, inspirational motivation, intellectual stimulation and individual consideration (Nemanich and Keller, 2007).

Some experts however explain that idealised influence depicts visionary leaders as most respectful, reliable and meritorious. And more so idealised influence explains leaders unparalleled ability in setting vision and implementing it to impact on their subordinates (Bass et al., 2003).

On the other hand, inspirational motivation explains how visionary leaders routinely raise team spirit and encourage their subordinates to be creative (Bass et al., 2003).

If you may recall, during the 2016 electioneering campaign, the then presidential candidate of NPP, Nana Akufo-Addo, insisted: "I am promising you that within 18 months of a new government of the NPP, under my leadership, the face of our country, Ghana, is going to change".

The preceding exposition, so to speak, underscores Nana Addo's positivism, commitment and enthusiasm.
Truly, a true leader wants nothing more than to make people independent, as leaders in their own rights. Indeed, a visionary leader reflects our own light back to us.

And more so a true leader always comes up with pragmatic ideas with the view to transforming the lives of his/her subordinates.

Prior to the 2008, 2012 and 2016 general elections, the then presidential candidate, Nana Akufo-Addo, made Free 'SHS' his principal campaign message. As it was expected, the opposition NDC communicators scoffed and labelled him an inveterate liar.

Shockingly, some Ghanaians, including my maternal uncle, bought into the NDC's manipulating gimmicks and rejected the offer of the Free SHS on two previous elections (2008 and 2012).

But lo and behold, discerning Ghanaians saw the light and eventually gave the Free SHS provider, Akufo-Addo the mandate on 7th December 2016.

And, true to his word, President Akufo-Addo has honoured his promise of the Free SHS.
This is what we can call a true leadership. Somehow, leadership and management scholars observe that visionary leaders act as role models, motivate, provide meaning, optimism, enthusiasm , strategic thinking and stimulate the intelligence of their subordinates(Bass, 1985).

Interestingly, Akufo-Addo insisted during the 2016 electioneering campaign: "We are going to get out of stagnation and backwardness, and move our country onto the path of progress and prosperity. We can do it. We, the Ghanaian people, have the capacity to change the circumstances of our lives".

The preceding statement really emphasises Nana Addo's intellectual stimulation and positivism. Apparently, intellectual stimulation explains how true leaders promote their subordinates innovative and creative skills by encouraging them to solve problems entirely in new ways (Bass et al., 2003).

If you may remember, leading to the 2016 election, Nana Akufo-Addo asserted: "This 'new Ghana will be a Ghana with opportunities for all, and where everybody is taken care off. We will have a society that is caring and compassionate and expresses solidarity. Nobody is going to be left behind. We are all going to march together, hands linked together, to that great future that beckons us, here in Ghana."

In fact, back then, I had no qualms about Nana Akufo-Addo's claim of bringing everyone on board to build the nation.

Truly, Nana Akufo-Addo brought all the people who contested him in the NPP's flagbearership race together. Yes, he resolved all pre-election issues and worked collaboratively towards the 2016 election victory.
And, following his election, President Akufo-Addo graciously assembled a working team consisting of people from all walks of life, including a 2016 presidential candidate from an opposition party.

This is indeed a leadership by example. In fact, Nana Akufo-Addo is 'the Moses' of our time.

Biblically, Moses was a visionary leader. We read in Exodus that he was a shepherd – he had a modest, humble and patient upbringing. Moses employed his humility, patience and tolerance when he had the opportunity to speak to God. He kept watch as thousands of sheep grazed the fields. Moses noticed that one sheep was missing and went off to look for it, finding it at a distant apart.

When the sheep had finished drinking, Moses lifted it onto his shoulders and carried it back to the flock. When Jehovah God saw this, he became aware that Moses was a man of reason, empathy and selfless devotion, a man truly worthy to lead His people; a man who would put his empathetic qualities at the disposal of the needs of his subordinates. After all, no one was keeping an eye on Moses; Moses could easily have thought to himself, "why be concerned with one sheep when there are thousands"?

Yes, we, (Ghanaians) took the right decision by electing 'the Moses' of our time (Nana Akufo-Addo) to rescue us from the economic bondage of the 'Pharaoh' of our time (Ex-President John Dramani Mahama).