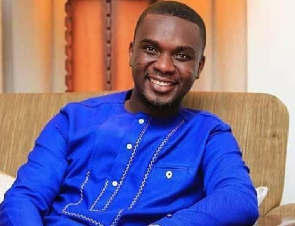 1. Apostle Professor Opoku Onyina is the immediate past chairman of my church, Church of Pentecost, having served in that capacity for 10 years (2008-2018). He is a Pastor, lecturer and engaged with several boards and other duties.
2. During his chairmanship tenure, he preached 8,800 sermons with an average of 800 recorded messages per year. He wrote 18 books and 32 research academic articles. Very busy man right?

3. Well, let me shock you more. During this busy period of Apostle, he still was able to compose 162 distinct songs which are used by Church of Pentecost even to date. This is someone who does not tout himself as a gospel artiste. Call him a "part-time" gospel artiste!

Counsellor Daniel Fenyi, why all this lengthy background? I know you're asking yourself, right?

4. Look, Patience Nyarkoh, the "obi nyane me" hitmaker has started what looks like a beef in the gospel space. To her, Joe Mettle only samples Methodist and Pentecost Hymns and is overrated.

5. The fact is, Joe Mettle's contemporary and youthful brand connects more with the youths who naturally are hyper hence any artiste they support will naturally be hyped.
6. In 2017, Joe Mettle won the VGMA Artiste of the Year Award. In the category were E.L, Stonebwoy, Sarkodie, MzVee and Medikal. In that year, in my opinion, apart from EL, Mettle was the least deserving but, hey, by God's favour, he bagged it.

7. Is Patience Nyarkoh jealous of Joe Mettle? Well, maybe. But does she have some truth in what she is saying? A big YES, I think. Which music enthusiast in Ghana doesn't know Joe Mettle samples old songs and hymns? But, Patience, sorry, you live in a hypocritical country where no one tells the truth, as blunt. But could the sampling style be Mettle's specialty or calling, well, maybe.

8. I think the problem is NOT Joe Mettle or Patience Nyarko. To me, Ghanaian gospel artistes are generally Lazy, unimaginative and uninspired, Mettle and Patience inclusive!

9. Any genuine gospel singer is supposed to get inspiration from the Bible and nature right? Well, the Bible has 1,189 chapters from Genesis to Revelation. Each chapter can be used to create at least one song. This means, any serious hardworking gospel singer with genuine divine inspiration should be able to create over 1,000 Bible-based songs in his life time, minus the others he can get from nature like water bodies, flowers, humans, etc.

10. How many so called "full time" gospel artistes have composed half of what the "part time" artiste has produced? I mean, how many artistes have composed 81 distinct songs (half of 162)?
11. Laziness is not Christian. Don't sample old songs and hymns, repackage them and come sell them to us. That's a sin!

12. Sit down, pray, read the Bible, decide to create a song from chapters in the Bible and you can make it. That's hardwork!

This message is too all gospel artistes.

God bless Us.

Counsellor Daniel Fenyi.