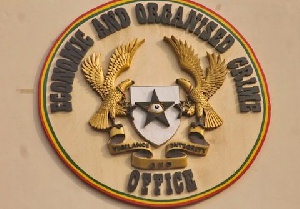 Fri, 28 Oct 2016
Source:
AFAG
It is nebulous for an institution which has refused to respond to inquiries about the status of some very important matters to pick and choose who to investigate to soothe their convenience.
The Economic and Organized Crimes Office (EOCO)'s quest to investigate the sources of funding of the Progressive People's Party (PPP) and the All People's Congress (APC) is discriminatory, unfair and bias. EOCO as an institution lacks the moral right to commence inquiry into the activities of any other institution in relation mainly because of their selective attitude towards matters of national interest.

EOCO Vs NDC:

In August 2012, the Alliance for Accountable Governance (AFAG) notified EOCO to investigate the source of funding of NDC in the acquisition of a multimillion dollar office complex that costs $20 million in Adabraka that is currently serving as the new headquarters. AFAG's view was for the source of funding of edifice to be made public. To date EOCO has never bothered to heed to this call.

EOCO's MESS:

Interestingly, the former executive director of EOCO Mr. Kwaku Martey who retired in May 2015, and later became a parliamentary aspirant for the governing NDC party in September 2015 was allegedly involved in economic sabotage thus, embezzling nearly Ghc400,000 and personalization of official residence including vehicles intended to have been used to investigate some agencies such as; Microfinance and Small Loan Center (MASLOC), Destination Inspection Companies (DICs) and Ghana School Feeding Programme (GSFP) among others. This was submitted in a petition to the president through the chief of staff by a private citizen from Ho West and copied to the NDC vetting committee. EOCO is yet to up clean up its own mess. Simply put: the physician is yet to heal thyself.

It is clear that certain persons in EOCO have political affiliations which is informing who and when they choose to investigate even in the face of compelling evidence. AFAG wonders which political party the current boss may in future, and hopefully, actively participate in since precedence has been set by the immediate past boss.
INVESTIGATE NDC & NPP:

Furthermore, AFAG is of the view that inviting PPP and APC is an incomplete process if indeed they are genuinely interested in the issue of funding of political parties. We strongly believe that EOCO must investigate all other political parties, especially the NDC and NPP to reveal their source of funding as well.

RESOLUTION:

Our democratic process must be strengthened by the collective effort of every Ghanaian, including state institutions. The rule of equality before the law and the right to experience and enjoy equal political, social and economic rights must be upheld at all time. EOCO must purge itself to make it responsible enough to serve the best of Ghana, our motherland.

Signed:

Arnold Boateng
Wesley Owusu

Henry Haruna Asante

Nana Ayew Afriye

Davis Opoku