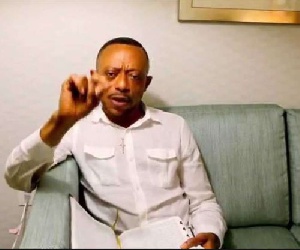 Following his "prophecy" regarding a sinister plot being hatched by some would-be assassins of Nana Addo Dankwa Akufo-Addo, the Presidential Candidate of the country's main opposition New Patriotic Party (NPP), using some unnamed internal collaborators of the NPP, the General Overseer of the Glorious Word Power Ministry, Pastor Isaac Owusu-Bempah, was reported to have been invited by the authorities of the Ghana Police Service to explain his prophecy (See "Alleged Plot to Kill Akufo-Addo: NPP Takes Action" Accrafm.com / Ghanaweb.com 10/24/16).
Pastor Owusu-Bempah has, reportedly, also asked the police authorities to round up all prophetic preachers who have made statements pertaining to Ghanaian political figures and the upcoming general election to explain their sermons and prophecies. As of this press preparation (10/26/16), Pastor Owusu-Bempah was reported to have been invited to the National Police Headquarters, briefly detained and released.

As far as any studious observer of the national political scene can attest, there is a flammable combination of ill-will and acute desperation reigning the land, most especially among the key leaders of the ruling National Democratic Congress (NDC). It is also quite clear that some powerful politicians are behind the high spate of assassinations that have rocked the New Patriotic Party, in particular, but the nation's political terrain in general. To-date, no individual or groups of individuals have taken responsibility for the brutal murder of Mr. J. B. Danquah-Adu, an Akufo-Addo cousin and former New Patriotic Party Member of Parliament for Akyem-Abuakwa-North. All the initial evidentiary indications provided the media by police investigators pointed to the involvement of some highly placed officials inside the Mahama government, although nobody, to the best of our knowledge, has specifically named the President as being a member of any such goon squad or cabal.

At least one official resident at the Flagstaff House was named at the initial stages of the investigations into the brutal stabbing murder of the grandson of the immortalized Doyen of Gold Coast and Ghanaian Politics. Then also, according to media reports directly sourced to the police at the initial stages of the investigations, the arrested murder suspects had provided conflicting statements pointing to the palpable existence of some criminal masterminds who may have contracted the criminal suspects. And so far, it is also quite instructive to observe that legal proceedings in the J. B. Danquah Case appear to have effectively ground to a halt. In sum, whatever be the case, something clearly does not feel and smell right about the way and manner in which this case has been handled thus far.
Then there is also the Adams Mahama acid-dousing assassination case in which the younger brother of the suspended National Chairman of the New Patriotic Party, Mr. Paul Awentame Afoko, has been held for more than one year, as of this writing. What is remarkable about this otherwise most horrific incident regards the cavalier manner in which powerful NDC politicians, including President Mahama, have been playing cheap and unconscionable political games with the same. That Mr. Paul Afoko, who had initially attempted to cop an alibi for his prime suspect brother which almost immediately fell apart, should become the darling opposition political figure of the key operatives of the ruling National Democratic Congress, speaks volumes about the eerie state of law and order and the general state and texture of our national security system and/or apparatus.

Amidst the preceding climate of unease and uncertainty, is there any shock or wonder that Pastor Owusu-Bempah would have a nightmarish dream or trance in which the subject claims to have had an assassination plot against Nana Akufo-Addo revealed to him by Divine Providence? In short, rather than scandalously attempt to harass and intimidate Pastor Owusu-Bempah, the Inspector-General of Police (IGP), Mr. John Kudalor, would do us much better by systematically and meticulously getting to the bottom of each and every one of these epidemic political killings, thereby making the work of controversial religious figures like Messrs. Owusu-Bempah and Badu Kobby, for only two examples among a legion, increasingly and marginally relevant.

Ultimately, it is incumbent upon all of us Ghanaian citizens, both at home and abroad, to boldly, fearlessly and honestly acknowledge that a great evil has descended upon our land. And the sooner our elected officials went to work to ensure that peace and justice reassumed control of our affairs, absolutely nobody can fault our latter-day prophets for regurgitating for us what we already know.