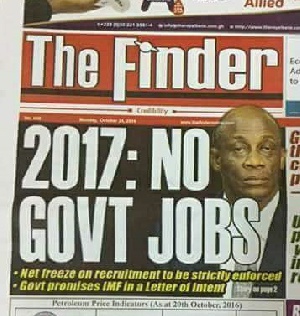 By Akwasi Brobbey
Gari soakings for breakfast, noodles for super. I need to eat proper, but my pocket isn't dapper! This is the cry of the innocent soul particularly unemployed graduates and the current state of our nation provided you decide to remove the party hat you're carrying.

The incumbent government has proven to Ghanaians that majority of our problems could only be solved during election period. I never knew that "dumsor" could be reduced to the minimum level until we got to the second half of this year.

President Mahama's administration is full of lies, deceit and power drunk that do not care for the welfare of the ordinary Ghanaian after winning the 2012 general elections. The incumbent government has witnessed so many bribery, corruption and state embezzlement of the tax-payers money of innocent Ghanaians due to their selfish interest. They only show concern to the people when it's time for elections.

The incumbent president strongly disagrees to be addressed as 'incompetent' by the opposition party. Meanwhile, from the first day President Mahama assumed office, the attorney general's department has never won any law suit against embezzlement by corrupt and greedy individuals and the worst of it all is that of Alfred Agbesi Woyome's unprecedented scandal.
For once, let's not pretend that all is well with this incumbent government's administration. We're not blind to the woes and plight of peoples, with their meager salaries, go through to pay their utility bills.

Nowadays, Ghanaians are working tirelessly 24/7 just to pay their utility bills. The worst of it all is the poor services that we get from these utility companies. Price of fuel continues to go up in a country where we claim to have and extract crude oil. With any little increment of the global petrol price, our government is too quick to multiply the woes of the citizens.

We can't, therefore, continue to remain mute even when hope as a commodity, is becoming more expensive in each and every passing day. It's highly unfortunate to see that cars are been given to some public figures while their charisma to convince the electorates is, to me, not a function. I don't think that any of the so called "stars" from the movie industry can convince an unemployed graduate to vote for this ruling government.

The idea to me is a yardstick of how corrupt and indecisive our leaders are. As youth, our moral duty, as citizens of this great nation of ours - Ghana, is to hold our educated illiterate leaders accountable and no one, no matter one's level of education, religion, tribe, political party, or social status.
Failure to criticize leadership is far more than a lively fun opinion on a social media platform. Majority of the vital services the previous government left behind have either been collapsed or mismanaged by this government. Come to think of Free Maternity and Health Insurance services, Metro Mass Transit, Zoom lion, Mass Cocoa spraying, and others that you can think of are all in their deplorable state.

These are a clear indication of a big time failure by this government. President Mahama consistently claims there's no money in the country to even pay for government workers. This made him appeal for the deadly national disease called IMF bailout. Since then, Ghanaian graduates don't know who's steering the affairs of this country. Did we vote for John Dramani Mahama to manage the Ghanaian economy or International Monetary Fund (IMF)?

In those days, we were told that education is the key to success, but is it the case now? Most parents will skip lunch to cater for their wards to complete tertiary education, but only to be told after graduation that, there's an IMF embargo on public sector employment. Mr. President, I'm afraid the future you hope to build with this little experience in your first term of office with all these hardship. What have Ghanaians do to deserve this?

Before N.D.C came into office to steer the affairs of this nation, enrollment in the various Training and Nursing Colleges were high. Thus, middle income earners were able to cater for their ward as a result of the allowance. Because of IMF regularities, you've scrapped them off.
With your nationwide tour, you said it boldly without regret inside the New Examination Centre (NEC) auditorium at University of Cape Coast that, you'll rather lose the elections than to restore the Training allowance. Some weeks later after this bold decision, because of power, the President came back to rescind his decision that he'll bring back the allowance.

The citizen vigilante can't understand why integrity, honesty and truth have become venom on the lips of our president. It's only in an election year that the name ordinary Ghanaian has changed to "the good people of Ghana". I wonder which is which. If ordinary Ghanaian will be recognized only when it's election time, then I want state it emphatically that; we will fail you as you have failed us and we will drop you as you dropped our hopes and aspirations after you won the 2012 general elections.

After misusing the tax-payers hard earned money in your own interest, you've come again pleading to be voted for again. Ghanaians have seen enough of your mischievous acts. A government who can't pay its striking doctors has now been able to secure enough funds to decorate all the ten regions with expensive huge campaign billboards. Where from all these money? Your brother, (Ibrahim Mahama) is among the top richest people in the country within a twinkle of an eye. However, before the President assumed office, no one knows about him.

The cry of the innocent people of Ghana is "change", for they're afraid of what tomorrow holds for them if the incumbent government retains power. I'm not being politically bias just that for once, let's face the reality. If you're a university graduate reading this, ask yourself, so far as IMF continues to partner with President Mahama, which public sector is going to employ you?
Therefore, we must all join hands to fight for this crusade for the well-being of the masses. Don't think of your belly alone, but the generation to come. As Napoleon once said, "The world suffers a lot. Not because of the violence of bad people, but because of the silence of good people". Do you know the amount of loan President Mahama is using to minimize the "dumsor" just to lure people to retain him into power?

Let's not be deceived for once again to make a decision today that will cost us four (4) years of real suffering. There's a saying that, Ghanaians have short memory! But for once, let's prove to the incumbent government that for this time, all that we need is change of government and nothing else.

We're tired of the corrupt officials he's been working with. Again, let's not pretend that all is well in this country under this government for President Mahama has really failed the youths who entrusted him with their votes and support. Simply, President Mahama must GO!!!!

Writer's email: theimpactcrew.gh@gmail.com