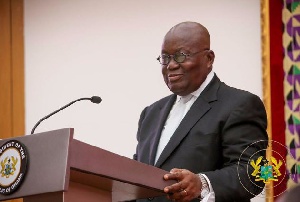 Since the inception of Ghana's Fourth Republic (from 1993 to present), the nation has revoltingly lost billions of dollars meant for developmental projects through unbridled sleazes and corruption. Yet the methods employed by the successive governments in curbing the ostensive canker have been extremely disappointing, so to speak.
Some of us have been looking forward, albeit anxiously, to welcoming President Akufo-Addo's brain child (the Special Prosecutor) to investigate, prosecute and retrieve stolen monies from the corrupt public officials.

If the abhorrent inflated contracts (a staggering GH5.4 billion), the rampant bribery and corruption, dubious judgment debt payments, stashing of national funds by some greedy opportunists, misappropriation of resources and crude embezzlement of funds meant for developmental projects by some public officials do not warrant criminal prosecutions, then where are we heading as a nation?

It is, indeed, heartrending to discover that the people we had entrusted with the national purse disgustingly conspired and inflated contracts to the tune of over GH5.4 billion. Isn't that criminally-minded?

It is, however, refreshing to know that the justice system is going to clampdown heavily not only on mobile phone, goat, cassava and plantain thieves, but as well as the hard criminals who hide behind narrow political colorations.

Whichever way you may place the argument, it is absolutely true that if discerning Ghanaians had not graciously intervened by showing the non-performing NDC government the exit during the 2016 election, the dreadful errors in decision-making and the rampant sleazes and corruption would have wiped out Ghana off the world map without a trace.

Given the circumstances, there is no gainsaying the fact that discerning Ghanaians made the right choice on 7th December 2016 by electing the septuagenarian Nana Akufo-Addo and retiring the middle-aged John Dramani Mahama.
Ghana has regrettably been in the throes of economic collapse due to the erstwhile NDC government's economic mismanagement and the numerous sleazes and corruption.

There is admissible evidence of gargantuan bribery and corruption cases, including monies which were given to parasitic creatures who did not render any services towards the national development.

A large portion of Ghana's scarce resources, regrettably, went down the drain due to the listless mismanagement and the wanton sleazes and corruptions perpetrated by the officials of the erstwhile administration.

But in all these, the loyalists NDC Party supporters would want discerning Ghanaians to believe that the erstwhile NDC government provided exceptional governance. Indeed, vague apprehension of patriotism exists in the minds of many Ghanaians, who prefer needless praise singing to defending the national interests.

The good people of Ghana, unfortunately, witnessed so much duplicities, corruption, incompetence, nepotism, cronyism and frequent abuse of power in the erstwhile NDC government, and hence the vast majority of Ghanaians have permanently lost trust in the NDC Party.

Ghana's massive economic meltdown, so to speak, took unexpected nosedive after the sudden and unfortunate death of President Mills.
It is important to note that during the 2012 electioneering campaign, the late Mills successor, Ex-President Mahama and his NDC apparatchiks went haywire in their desperation to cling on to power. Thus they broke all conventions. Many government departments spent over and above their allocated budgets.

As a result, the previously single digit inflation and budget deficit doubled astronomically. The GH9.5 billion debt which former President Kufuor and his NPP government left in 2009 ballooned to GH122.4 billion as of December 2016.

Ghana's economic growth regrettably slowed for the fourth consecutive year to an estimated 3.4% in 2015 from 4% in 2014 as energy rationing, high inflation, and ongoing fiscal consolidation weighed on economic activity (World Bank, 2016).

Ex-President Mahama's maladaptive government, as a matter of fact, wilfully dragged the economic growth from around 14 per cent in 2011 to around 3.5 per cent as of December 2016.

In addition, the high inflation rate remain elevated at 18.5% in February 2016 compared to 17.7% in February 2015, even after the Central Bank's 500 bps policy rate hikes (the inflation stood at 15.8 per cent as of October 2016).

Ex-President Mahama, in all honesty, did not work his socks off to improve on the socio-economic standards of living. Take, for example, former President Kufuor quadrupled Ghana's GDP to a staggering $28 billion in 2008. While the late Mills inherited oil in commercial quantities and managed to increase the GDP to $47 billion in 2011.
However, President Mahama disappointingly reversed the GDP to an incredible $37 billion as of December 2016. That was indeed a quintessence of apathetic resignation.

Gratifyingly, however, since assuming power, Akufo-Addo's government has taken commendable strides to improve the social mobility through implementation of poverty reduction policies such as free SHS, one district one factory, one million dollars per constituency, tax reductions, a dam per village in the northern part of Ghana, among others.

And despite the huge economic mess created by the outgone NDC government amid stunted economic growth, Akufo-Addo's government has efficiently raised the economic growth from a disappointing 3.5 per cent as of December 2016 to over 7 per cent within a short space of time.

Besides, the NPP government has dramatically reversed the inflation rate to a little over 11 per cent from a little over 15 per cent as of December 2016 (GSS 2017).

It is also delightful to note that prior to the 2008, 2012 and 2016 general elections, the then presidential candidate, Nana Akufo-Addo, made Free SHS his principal campaign message. As it was expected, the opposition NDC communicators scoffed endlessly, and revoltingly labelled him an inveterate liar.

However, some Ghanaians, including my maternal uncle, disappointingly bought into the NDC's manipulating gimmicks and rejected the offer of the Free SHS on two previous elections (2008 and 2012).
But lo and behold, discerning Ghanaians saw the light and eventually gave the Free SHS provider, Akufo-Addo the mandate on 7th December 2016.

To his credit, though, President Akufo-Addo has estimably honoured his promise of the poverty alleviation Free SHS.

Unrepentant pessimists like my maternal uncle, who vehemently campaigned and voted against the Free SHS in 2016, are going to pocket not less than GH16598.49 over three years if three of their children were to enjoy the Free SHS.

Believe it or not, it is absolutely true that Akufo-Addo's government is tackling the erstwhile Mahama's government economic mess head-on. Take, for example, a few months ago, the finance minister presented the 2018 budget, against the backdrop of an improving macroeconomic performance and falling inflation.

Ghana is indeed heading towards the right direction under the able leadership of President Akufo-Addo.

Long live Ghana!