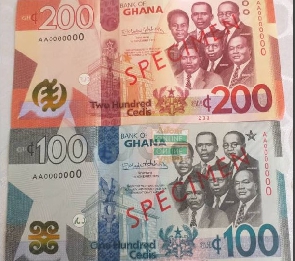 At the 23rd National Banking Conference organized by the Chartered Institute of Bankers, the Governor of the Bank of Ghana, Dr Ernest Addison, said about the E-Cedi,
"It is just electronic money backed by currency… So [the banks] cannot create money; they are only having an electronic representation of the cedi that the Bank of Ghana puts into circulation. So it is not crypto."

This is perhaps the most significant characteristic of the E-Cedi. It is not new currency. It is not decentralised like Bitcoin and other cryptocurrencies. It might not even be completely incorrect to say that it is nothing new at all. The Central Bank is essentially making the Ghana cedi and the E-Cedi symbols interchangeable. So if you have 100 Ghana cedis at the bank, you might as well just say you have 100 E-Cedis in your e-wallet.

It is really that simple.

Why I personally like this

I for one am tired of always experiencing a significantly delayed effect of world advancement in my beloved country Ghana. Let us stick to the plain facts. I am not trying to dissect the why and the how, but only the what. Whenever the world moves forward in one direction, it has always felt like it takes a long while before Ghana joins in the fun. Admittedly, the delay has become shorter over time. Still, this has been the situation for a long while now.

Dr Addison bringing news of an E-Cedi is directly in line with what other world players are doing and for once, we are visibly on par with real-time technological advancement and development on a global scale.
While the Governor of Bank of Ghana was announcing the E-Cedi, that same day, Benoît Cœuré, a Member of the Executive Board of the European Central Bank (ECB) was speaking on how the ECB was exploring the development of a digital currency. He said,

"a central bank digital currency could ensure that citizens remain able to use central bank money even if cash is eventually no longer used."

Venezuela has already launched its own cryptocurrency, the Petro. The national banks of many countries are working on issuing digital currencies not unlike Ghana's E-Cedi. Countries like Sweden, Uruguay, and even China has long been looking to create national digital currencies. Mr Benoît Cœuré even spoke of "a true pan-European retail payment solution", a cashless interoperability payment system across European countries, straight out of the next Blade Runner sequel.

The E-Cedi is a no brainer.

Ghana is moving in the same direction as our present world, towards a cashless society. Private sector efforts make the move to the E-Cedi a no brainer. Our Central Bank cannot look away when within the first six months of this year, mobile transactions alone hit GH¢140 billion, which is over one-third more than what was recorded for the same period last year. There are now many FinTechs that are offering far more efficient and easily accessible services than traditional financial institutions.

A lot of what I've been writing about have trailed to this. I'm talking about my previous articles like 'The Future is Financial Technology', '[Ghana's] Digitisation Agenda', 'Facebook launches Cryptocurrency', 'Evolve Or Die', etc.
That is where the world is headed, a tech-savvy, cashless society. And that is where Ghana is currently leaning. According to Patricia Sappor, President of the Chartered Institute of Bankers, some banks have recorded as high as 80% of their transactions emanating from digital and electronic channels. Correspondingly, Bank of Ghana plans to introduce the E-Cedi not too far from now. At the conference, Dr Addison revealed,

"The Bank of Ghana is also in discussion with key stakeholders to explore a pilot project (in a sandbox environment) on central bank digital currency with the possibility of issuing an E-Cedi in the near future."

Last week Monday, Bank of Ghana also authorised Ghana Commercial Bank (GCB) Ghana to issue E-Cedi in a similar fashion to how mobile money currently works. Dr Addison added,

"In its issuance of electronic money, GCB Bank would create electronic value backed by equivalent cash which will afford customers to have access to electronic wallets issued by GCB Bank (Ghana)."

So it's going to happen. Dare I say E-Cedi is already here.

Facebook's Libra catalysed all this
Ever since Mark Zuckerberg had the praiseworthy audacity to announce a centralised global cryptocurrency called Libra, many countries have expressed concern over stablecoins and its applications, as well as implications. Why? Because one 35-year old billionaire did cause the global financial macrocosm to grasp their seats when they realised the setup of the Libra cryptocurrency and the Zuck-factor might actually be what make the new e-currency a powerful player in global financial transactions, directing competing with national currencies.

In September 2019, France and Germany both agreed to block Facebook's cryptocurrency Libra. Their governments said,

"No private entity can claim monetary policy, which is inherent to the sovereignty of nations."

Yes, today Libra poses as a global disruptor, but that's only because it effortlessly meets consumer needs and has no shortage of consumers, especially with Facebook being the biggest social network worldwide with 2.45 billion monthly active users as of the third quarter of 2019. This is why every Central Bank and regulator is coming up with ways of meeting those needs themselves.

But I digress.

What does the E-Cedi mean to you?
In a way, it means the Government is somehow getting into the Momo business, without the transfer charges I hope. It's a win for the consumer when variety arises. Plus, we're headed there anyways. Rwanda, Russia, Pakistan, and many more countries have been rumoured to be working on digital currencies. At this point, it's inevitable.

The E-Cedi is practical, not radical at all. You will have an electronic wallet within which you'll store your E-Cedi, just like with a Mobile Money wallet on your phones. The massive popularity of digital currency, in our case the Mobile Money, necessitates this. The private companies naturally innovate faster. In this case, I like the government's pace on the much timely innovation of a national digital currency.

What is Digital Currency?

A digital currency is basically money in digital form. There's nothing physical to touch, no banknotes, no coins, no nothing. All digital. It can only be accessed with electronic devices like mobile phones, tablets and laptops. That's why it can also be called electronic money, electronic currency, cyber cash or digital money.

It works just as well as physical currencies. One main advantage is that it allows for instant transactions and borderless transfer from one person to another. Some digital currencies, like mobile money and like the e-cedi, are also claims on other forms of money somewhere else, like financial institutions. For example, GH¢100 in your Mobile Money wallet is a claim on GH¢100 cash at your Mobile Money vendor. 1 E-Cedi is correspondingly a claim on 1 Ghana cedi.

Maxwell Ampong is the Group CEO of Maxwell Investments Group, a Trading and Business Solutions consortium. He is also a Lead Consultant for Africa Centre for Energy Research and Economic Intelligence (ACEREI). He works with a team of motivated professionals, governed by industry experts with experience spanning over a century. He writes about trending and relevant economic topics, and general perspective pieces.