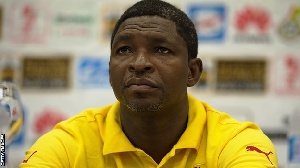 Tue, 22 Aug 2017 Source: Michael Oti Adjei
Ghana coach Maxwell Konadu could only offer an apology, mere moments after the Black Stars second string had trudged off the field on Sunday, with their Africa Nations Championship (CHAN) hopes up in flames.
The Black Stars B side lost 2-1 to Burkina Faso in their 2018 CHAN qualifier at the Baba Yara Stadium.

The loss meant the two-legged tie against Ghana's northern neighbours finished 4-3 in Burkina Faso's favour.

The defeat in Kumasi was the first instance since 2001 that the senior side lost a qualifier at home.

The result also meant Ghana will miss out on the championship proper for the second straight edition.

"We have to start by saying that we are sorry for disappointing the very fans that have been behind this team all this while, but what else can we say," the coach told the media.

"The boys did their best and we guided them to how to be victorious, but unfortunately for us that couldn't happen.
"The boys are all down, so the mood in camp is not good but we think that it is football, we did whatever we had to do in order to reverse the score line but we couldn't," Konadu added, lamenting missing out on a tournament designed to showcase domestic league players from each country.

Even before he had finished rolling out his apology, the jury of public opinion had begun debating his competence with renewed vigour.

Konadu has been in charge of the CHAN team since 2014 when they reached the final in South Africa and lost to Libya.

He was in charge two years later when the team failed to reach the 2016 edition in Rwanda, and has now supervised another failure.

But he is adamant he is not the problem and is not planning on walking away from the team any time soon.

"I don't think coming to say I am resigning will be the best," he declared. "When you fall, people think that's the end of you but I am not a quitter.
"Once we understand that this is football, we will get it sorted. We can't say because of one defeat everyone has to leave. This wasn't the best but if I turn my back against Ghana, I don't think it is the best."

There are those convinced that his departure will be best for Ghana's home based national team.

For the last five years, Konadu, by virtue of his role as assistant coach to the Black Stars, has taken charge of the local team.

That is due to change with Kwesi Appiah in charge of the first team, and this was supposed to be Konadu's final engagement.

The understanding was that he had molded this team, so knew and understood them better than anyone else. Sunday's game proved otherwise, and has left Konadu badly exposed again.

In a way though, he may not really be the problem, even if his use of the resources available to him raised serious questions.
Konadu can point to a few mitigating factors. This was a team where players left Ghana's league as the building blocks were being set up.

Since Konadu started building this team, he has lost players to clubs in Tanzania, Kosovo, South Africa, Angola, and Nigeria, thus rendering them ineligible.

Those movements speak of a larger issue. The rate of movement and the leagues of choice say a lot about the ability of the Ghana Premier League to retain its best talent, which has a direct bearing on its quality.

That player movement is often down to the fact that Ghanaian clubs simply cannot compete with the salaries that some of the top clubs on the continent offer.

"The salaries in the Ghana Premier League are just not good enough," goalkeeper Razak Abalora, who signed for Tanzania's Azam FC, recently told KweseESPN.

"When I saw the offer from Azam I could not believe it. Everyone wants to earn a good living and as footballers we are not different."
Sunday in Kumasi provided the latest evidence but the signs have always been there. Ghanaian clubs barely make a mark on African club football. This year, both Ghanaian representatives in the CAF club competitions exited at the first round stage, losing to opponents from Libya and Algeria.

Since Accra Hearts of Oak won the CAF Champions League 17 years ago, a Ghanaian club has reached the main group stage only three times.

That poor form has meant that Ghana has fallen below the pecking order in the CAF club co-efficient and have had their number of clubs in the combined competitions reduced from four to two.

And now, for two straight tournaments, Ghana's local based players won't be present at the gathering of the best players who play their club football on the continent.

Konadu will be the fall guy in what is bound to be an uncomfortable week for him, but focusing on him would be just a quarter of the problem diagnosed.
Source: Michael Oti Adjei