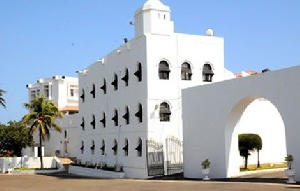 The Osu castle, once in an impregnable and invincible seat of power, is a pale shadow of itself.
The castle, famed for both the good, bad and ugly tales, earned both notoriety and awe during the heady days of former president Rawlings, then chairman Rawlings, whose reign of terror, caused many to shiver in fear at the mere mention of the castle. An invitation to the castle on air was enough to Trigger a dirge.

The tales about the castle, built by Danes in 1661, are many and varied. They range from alleged torture of political detainees to church sermons, all surrounding the various presidents who once occupied it.

Almost every president starting from Kwame Nkrumah to Atta Mills, who died in office, operated from the former slave castle.

But barely five years after the demises of the president Mills who last occupied it, the once fearsome edifice, now a presidential museum, is fast deteriorating.
Filth has taken the better part of sections of the building, while presidential limousines, which once carried the number of gentlemen of the country, have been left at the vagaries of the weather. Limousines of General Acheampong, former presidential Rawlings, and Kufuor are just at mercy of nature.

The ravages of the sea are telling on rusty metals, and cracked structural work. The cycle of deterioration is disturbing, giving that the edifice with its contents, if well preserved by the Authorities could earn the country millions of dollars in revenue annually.

And did you know that the room that Her Royal Majesty, Queen Elizabeth the second occupied , in 1957 and 1960 is still being kept intact at the castle, complete with the WC bowl , et all?

Think of how many people would like to feel the bed on which the Queen of England once slept, and you will understand the paradox of poverty in the midst of wealth.