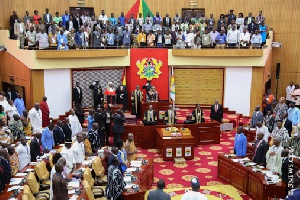 The bribery Allegation against members of the Appointments Committee in Parliament is NOT NEW since the BRIBE GIVER is coming from the NPP majority in parliament, because it is their stock – in – trade since the inception of the fourth Republic 25years ago in 1992.
The allegation that each member of the Appointment Committee was given GH¢ 3,000.00 bribe by the then Minister designate for Energy, Mr. Boakye Agyarko to facilitate his vetting and has been hurriedly comfirmed is 100% true, and his nomination should have been put on hold for the house to conduct full investigations into this factual allegation first. Infact, but for religious and tribal politics, most legislators wont be in parliament, they all know it.

THE "HONOURABLE" BRIBE GIVERS IN PARLIAMENT

According to Honorable Mahama Ayariga, the MP for Bawku Central, it was the NDC MP for Asawasi, Hon. Alhaji Mohammed Mubarak Muntaka who told him that it was Mr. Osei Owusu, the MP for Bekwai and Chairman of the Appointments Committee in parliament that had given the money to him with the explanation that it was from Mr. Agyarko, who was yet to be vetted.

Mr. Agyarko, on the other hand, refuted the allegation that he had given money to members of the ACP and threatened legal action against Mr. Ayariga, but Hon. Ayariga says he still stands by his claim of alleged bribery. So far, the three minority MP's, notably Mahama Ayariga (Bawku Central) who first made the allegation, Hon. Samuel Okudzeto Ablakwa (North Tongu) and Hon. Alhansan Suhiyini (Tamale Central) have taken a step further to petition the Speaker of Parliament over the bribery allegation. These "Honorable" bribe givers must all be exposed for what they are:
AN ATTEMPTED COVER UP?

We did not elect you to go to parliament and engage in shameless bribery and corruption. Hon. Osei Owusu, the Chairman of the Appointments committee in parliament (ACP) attempted to cover up the bribery scandal by saying that it was created to play a LEVEL GROUND that the Majority had called former president Mahama corrupt and so, corruption must be shared among us, in a sharp re-action, Honorable Mahama Ayariga denied that he had made any confession at the said meeting that the leadership of the house and that of the ACP held with Mr. Agyarko and Yaw Osafo Marfo prior to their approval as ministers of Energy and Senior Minister respectively. Meanwhile, the 1992 constitution has no provision for the post of "Senior Minister" yet the NPP always create that illegal portfolio whenever it comes to power – why is it so? Hon. Mahama Ayariga went further to vehemently refute another wild allegation that he had with drawn the claim of bribery and said: I wish to also add that I was not making up any facts to equalize for the bribery allegations against president Mahama. My colleagues and I, actually returned the money to be given back to Mr. Agyarko, who we were told gave the money. Hail the three Patriotic Members of parliament on the ticket of the great NDC for a good job well done. Kudos. Didn't Ex-prez. Kufuor bribe members of parliament with $5,000.00 each to pass the Ghana Telecom Bill for the British company Vodafone to buy it at a cheaper price after Kufuor was given a red carpert treatment in Britain to review a British Military Parade in Britain? Ghana has no reason to be poor, according to prez. Akuffo Addo – with this gargantuan corruption, why won't we be poor?

Ghana's parliament has always become a Corruption Ridden Institution And A Toothless Bull Dog whenever the violent prone NPP comes to power. Again, the Public Accounts Committee of parliament that should always BITE has also be come toothless since 2001 – to date 2017 and can not bite as countless cases of corruption in the body politic are heard and the files kept away to gather dust. Adom TV's Captain Smart always shouts his voice hoarse on extreme corruption in several institutions which are factual, but all to no avail – after all corruption starts from the days of Adam "Apologies to J.A. Kufuor." It is now scratch my back and I scratch your back in Ghana's parliament which always become extremely corrupt whenever the NPP is in government and form the majority in parliament – what a big shame?

This case can never be swept under the carpert – the people are watching with Eagle Eyes and Eagle Ears. Thousands of Ghanaians go to bed hungry, at times, even including this writer since 2008 to date 2017, while most parliamentarians and ministers of state and some public servant amass illegal wealth with impunity since 1992 to date 2017. We are making a mockery of democracy in Ghana. We will now see whether it is Ex-Prez. Mahama who is corrupt or Nana Akuffo Addo's New government that has taken off with corruption in Ghana's parliament.
ALL EYES ON HON. ALHAJI MUNTAKA

When the Mp for Bawku central Ahaji Inusah Fuseinu was interviewed by JOY FM, he said that Alhaji Muntaka Mubarak WAS NOT CANDID WITH THE ISSUE. He said indications he gathered from his meeting with Alhaji Muntaka Mubarak were that, the later was MAINLY INTERESTED IN PROTECTING THE INTEGRITY OF PARLIAMENT. Hon. Muntaka swore the Holy Qur'an, but if he now think that Ghana's corrupt and Toothless parliament is far better and pure than the Holy Qur'an that he swore, it is up to him and his God, but if he under mines this bribery allegation with the false belief that he is protecting the already DENTED IMAGE of Ghana's parliament, he will regret it in 2020 as his political career will come to an end as people are prepared to move Heaven and Earth to ensure that he lose his seat at Asawasi for disgracing the NDC, because of the double standards that he is trying unsuccessfully to play in this bribery allegation in parliament. Ghana's parliament has been corrupt since 2001 to 2017 and is indirectly supporting corruption in the country and this explains why the Public Accounts Committee is in-effective, has no teeth and cannot bite any body while anti-corruption crusaders like Vitus Azeem, Captain Smart of Adom TV and Martin Amidu have been shouting their voices hoarse about corruption in Ghana and nobody listens to them at all.

CHRAJ and the Ghana Integrity Initiative, (G11) all exist in name, as well as EOCO. There has been a lot of massive disinformation on account of the Popular Uprising on June 4th 1979 by all NPP members including some NDC members whose negative behavors brought the NDC back to opposition in 2016.

People wanted and still want to pretend that THEY DO NOT KNOW WHAT LED TO THE RISE OF RAWLINGS IN JUNE 1979. Today 2017, corruption is in its worst form in the Body Politic and Ghana's parliament, and no one talks or cares, because it is business as usual in the name of Property Owing Democracy first under Ex-President Kufuor, And Now under president Akufo Addo. If the president will create the office of the Special Prosecutor, he should amend the Bill which makes it Mandatory for the president to appoint Majority of his ministers from parliament, because such ministers become ineffective as they work as ministers of state, and always attend parliamentary sitting daily – I sincerely hope my good friend, the "Kume Preko" president and also the Militant "All – die – be die" tribal war lord who had been on war path since 1995 when four innocent Ghanaians died during the "Kume Preko" demonstration against VAT that was introduced by Rawlings Will Now WALK THE TALK. Ghanaians have now put the entire country entirely and legally in your hands and there should be no excuses now – you must deliver on you numerous promises to Ghanaians.
The people of Ghana are waiting for the out come of this disgraceful bribery allegation by Mr. Agyarko in Ghana's parliament? Look here, I am a citizen, not a Spectator, because I am a tax payer, yet my voice does not count, but that has never stopped me from voicing my opinion though, so, I state here that parliament must NOT SWEEP THIS BRIBERY CASE UNDER THE CARPET, AND HON. MUNTAKA MUST COME CLEAN AS A TRUE MUSLIM SCHOLAR. Does Honorable Muntaka want a Prophet or a Saint to tell him that Ghana's parliament is Always corrupt whenever the NPP comes to power or what?

Come our the he must grow, because times have changed.

Ex-presidents Rawlings and John Mahama as well as president Akuffo Addo are not important, but our country, Ghana. A change of government without a change of attitude on the part of all Ghanaians is no change at all. Is Anybody listening "QUO VADIS, GHANA.? Dear reader, you keep your fingers crossed, I shall return when the need arise, I am done.

"Jaanbie Iwaii"
Aluta Continua.

……………………………… Clement Sangaparee United Cadres Front Obuasi

DISTRIBUTION ALL MEDIA HOUSES ACCRA/GHANA

Email:clementsang@yahoo.com