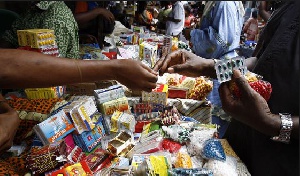 "It is important we let people know that abusing medicines like Tramadol can have bad consequences, including death," Delese Mimi Darko, Chief Executive Officer (CEO) of the Food & Drugs Authority (FDA), says.
"So while we are doing our part to ensure that Tramadol is not abused, the media must also highlight the negative effect this can have on the individual and the society. Excess amounts, regular use or overuse can cause side effects, many of which can be dangerous and may affect the brain in ways very similar to illegal drugs," she adds.

The country's drug and food regulatory body is faced with the task of ending the abuse of unapproved dosage of the man-made narcotic painkiller- Tramadol- that is allegedly smuggled into the country.

Alarming reports of Tramadol abuse, particularly among the youth who take it for recreational reasons in parts of the country, have become an issue of great national concern, calling for immediate intervention.

Reported incidence of addiction, armed robbery, youth vandalism, car accidents and in some cases violence have been linked to the influence of unapproved intake of Tramadol by perpetrators.

Olivia Agyekumwaa Boateng, Head, Tobacco & Substances Abuse Department at the FDA, discloses Tramadol is usually prescribed to patients suffering moderate to severe pain.

She says preparations containing Tramadol are classified as 'prescription only medicines' (POM) with the approved dosage strengths for use in Ghana by the FDA are 50mg and 100mg in tablets and capsules and 50mg/ml-2ml in injections.

But she states that educational campaign of the FDA has shown other reasons for the intake of Tramadol of higher strengths.

"People take it for extra energy for manual workers, euphoria (Tramadol can produce euphoria comparable to heroin even at a single dose of 75mg), staying alert for long hours, especially for commercial vehicle drivers and their mate(s) & students, making them dazed and easily drift to deep restful sleep," she mentions.

Mrs Boateng indicates that the medicinal benefits of Tramadol can quickly become harmful when it's not taken as prescribed.

Tramadol Abuse Trend
Tramadol abuse in Ghana became an issue of interest when in 2016, intelligence gathered, but the FDA across the country pointed to scattered incidences.

As a rapid response measure, the FDA strategically conducted a series of raids in three target regions (Northern, Volta and Western) to substantiate reported cases.

Alarming quantities of unregistered Tramadol strengths (e.g. 120mg, 225mg and 250mg) were uncovered.

The findings necessitated the need for a regulatory intervention to restrict Tramadol as a controlled substance till date.

Therefore, as a controlled drug, Tramadol can only be accessed through authorisation, utilisation and distribution records vetting and official inspections from the FDA.

Mrs Boateng explains that since the 2016 interventions, the FDA monitoring showed seeming lull in Tramadol abuse.

But in 2017, reported incidences of Tramadol abuse were observed again.

Again, intelligence gathering, in collaboration with stakeholders, raids across the country were undertaken to seize unapproved Tramadol strengths.

She says the new trend of Tramadol is the mixture with energy drinks, alcoholic beverages and marijuana.

On December 11, 2017, the UNODC issued a warning to the international community on the implications of the abuse /non-medical use of Tramadol and its broader linkages with the global fight against terrorism and transnational organised crime
"The rise of Tramadol consumption and trafficking in the region is serious, worrying, and needs to be addressed as soon as possible. We cannot let the situation get any further out of control," Pierre Lapaque, UNODC regional representative in West & Central Africa, says.

Effects of Tramadol

"Taking Tramadol with other drugs which are not prescribed by your doctor can lead to harmful effects and increase the chance of addiction. The combination of Tramadol with other substances, either alcohol or drugs can cause threatening or even fatal side effects," Mrs Boateng reveals.

She explains that combining alcohol and Tramadol are central nervous system depressants, and all agents slow down brain activity and function which can lead to confusion, loss of consciousness, brain damage, respiratory depression, river disease, renal dysfunction, increase depression and suicidal tendencies.

"Headache, dizziness, drowsiness, tired feeling; constipation, diarrhoea, nausea, vomiting, stomach pain; feeling nervous or anxious; or itching, sweating, and flushing (warmth, redness, or tingly feeling). Noisy breathing, sighing, shallow breathing; A slow heart rate or weak pulse; a light-headed feeling, like you might pass out; seizure (convulsions); infertility, missed menstrual periods; Impotence, sexual problems, loss of interest in sex," she adds.

The head of the Tobacco & Substances of Abuse Department points out that a major concern observed during its educational campaign was the alarming number of the youth already addicted to Tramadol who require professional help to quit.

Impacts on Society

Mrs Boateng says the effect of Tramadol is not only on the individual but also on society.

Examples of how the abuse of the prescription only drug affects society include loss of revenue by the state in the form of tax to cater for people with drug addiction at the psychiatric hospitals and prisons.

Loss of labour force as the victim becomes inefficient at workplaces and results in less productivity.
Child exploitation in some neighbourhoods where younger children are recruited as lookouts and drug peddlers because of the lighter sentences given to juvenile offenders and an increase in the drug related crime, including armed robbery, rape, abduction, murder as well as violence have been reported among individual users and gangs.

Regulatory Interventions

The FDA, in collaboration with the police and the law enforcement agencies, has carried out raids over the past months to restrict influx and arrest drug peddlers of unregistered products.

These dangerous products are smuggled into the country and peddled from unauthorised premises by individuals, including nationals, who have not been licensed for that purpose.

Mrs Boateng says since 2017, over 500,000 capsules of Tramadol have been seized.

Giving a breakdown of the strength of capsules seized, she indicates that 230 capsules of 100 mg, 7,190 capsules of 50mg, 93,160 capsules of 200mg, 97,900 capsules of 225mg, 210,400 capsules of 120mg, 1 vial of 50mg/ml and 3000 vials of 100mg/2ml were seized in six regions of the country.

Sixteen suspected peddlers, aged 14-28 were arrested (15 from Niger, 1 from Ghana) were also arrested.

Apart from the arrest, the FDA has also intensified its nationwide public education at schools, market places, beaches and transport terminals, where the drug is gaining new grounds because of the perceived effect.

Challenges/ Way Forward

The FDA boss says abuse of Tramadol is a regional problem due to the porous borders.
She indicates that the unauthorised point of entries of medicines and free movement of people and goods within ECOWAS region is a major test in curbing the trafficking of the unapproved drugs into the country.

Mrs Darko further states that the lack of data on the illicit trade in Tramadol in the ECOWAS region, the extent of abuse and inadequate logistics/funds to carry out research activities as expected have been key setbacks in controlling the drug.

She, however, observes that the challenges, notwithstanding the FDA, together with multilateral stakeholders, including security agencies, NACOB, media, National Road Safety Commission, GES, retail outlets, will have to intensify public education about the dangers of abusing Tramadol.

Mrs Darko suggests that there is a need for the development of a national Tramadol abuse prevention strategy using documentaries, jingles, community durbars, road safety campaigns as well as education on the abuse of Tramadol and their adverse consequences on all targets groups, for example students, parents, teachers, the youth, drivers' unions and the National Commission for Civic Education.

Mrs Boateng also called for increased funding for surveys.

"The most prudent measure is to have enough data on the abuse of drugs which is sparse. This will help make informed regulatory decisions. As well as strengthen surveillance at the points of entry to prevent influx of unwanted dangerous drugs like Tramadol," she points out.