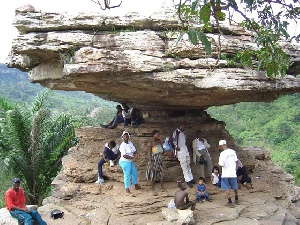 IF YOU ARE a tourist either from Europe, Asia, North America or neighboring African countries who thinks that tourism in the country is all about visiting the old castles and forts, Akosombo Hydro-Electric Dam, Aburi Botanical Gardens and Kwame Nkrumah Museum, it is time you change your mind and start looking elsewhere that there are many tourist potentials to visit and joy a nice holiday.
More tourist potentials have been discovered countrywide with more fascinating historic background, more amazing than the already exhausted places that will live with you forever.

The number of tourist potential sites discovered in Eastern Region alone of Ghana yearning for development is quite amazing.

Until I got to know these potential sites all that I knew of when one talks about tourism were those ones aforementioned which together record about 500 visitors a week.

After visiting the already noted tourist sites that the country has, I planned to look out for more interesting sites to enjoy my vacation holiday.

The question as to how to get the information on these places raged in my mind until I formed my travel and tour agency Smile Ghana Tours and spoke to an official of Ghana Tourism Board for more information about existing potential sites and how to visit them.

The necessary information when made available to me led to the six-in-one palm tree at Kwamoso, the snake coil tree at Huhunya, the grave site of the former president Akuffo Addo at Akropong and water fall at Asenema.
Others include the natural paints village, a stone coffin, Obosabea rock, the slave bunker and the beautiful mountain Arkah Water Falls all at Akyeremanteng.

The rest were alligator sanctuary at Kkyerenkyere, the butterfly sanctuary at Asiakwa, beautiful mountain scenery at Obuoadaka [stone box] at Kwahu and many more but just to mention a few.

After listing the potential sites down I heaved a sigh of relief as I now have gotten areas of interest to make my holiday a memorable one. So May 1, 2017, the republic holiday in Ghana, around 9:30 am in the morning, I set off on my excursion to learn more about these places as well as relax after a week's hard working duties.

Asenemah Water Falls was my first excursion. The bus carrying me and other tourists was crowded as always, it carried people residing in the area along the road as well as tourists. Fortunately for us, other tourists who have heard about the sites and have come to explore the potentials got off the bus when we got to Asenemah.

Together with them I explored the exotic beauty of the water fall which cascades from tall mountain rocks with its vapor going a distance far from where it pours its waters making it difficult for me to take shots with my camera at a close range.

The flat rocks around it makes it easy for one to feel comfortable relaxing around after strolling around for a long time. The birds and animals singing and playing about could be heard from quite a distance away from the falls.
Very lucky for us another group were holding their holiday fun games which was interesting so we took part in their games, interacting with some of these members.

Having finished my food and drinks at the waterfall, again I strolled around to refresh my memories of the place for at least fifteen minutes before walking back to the roadside in waiting for a returning bus to transport me back home.

Already checked out for a day's interlude at Asenemah water falls, I resumed my excursion. I decided to visit the Akyeremanteng town since it is full of many tourist potentials as I have learnt.

The history of the town has to do with a certain priest who was blessed with powerful potent traditional herbal medicine lived in the village and cured many from various illnesses.

The village is a very serious farming community whose residents cultivate maize, pepper, okra and eggplant on a large scale. Apart from being one of the villages that feed the region with food stuffs, farmers there produce cocoa and plant timber species also to harbor wildlife.

Akyeremanteng village is just before Boti Falls and travelling to that village is a bit difficult as the winding and curving road makes driving difficult but adventurous. Having driven for twenty minutes from the main Huhunya junction, I got to the village and as usual followed my written down guidelines about how to make my visit of the village a successful one.
Not far from the bunker was the ancient slave cave which used to house about 4000 slaves with the other bunker being used to serve as a protective shield for the slave masters.

The umbrella rock is so beautiful and clearly seen that it is just impossible to miss it from a direction. It has an imposing rock with a flat top making it look like an umbrella under which slave masters sought refuge whenever it rained or fought their oppressors.

Just after the umbrella rock are thirty two rocks carefully arranged to serve as stair cases for easy access to the beautiful Akaa Water Falls. Somewhere midway between these rocks is the stone coffin. It mysteriously has exactly the shape of a coffin.

Before one leaves the area he must climb up to the top again and in a winding route. I climbed up to the point where the water cascades from. So tired and panting, I finally got to the point where I could not watch from the top because of the height phobia.

Truly feeling dizzy when I looked down from the top and could hear myself shouting "please save me from here".

At 3:48 p.m. when the sun looked setting after I had taken a short rest, I took my bag, books and left bidding people around the village good bye. It was my first time to tour any tourist potential site as I have craved for.
So many to take back to Canada as the experience and excitement are still living with me and think will live with me as I promised to visit again this year with new friends.

This makes Ghana a special place to visit in Africa so come let us go to Ghana.

For more information on individual and group tours contact:

stephenquaye5000@gmail.com

Tel: 001-647-838-9209

Fax: 001-416-749-2122