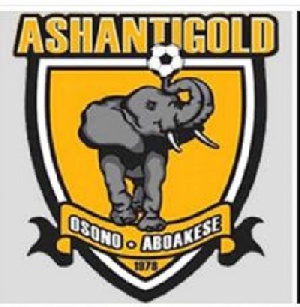 AshantiGold will set the tone for Ghanaian clubs in this year's African Club Competition in the CAF Champions League come Sunday against MO Bejaia from Algeria at the Obuasi Len Clay Stadium before Medeama SC takes the baton stick in the CAF Confederations Cup in a fortnight time.
Africa Club Competitions for Ghanaian clubs have over the years been in dundrums just as the dark clouds trying to make way to illuminate the earth and has left a lot to be desired among football fans in the country.

Not to talk of Bechem Chelsea who defied all odd to exceed expectation in 2012 in reaching the money zone of the CAF Champions League, no other Ghanaian club has been able to reach that feet since then.

Glimpses of clubs participating in African club competitions for Ghana looks akin with those in previous years which have been shambolic and sordid.

Both AshantiGold SC and Medeama SC are not in the right shape of affairs to take on Africa by storm. It was a good exercise for both clubs to test their readiness and preparedness for club competitions in the Super Cup clash last Sunday at the Accra Sports Stadium and no team exhibited the character and availability of purpose to approach continental games.

The time might be too imminent for the Obuasi lads to keep preparing for the Algerian club anon but will have solace of playing in front of their teeming fans in the first leg whilst Medeama can continue their preparation for the Confederations Cup as they are on stand by for the next round of the competition.

Whilst one club is hard-pressed behind time to play in Africa, the other can cool off in relaxation in wrapping up preparation for Africa competitions as by that time they might get competitive games in the local league, bearing any unforeseen contingency.
OPPONENTS

Algerian clubs have been a boggy side for Ghanaian clubs since the club competition started in Africa. It is on record that, a Ghanaian club is yet to beat an Algerian side in a two-legged game in Africa.

Similar names from Algeria in JSM Bejaia came here to eliminate no other club than the best club in Africa over the century, Kumasi Asante Kotoko.

Another Algerian club last year was victorious here against same Kotoko at the Baba Yara stadium in FC Eulma three seasons has passed.

This is just to allow space because the history of Algerian clubs having victory in this part of the continent is ad-infinitum.

Algerian clubs have been a bane, thus far, for Ghanaian clubs, AshantiGold already had a taste of that defeat from an Algerian club in 2009 including Hearts of Oak quite recently.
Moloudia Olympique Bejaia, AshantiGold's opponent on Sunday- have played ten away games so far in the Algerian Mobilis Ligue 1. They have won only one, drawn four and lost five scoring eight goals and conceding twelve. They have scored in four of their ten away league matches.

A joy to hold in Sunday's clash is that AshantiGold are unbeaten against North Africans in African Club Competitions at home even though there has not been a real test of mettle from any club this season for them.

Medeama will fall victims to relatively tougher opponents as they await the next round of matches in the Confederations Cup, a tournament they were a hurdle of less reaching the money zone in their maiden edition two seasons ago.

COMPETITION

Both Ashanti Gold and Medeama are bereft of the necessary competition to keep them warmed for African club competition this season. Clubs over the years have used basically domestic games to enrich themselves for continental games but the reverse is truth for AshantiGold and Medeama entering into this year's competition.

They only had the Ghalca G-6 tournament which both clubs were eliminated at the group stages signaling something bad like the aroma of a rotten beef. The two clubs will be approaching Africa as no league is assured in the country which would have kept them shaped-up and a bit prepared.
The Super Cup last Sunday worsens the situations for both clubs which qualifies them to exempt themselves from Africa competitions to allow more serious and ready competitors to compete for glory.

Ghanaian clubs have not benefitted from local football going into Africa for the past five seasons now because of the late start of the local league which gives a better grounds for teams to flourish out in what is to be expected going round the continent.

Inspiration can be taken from Al Ahly by both clubs when Al Ahly conquered Africa three years ago without domestic football in Egypt. But the discrepancy that comes in here is that, none of the teams (AshantiGold and Medeama) travelled outside the country to take on more stronger opponents like Al Ahly did.

EXPECTATIONS

It seems clubs representing Ghana in African Club Competitions are forced to go into the competition just to make the numbers for the country without been equipped with the requisite measures put in place to psyche clubs up to win those competition.

Consistency has not been a mark for AshantiGold and Medeama in Africa as there has been constant hiccups in their participation due to consistent inconsistencies in local competition. The same trend will follow in this years African Club Competition for Ghanaian clubs as witnessed quite some years ago.
It will be startling if any of Medeama and AshantiGold go beyond the second round of their respective competitions as they will be facing the crème de la crème in Africa club football.

I am not being a prophet of doom but the farthest they can reach is the final hurdle to the group stages of their respectively competitions which will be a second world for any of them to reach.