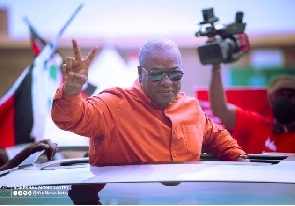 Until when will Ghanaians allow themselves to be fooled by the opportunist, populist and evasive former President John Dramani Mahama and his lieutenants of educated illiterates?
John Dramani Mahama, a self-asserting born to be a head but not a tail person, thus, born to rule but not ruled, has at any least offered opportunity, slyly bitterly and destructively criticised President Nana Akufo-Addo and his NPP government.

He criticises his policies and programmes without bothering to suggest, or offer, alternatives to what he sees as the intentional faults of the president to plunge Ghana into her current dire economic situation.

I shall be quick and concise in this publication with John Mahama and his bunch of seemingly educated illiterates.

Hardly had President Nana Akufo-Addo finished presenting his year 2023 State of Nation Address (SONA) to Ghanaians at the parliament, when John Dramani Mahama and one Dr. Gyimah Prempeh passed their sarcastic comments intended for denigrating the president's submissions.

John Mahama has always held on to the populist notion that the reckless financial borrowing by President Nana Akufo-Addo and his NPP government is the sole cause for the most difficult economic situation Ghana and Ghanaians find themselves in today.

His views are shared by that Dr. Gyimah Prempeh, probably residing in the United States of America.

Both mentioned critics are teasing the president for attributing the greater blame of Ghana's current difficult economic situation to the coronavirus (Covid-19) and the ongoing Russia-Ukraine war.

For them, Ghana's worsened economic situation is principally due to the reckless borrowing by the president without having anything to do with Covid-19 and the Russia-Ukraine war.

John Mahama and the said Dr. Gyimah Prempeh can be said by me to be ignorant, malicious and not abreast with the world economic situation and its causes.
The Covid-19 pandemic came to inflict untold and unprecedented economic hardships on the world economy.

Many industries and businesses collapsed, especially, those in the hospitality sector; as are hotels, restaurants and bars, amusement centres, etc.

Many people lost their jobs as a result of the Covid-19 pandemic and its attendant advisory and enforced medical protocols, as social distancing, staying at home, wearing face masks, etc.

Where, and from what, could the government raise income through taxes to help pay workers their salaries and carry out social intervention programmes during the ravaging Covid-19 pandemic?

Covid-19 did not only inflict serious economic hardships on the world but the death of people.

This is a fact that only a fool living in the cloud cuckoo land will dare to dispute.

The world is still battling the aftermath of Covid-19.

Check how much money was borrowed by the governments of the United Kingdom, United States of America, France, and Germany, only to mention a few, to try to mitigate the problems or the impact of the Covid-19 pandemic on their economies.

Did such borrowings by the cited countries come about as a result of the mismanagement of their economies by their presidents or prime ministers?
Did the economic hardships faced by the countries and their citizens come about principally as a result of any reckless borrowing by their leaders?

John Mahama and his cabal of knowledge-deficient NDC sycophants and political propagandists for want of political power are always misinforming the Ghanaian public on the real and true causes of the current economic situation facing Ghana and the world.

Do John Mahama and Dr. Gyimah Prempeh know about the voluminous quantity of petrol and natural gas produced and supplied to Europe and the world by Russia?

Do they know that because of the Russia-Ukraine war, the supplies have been curtailed for various strategic reasons to plunge Europe into energy crisis?

Do they know that energy bills have doubled or trebled in Europe to inflict harsh living conditions upon the people?

Do John Mahama and Dr. Gyimah Prempeh know the percentage of the world's consumption of wheat, fertiliser and Sunflower cooking oil produced by Ukraine?

Do they know that Ukraine has difficulty shipping its stock of millions of metric tonnes of wheat to those parts of the world they are needed most because of the war?

Do they know that the ten topmost big shipping liners have upped their freight charges by 1000%, making it more expensive to ship goods from one side of the world to another?

The higher cost of the shipment of the goods is passed on to the consumers if John Mahama and Prempeh care to know. This is simple economics.
They should go and read about my previously published article on how the shipping liners have astronomically increased their freight charges as per American President Joe Biden.

The war has a ripple effect on the world economy in one way or the other. While it may be good to serve the intentions of some, it may destroy those of others.

As a fool will always remain a fool and it is advisedly not good to argue with a fool, l shall end here but not without informing former President John Dramani Mahama and his lying brigade of political sycophants with Dr. Gyimah Prempeh included, as follows:

1) In London, three fingers of "apantun" plantain used to sell for £1.00 for the past few years. Prior to the Covid-19 pandemic, they were selling for four a pound (£1.00) and during the Covid-19 pandemic, they were three a pound (£1.00).

However, since the Russia-Ukraine war, a finger of same plantain sells for £1.00 in some London markets and two for £1.50 in others.

2) Three broiler chickens were selling for £5.00 while the big ones were two for £5.00. This was before the Covid-19 pandemic and the Russia-Ukraine war.

Now as l write, three of the big broilers are selling for £12.00 and one for £4.50 with prices of meat correspondingly shot up.

3) A 5-litre bottle of Sunflower cooking oil was selling for £3.99 in Tesco, Asda, Sainsbury's, etc. supermarkets before the Covid-19 pandemic and the Russia-Ukraine war. Now, same bottle of cooking oil is selling for £9.50 to £10.50 in the shops.

4) About five years ago, one could buy a pack of three Neat Fufu for £5.00. Some brands were selling for £1.99 per one.
However, with the advent of Covid-19 and the Russia-Ukraine war, they are no longer sold in packs but in singles. They are selling for between £3.99 and £5.49 per one, depending on the brand.

The one l buy is £5.49 per one.

The prices of all goods have seen sharp increases.

Could former President John Dramani Mahama, Dr. Gyimah Prempeh and the brigade of NDC members and sympathisers explain to the world why these sudden sharp increases in prices of goods throughout the world?

It is not only in Ghana that prices of goods and transportation have gone up but throughout the world. How come, one may ask?

Lest l forget, airfares have doubled or trebled on some airlines at the moment. What could be the reason for it?

I shall end by suggesting to former President John Dramani Mahama to learn to tell the truth if he wants to be considered by Rockson Adofo and discerning Ghanaians as credible candidates for president.

Dr. Gyimah Prempeh is advised to read and be abreast with the world news to stop misinforming Ghanaians on why Ghana's economy is in crisis.