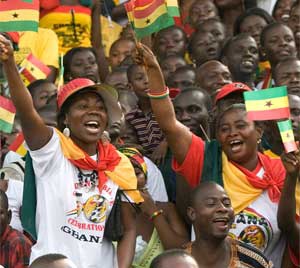 In societies where political officialdom accords the citizenry the needed respect, accountability is always assured. In a society where morality is upheld by political officialdom, the people are provided with detailed report of how the nation's resources are being expended, and prudence of these investments thereof.
A society where the media is up to its task of being the voice of the voiceless while holding public officials accountable, sanity prevails.

This is why when the governing NDC gathered at cape coast over the weekend, I expected a detailed account of how the nation has been mismanaged over the last 8 years. But not surprisingly, they resorted to their characteristic spewing of verbal flatulence because they have absolutely nothing positive to tell Ghanaians.

Speaker after speaker at their campaign launch engaged in casting of needless aspersions, pure lies and outright insults. Political opponents, particularly of the NPP party, were targets of relentless personal attacks. But ironically, John Mahama claimed NPP engages in politics of insults and has therefore "won an Olympic medal in insults".

Tale of the towel

Sometime in the late 80's, a football team [Media-11], comprising Mr. Kwabena Yeboah (GTV-SPORTS) and others, went to play a football match with Asante Gold-fields in Obuasi.

Now, when the trip was over and Media-11 checked out of their Obuasi hotel, it was later detected that a towel had gone missing in the room where Nii Lantey Vanderpuye slept.
A search was therefore launched and when the towel wasn't found in the hotel, the bus carrying the Media-11 football team back to Accra, was given a hot chase and stopped at the outskirts of Obuasi where a search was conducted on Nii Lantey's bag and the towel was found hidden in it.

Indeed, this Nii Lantey Vanderpuye who is now misbehaving because of political power intoxication, was once a common thief that couldn't afford a common towel and therefore had to steal some from hotels. And these are the characters always spewing garbage about a noble personality as Nana Addo Dankwa Akufo-Addo.

And like I have said, if Ghana, under the NDC government were to be morally upright and adhered to tenets of decency in political officialdom, a character as Nii Lantey would not have been allowed anywhere near corridors of power, let alone be offered a ministerial job. Under NDC, the core human values of decency, decorum, morality, integrity and truth, have all been thrown out of the window, while obscene vices as thievery, foul language, ethnocentrism, bigotry and outright stupidity are being carried in golden palanquin.

Solutions over delusions

We traversed the treacherous road networks of Sefwi and Wassa areas of the western region for the six days where I personally witnessed poverty in its worse form; and what the people are craving for is someone with the vision, drive and patriotism to proffer policy alternatives to making their lives better. Anatomic disposition of who this person should be, was never an issue to any of those I interacted with during the tour.

I never heard it anywhere, and by anybody, during our six days tour, that, a "tall" or "short" person is what they are going to vote for on 7th December, 2016. This is because, infact, there are exceptionally tall people in these communities we visited, that have completed university for the past 5years but are still jobless.
As a matter of fact, there are extremely tall nurses and other paramedical professionals from these areas who have completed school for the past five years but are still being fed by their parents because they haven't been offered job placements.

Indeed, there are tall people in these areas whose businesses were thriving under the 8years of NPP administration, but have now become unredeemed paupers because their businesses have taken dramatic nose-dive as a result of 5years of relentless 'dumsor'.

Furthermore, there are very tall men/women in these areas who have lost a family member through sickness or childbirth because they couldn't convey them to the hospital due to impassable nature of the road networks.

So John Mahama and his bunch of thieves can go ahead and engage in their characteristic insipid propaganda, total lies and uncouth aspersions, and wallow in delusions, but the NPP, led by the incorruptible Nana Addo Dankwa Akufo-Addo, will focus our energies on enlightening the masses on why they mustn't be living in poverty, in the light of our nation's enormous natural and human resource base.

In these Sefwi and Wassa areas where we toured, most locations we visited had no mobile networks, and therefore access to news was virtually impossible, and furthermore, there was no time for us to even follow the news on radio/TV of what was making the headlines due to our extremely tight schedule.

But our schedule on Sunday, 14th August, 2016, was a bit manageable so I decided to scan the online portals for news, and it was all about mindless insults and juvenile insinuations by John Mahama and his useless appointees, on NPP party leaders.
We crisscrossed the hinterlands of Sefwi and Wassa areas of western region, for the past for 5days days, and I have had an eye-open experience about what it means for human-beings to be unbelievably dehumanized as a result of crass incompetence and unbridled state-sanctioned looting of our coffers by a bunch of merciless socioeconomic highway gangsters.

And for such wicked bunch of plain-faced criminals masquerading under the gimmickry of a political organization, NDC, to buss unemployably unemployable unemployed unemployables from all across the country, congregate them at Cape Coast, feed them with concoction of highly potent herbs so they can cheer when NDC appointees who have become filthy rich through massive corruption, spew garbage from their unpleasant buccal cavities.

But the truth is; ordinary Ghanaians I personally interacted with during our tour of these woefully deprived areas are saying times have become unimaginably unbearable, and as a result, have made up their minds to vote out NDC which has been the cause of their prevailing socioeconomic woes, and bring in NPP under whose 8year administration saw them enjoying functional NHIS, COCOA SPRAYING AND FREE ANTENATAL CARE.

So,NDC leaders who have become multimillionaires by looting state coffers, are free to engage in insults and aspersions against NPP leaders, while their party FOOL-soldiers cheer on, instead of rendering proper account of their 27 years of subjecting Ghana's resources to merciless gang-rape and leaving crashing poverty and total hopelessness as their only legacies.

The work on the fourth day of the tour began at 7, yesterday, as usual, and ended at 3am today, with Nana Addo Dankwa Akufo-Addo addressing the last rally at Aboso at 1:30am; and there was still a huge crowd waiting to hear from him.

We have been travelling on the worst road networks on this planet, as we traverse the Sefwi and Wassa areas of western region of Ghana, on our ongoing campaign tour.
My humbling experience

When we arrived at Dadieso on the afternoon of Saturday, 13th August, 2016, our clothes had become very dusty due to atrociously impassable nature of the road networks so I was cleaning dust from my clothes, when about six young men approached me and said "Massa, what you're trying to clean, is actually our powder".

Now, this might sound funny, but, deep down in my soul, I felt sad; and I realized that, indeed, it was rather an extremely excellent way of articulating to me, how they have been neglected by successive governments; and I personally brought this to the attention of Nana Addo Dankwa Akufo-Addo.

Indeed, that was an extraordinarily humbling experience which is indicative of the undeniable fact that the ordinary Ghanaian is yearning for a CHANGE which is not about empty sloganeering and metaphysical promises, but a CHANGE that will bring about evident improvements in their personal lives.

Writer's e-mail: justnoff@yahoo.com