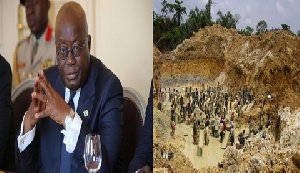 One of Ghanaweb's columnists, Francis Kwarteng, recently had a constructive engagement with one of his dedicated readers, Mr. Michael Mensah-Bonsu, who simply wants to be addressed as Mike.
Most importantly, we are extremely grateful to have intelligent, respectful, tolerant, and knowledgeable readers like Mike supporting our work.

Having said that, Francis initially wrote to Mike after his article, titled "Erotic Chinese Sex Stares Akufo-Addo," first appeared on Ghanaweb. As a matter of fact we petitioned Mike to allow us to publish his private communications, a request to which he agreed unconditionally.

Our first email to him reads:

"Dear Good Friend,

"I read your comments on my article, 'Erotic Chinese sex stares at Akufo-Addo,' and decided to reach out to you.

"Of course, I am saying this because you were one of those who truly understood the import of the article.

"Thanks so much."

MIKE'S FIRST RESPONSE:

"Dear Francis
"So nice of you to write back.

"I am so extremely grateful to you (and I think all Ghanaians should be) to have brave people like you who, against all odds—insults, threats and the like, are ready to speak up.

"We come from a very rich country—rich in natural resources, brains and fertile soil, and food that grows on its own, and yet run around begging for everything. Imagine borrowing $447 - 600 million US dollars EVERY YEAR just to import rice. (From the US, a country which itself does not grow rice.) Where are our other foods?

"Our 'so-called leaders' for decades, have been giving away our gold and diamonds for 'peanuts'. Since Kwame Nkrumah, who managed to get 49% and later General Acheampong, 51% of the proceeds for us, those who came after agreed to 30%, (Rawlings) 10% (Kufuor) and I believe, 3% (Atta Mills-Mahama).

"While accepting these, our rivers, fish, drinking water and our people were being polluted, our people went down the mines to bring our 'white masters' the gold and diamonds—and these morons of leaders did not even know the harm they were allowing foreigners to mete out to our people. Now the Chinese have a free pass.

"They (our leaders) took us to HIPIC but never told us the real truth, that the so-called debt forgiveness was ONLY a suspension of interest payments for a period of time. They did not tell us that the 'suspended accrued interest' would later be added onto the principal—this is criminal—they should all be in jail.

"They destroyed our cedi by matching it a-par with the US dollar even though we had no collateral to support that raise in value. Food that cost you 3 old cedis suddenly cost you 3 new cedis, an equivalent of $3 US. They forgot that we had all along been borrowing even to support our GDP. Little to no industrial produce and you par up your currency with an economic powerhouse like the US. I do not know where they studied economics - on Mars, maybe.

"Nana Addo was there, a minister, when Kufuor and Sam Jonah sold out our gold reserves. They have all been around for decades overseeing the spraying of our cocoa with potent insecticides, herbicides all of which drain into our drinking and underground water, into the food chain and causing cancers of all types, just for a few paper currency.

"Kwame Nkrumah put up technical universities, polytechnics, etc., etc., training brilliant young men and women and yet when we need an ORDINARY road, they call in the 'experts' from abroad to build them for us. Where are our engineers?
"I am sorry I could go on and on and end up boring you with things you already know.

"God bless you—please continue. You have my undivided attention.

"Sincerely,

"Mike."

ELSEWHERE MIKE SENT FRANCIS KWARTENG THESE HEARTWARMING EMAILS:

"Hi Francis

"I am happy you like my contribution. I never like to hide behind a 'screen' when saying what people may not like—I am always ready for a debate and accept my mistakes if I am proven wrong.

"I think the whole country needs a serious and honest debate if we want Ghana and Ghanaians to do better.

"I give you the credit for standing up first.
"Keep up the very good work."

READ THIS ALSO:

"Hi Francis

"We need to broaden the debate so that those who do not share our views can 'intelligently' disagree, but with tangible reasons...

"More grease to your elbow Francis.

"Ghana needs to change for the better…So I would like to support the younger generation that wants to bring real change.

"Please stay in touch."

AND THIS:

"Good morning Francis
"I think you should read this article in today's Ghana Homepage: 'Government To Abrogate $510 AMERI Deal' (if you have not read it already).

"If true (I am inclined to believe that it is), another rip-off by our so-called leaders.

"Despite Kwame Nkrumah's mistakes, I am 100% convinced that there have never been a president in Ghana who can compare himself to Nkrumah…I would have taken up his torch and continued the race to make Ghana the real paradise it is.

"Over to you Francis—you have my support.

"Have a great day.

"Mike."

We thank Mike for his generosity, time and kind words. But we will advise our readers and leaders to pay close attention to what he has to say in his first email communication to us. In truth, it summarizes our work on Ghanaweb and other web portals. That is all we can say for now.

Thanks to all our dedicated readers. Please continue to read!

We shall return…