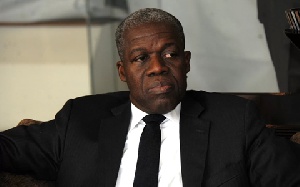 When you were entrusted with the opportunity to provide the kind of leadership that would lift Ghana's economy out of the quagmire it found itself, you failed to live up to expectations.
You were the Vice President of the Republic of Ghana but your uninspiring leadership would make Mahama replace you with his wife, Lordina Mahama. You virtually became a stranger in your own house, thanks to the tepid manner in which you handled affairs.

As head of the Economic Management Team of the Mahama administration, all your policies and prognosis landed the country in a mess.

Senchi had to be sought to confer with players in the market as to which direction the country's economy should be led, and the recommendations became albatross around your necks because you didn't even know how to bring them into being.

Dr Bawumia wouldn't hesitate to remind you that you were sleeping on the job, and the only response you provided for him was silence.

Dr Bawumia asked you 170 questions about the economy, and you suddenly turned Mr Bean as you employed deafening silence as the best method to respond to him.
When you spoke to the 170 questions, you only sought to prioritize pieces of advice from your friends not to respond to Bawumia than giving him the needed responses.

As head of the EMT, Ghana's debt to GDP hovered around 70%, it is around 67% now in just one year under Bawumia. Under your tutelage, growth rate was not more than 3.7%, it has more than doubled under Bawumia. Inflation had peaked to an uncontrollable height. Inflation has retreated dramatically under Bawumia.

Dumsor scourged the country, businesses nosedived, the financial sector, as well as industries, were in pains, and when Dr Bawumia schooled you on the fact that the challenges with our erratic power supply stemmed from the fact that you and your boss were refusing to provide funds to purchase fuel to power our plants, you insisted that was not the case. Time has proven Bawumia right on that.

The economy is being formalized in case you are still recovering from the shock of the defeat you and your boss suffered.

Under your watch, Ghana's economy was on auto-pilot since there appeared to be no one in charge steering the wheel to show direction.
Ghanaians saw your spectacular incompetence and that of your boss and consequently dwarfed you to the sidelines.

You are verbosely making noise on the bench, asking the Vice President of the Republic, Mahamudu Bawumia, to respond to his own 170 questions about the economy?

You are indeed blind! Dr Bawumia has been answering those questions practically. His actions speak to the questions. He believes in actions more than words.

The economy you people plunged into the abyss for eight years is being rescued by the messianic hands of Dr Bawumia!

Amissah-Arthur, kindly take in some cold water, take a bath and go back to sleep for you are more useful sleeping than being awake!