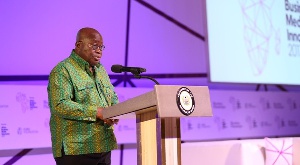 You will have to go beyond your appointees, state institutions, security and intelligence officers to get timely, adequate and quality information from ordinary citizens to assist you to govern this country, else you will continue to be naked in office smiling with fake characters, receiving cooked intelligence, cock and bull information, and responding blindly. This is my new year appeal to you Mr. President Nana Addo Danquah Akuffo Addo.
Your Excellency, you obviously deserve to know the detail of my appeal ?

Take the following events and issues that occurred in 2017 into consideration you will understand why some independent minded Ghanaians are not entirely happy with your one year old administration .

1. The Mahama Ayariga bribery allegation against Boakye Agyarko

2. The cash for seat allegation

3. A-plus allegation against presidential staffers

4. The rants of Kennedy Agyepong against selected appointees

5. The serious allegations against officials by Kwame Baffoe (Abronye DC)

6. The Ministry of Special Initiatives and its budget brouhaha

7. The Ghana Post Digital Address System, cost and matters arising

8. The controversial bond issue investigated by CHRAJ
9. The Gallamsey fight and bribery allegation against Taskforce, Chiefs and Lawmakers

10. The exorbitant cost of borehole contracts.

These are, but few examples that have been brought to the attention of the public through the media and nothing significant has been done to the satisfaction of many Ghanaians.

For many citizens , it will appear difficult to separate politics from governance likewise separating scandals from favourable appointees in government as occurred in past governments.

But Mr President if you want to stand out as an exceptional leader, kindly begin going out of the norm and the usual process of receiving information and handling these matters, it will shock you the kind of discoveries you will make.

Popular Names Sounding The Alarm Bell

Mr. President, in your own party, there are popular figures who have publicly made it their duty to expose rot and wrong doings in the Ghanaian society but you seems to overlook their anger and attacks on people directly and indirectly milking the state quietly under your government, any particular reason.

I am sure you don't want to trust these people (accusers) more than the state actors but they did it for you in opposition and you embraced it with all your leadership qualities, why not now?

Does it mean they were fake, dishonest, propagating lies or providing relevant information about wrong doings in government when you are in opposition is different from information being provided about wrong doings in government when you are in government? I really don't get it.

Mr. President we are in 2018, kindly turn your attention to ordinary Ghanaians and see the undiluted information you will be receiving outside your inner circles, from appointees, and state actors. I am sure you will want to know the relevance of your appointees if you don't use them, listen to them. Yes, you will be right to assume that, but how will you explain the fake intelligence and concocted information being presented to you. I am certainly sure blending the two sources will keep you seriously updated on exactly what is happening in the country.
Remember many of these state actors may not necessarily be favouring your policies and programs but will remain highly pretentious. Don't forget there are also moles, wicked opposition elements gathering intelligence and working against credible information delivery.

Citizens Journalism And Media Landscape

Ghana's growing democracy and wider media landscape has taught Ghanaians how to contribute significantly to national debate with virtually all the required platforms created nationwide.

This has been made possible to make the voices of voiceless people now been heard, the unknown been made known and unfortunately the obvious attention seekers truly getting the required attention, thanks to social media . Unfortunately, in the political circles, only opposition elements will often appear active, proactive, and productive in the media landscape, exposing wrong doings and offering suggestions as to how the challenges affecting Ghana may be addressed. Those in government, except few, will always remain busy because of their duties and busy schedules.

Amazingly, the problem seems to affect even our frontline leaders including you Mr. President , some of your Ministers, Lawmakers and heads of institutions at all levels.

I have always been asking myself if truly many of your appointees actually read at all. This is because, issues that are in the public domain through the work of the vibrant media that ordinary persons will expect you the President to know and address , Ghanaians shudder to know why? and certainly will not understand why they will remain unaddressed.

National matters affecting people will often be overlooked. Take for instance the recent nationwide meningitis that hit Senior High Schools among other reported cases of disease outbreaks and the response that came in very late.

Take the farmers issues with the fall army worm, the response that came in late and the farmers subsequent adoption of their own tactics and way of tackling the virus or insects.

Sanitation Fiasco Under Your Watch

It will interest you to know that Accra and other major cities in the country are still overwhelmed with garbage whilst your sanitation Minister, Environment Minister, Zongo and Inner Cities Minister and stakeholders are enjoying their offices with pride.
Your dream to make Accra the cleanest city in West Africa or Africa therefore hangs in the balance unless you get out of your car, walk with ordinary Ghanaians to ascertain the facts. Gutters are chocked and heaps of rubbish are uncollected at designated points nationwide.

Remember Accra is not only the principal streets that your convoy is using every day or only the Central Business District (CBD).

Why not hand over sanitation to the security forces like you did with the fight against illegal mining ? because without discipline, the attitude of indisciplined Ghanaians will make your effort go in vain as happened to all your predecessors (our past leaders) .

Again why not use prisoners to deal with the chocked gutters instead of them staying indoor doing nothing because the National Sanitation Day being carried out monthly is not working properly ?

Why not again apply the Rwandan module by banning plastic waste, your predecessor tried but those companies and industry players benefiting from the mess actually scared the government and Mahama Ayariga who was the sector Minister backtracked, ohhh Ghana . I guess these are difficult solutions, but that's what will make you stand out.

Mr. President are you aware of the unwanted and unwarranted structures that are still standing along water ways, and waiting for the rainy season to cause havoc, an annual ritual you wouldn't want repeated, but if you sit down it will occur.

Mr. President remember that you now have only three years including an election year to redeem your image and change the face of Ghana as you promised, or maybe you have arrived at your desired destination of becoming president so you really don't care?

I don't think so.

Your Bold Policies Commendable

Your introduction of free SHS, fight against illegal mining, introduction of paperless port operations, Special Prosecutor, and fiscal policies to strengthen the local currency appears genuine and might work for the development of the economy and ultimately the country.
What You Really Don't See Or Hear

Unfortunately, many of the challenges you might not hear or see because of your position now, that are still persisting as you met them when you assumed office are as follows.

The high importation syndrome killing local initiatives, still persist, the incurable attitude of indiscipline in public sector institutions still visible including corruption, crime is rampant causing insecurity , politicization of national issues, chieftaincy disputes nationwide, high unemployment rate, terrible roads connecting farms and market centres, chocked gutters, illegal fishing activities, politicization of premix fuel allocation, rural urban migration, open defecation along beaches, open extortion at police check points etc.

Mr. President, we all know that part of our problem as a country or continent is attitudinal and therefore all these existing challenges mentioned requires extraordinary measures and drastic solutions to address them.

Do not be surprised that after four years of your administration , all these problems will still persist because if you don't go out of your comfort zone to lead the change agenda you promised Ghanaians, no one else can do it better.

I repeat again, Go Beyond Your Appointees, Else You Are Just Naked Mr. President