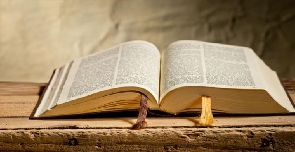 AS A Christian, what do you do when you hear people who claim to be critical thinkers publish that Jesus Christ does not exist? How do you react when you hear a backslidden Christian or an unbeliever opine that God is a primitive imaginary being? Do not be surprised that people can utter these words. Many have been voicing very offensive blasphemous words against the God of the Bible.
Certainly, these are not unintelligent men and women. They are educated folks scattered around the world, but as scriptural verses speak of them, they seem to have their minds blinded by the devil so they cannot see the glory of the gospel and encounter its God. Well, we ought to know that a person whose mind is seared, corrupted and diseased of sin is alienated from God. Only the efficacious healing of his soul by Jesus Christ can set him free.

So, now, how do you take it when we hear fellows, friends, school mates, course mates or neighbours denigrate the holy name of our Lord, and make mockery of His existence? The baby in Christ may be discouraged and weakened in faith. But the mature believers will encourage themselves in the Lord. They understand that the educated but ignorant folks ridicule what they do not know.

Ministers of God take caution in quarreling with faithless people in obedience to a scriptural instruction which says that "…the Lord's servant must not be quarrelsome but kind to everyone, able to teach, patiently enduring evil, correcting his opponents with gentleness. God may perhaps grant them repentance leading to a knowledge of the truth, and they may come to their senses and escape from the snare of the devil, after being captured by him to do his will" (2 Timothy 2: 24- 26, ESV).

But it is apt to emphasize that a person can be highly educated about opinions of men and women taught at schools, colleges and universities and still be a fool – a knowing fool. True unbiased critical thinking should lead to knowledge beyond the physical realm and appreciate the fact that there exists a spiritual realm where God operates from. God is a Spirit and cannot be seen, caged, experimented and understood like a rabbit.

As I said earlier, the mature Christian, who is filled with the Word and Spirit of God, will never be troubled about the blasphemies of the ungodly, sinner and scornful. He may be saddened by their eternal damnation for their faithlessness. Indeed, not all men and women in the world have faith in God; they hear the gospel preached to them, but reject it so they cannot have faith.

A person who rejects the gospel cannot have faith as it is written "Faith comes by hearing and hearing by the Word of Christ (Romans 10: 17). And it also stands in Hebrews 11: 6 that "But without faith it is impossible to please him (God): for he that cometh to God must believe that he is, and that he is a rewarder of them that diligently seek him."
Moreover, true worshippers of God know that many shall be Godless in the last days as the apostle Paul spoke about in his letter to Timothy. Paul's words to Timothy are words to all Christians throughout the world, today.

"But understand this, that in the last days there will come times of difficulty. For people will be lovers of self, lovers of money, proud, arrogant, abusive, disobedient to their parents, ungrateful, unholy, heartless, unappeasable, slanderous, without self-control, brutal, not loving good, treacherous, reckless, swollen with conceit, lovers of pleasure rather than lovers of God, having the appearance of godliness, but denying its power" (2 Timothy 3: 1- 5, ESV).

We must understand that the Apostles themselves ministered in the last days, but the last days in which we are, are quite different from theirs. Paul talked about attitudes people would exhibit. Now, are the people Paul referred to Christians or non-Christians? Clearly, they are people who profess Christ. There is no doubt that Paul's prophetic words are greatly fulfilled in our generation in which believers love self (are selfish), love money more than God, preach gossips than the gospel, spend money on entertainment than missions and evangelization.

Today, we seem to have the appearance of godliness, but we cannot demonstrate the power of the Spirit of God because of the tolerance of sin and error which quench the Spirit. Thus, most of our church ministrations have been reduced to man's natural abilities with no supernatural power backing them. Many profess God with their mouths, but are lukewarm towards Him in their hearts. They have been led astray and distracted by scientific breakthroughs, and virtually have no genuine belief in God.

As it is, the Godlessness we see today shall increase, and unbelievers who question the existence of God will continue their blasphemies. Already, there are atheists who have formed associations in schools and colleges, abusing the minds of students against God. Let the elect of God, therefore, understand the time and season we are in, and desire to grow in the grace and knowledge of Christ by prayer and diligent study of the Word of God. Let the gospel ministers preach Christ; destroy the works of the devil and save the lost.