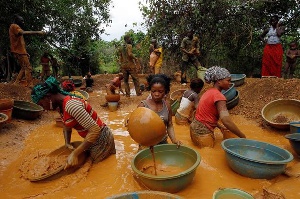 At the start of April, Ghana's government issued a three-week ultimatum to illegal gold miners operating in the country. They were told that they could either stop their activities or face prosecution.
The threat seemed to work. By the end of the three weeks, over 500 excavators used in informal artisanal gold mining – known locally as "galamsey" – had reportedly been voluntarily removed from mining sites.

This ultimatum was part of President Nana Akufo-Addo's promise to eradicate the problem of galamsey "once and for all". The previous month, the New Patriotic Party (NPP), which came to power in January, had launched a five-year project to provide illegal miners with alternative livelihoods in the legal mining sector.

Illegal small-scale mining has long proliferated across Ghana, Africa's second and the world's tenth largest gold exporter. But recent foreign investment coupled with industrialisation has significantly exacerbated its negative effects.

Many more people, including thousands from China, have been drawn into the sector. The Information Minister recently claimed there are now 200,000 people engaged in galamsey, while other sources suggest nearly 3 million rely on it for their livelihoods.

Locally, the practice contributes to surges in crime and violence. Nationally, it represents huge sums in lost revenue and exports.

In its electoral campaign, the NPP pledged to curb galamsey. And since coming to power, various media campaigns have ensured the new government keeps to its word.

While the practice may have once been tolerated or ignored, local populations are increasingly reporting it. TV and radio shows have been inviting officials to explain their plans to tackle the issue more frequently, and the topic dominates daily news bulletins. Meanwhile, environmental groups recently called on the government to impose a blanket ban on all metal mining. In contrast to governmental threats to the galamsey sector in the past, the new administration seems to be directing significant time and resources towards tackling the issue. But to what end?

China's gold seekers
Traditionally, small-scale gold mining in Ghana has been carried out by locals on their own land using hand-operated tools. These methods have slowly modernised and expanded, but the recent influx of foreign – predominantly Chinese – miners has accelerated this development. This is despite the fact Ghanaian law prohibits small-scale mining by non-citizens.

Chinese actors have invested substantial funds into mining, introduced more sophisticated technologies, and employed significant numbers of Chinese migrant workers as well as Ghanaians. Their use of heavy machinery has increased both extraction rates and environmental damage.

In the span of only a few years, Ghana has attracted an estimated 50,000 "gold seekers" from China, almost exclusively from Shanglin County in Guangxi province. This so-called "Shanglin gang" has settled in rural regions, creating predominantly Chinese mining communities. Across three of these key galamsey hubs, adverts and signs are in Mandarin while televisions in Chinese restaurants show Chinese soap operas.

The Chinese working community is believed to be highly organised and hierarchical, with one kingpin allegedly employing over 300 Chinese migrant workers together with a number of Ghanaians.

Many believe these communities to be hostile to locals, although recent government crackdowns appear to have encouraged co-operation. This is reflected by an increasing number of Ghanaians speaking fluent Mandarin.

Jobs and crime

Galamsey, and the informal communities it creates, is associated with a rise in crime and violence. Police have said that the number of armed robberies has risen in illegal mining areas, often with guns brought in by the Chinese to protect themselves.

Along with the growing presence of weaponry, the trafficking and use of narcotics has also increased. Another senior police official told the authors that a proportion of the cocaine and methamphetamine trafficked through Ghana is directed towards galamsey miners. He explained that workers use these drugs in order to "give them courage" and help survive long hours in dire conditions. Such drug use proliferates in informal and illegal gold mining camps in South America. As Ghana becomes a key narcotics trafficking transit state, patterns repeat themselves.
As profits and goods from galamsey enter the supply chain informally, there is also a high risk that proceeds will be diverted towards other crimes.

Moreover, galamsey can set in motion a vicious circle in terms of employment. Mining often occurs in cocoa farming regions and can lead to the seizure of land and environmental destruction. Both of these outcomes further erode the viability of agriculture, leading to the local population's deepening dependence on illegal mining for income.

Seeking to ban metals mining, or even artisanal small-scale mining alone, thus ignores the key role the sector plays in providing livelihoods for the most vulnerable. This is especially the case in a country where unemployment amongst 15-24-year-olds stands at around 50%.

Lost revenues

Illegal mining also results in huge sums of lost revenue. In 2016 alone, an estimated $2.3 billion worth of gold left the shores of Ghana through galamsey. The illicit trade avoids taxation and the prevalence of foreign actors means that profits typically flow out of the country. A number of sources suggest that gold is mostly smuggled to China and India. At the same time, illegally mined gold can easily make its way into the formal supply chain. Under Ghana's regulations, gold dealers are not required by law to guarantee that their gold is legally mined. This means that even licensed brokers buy and sell gold without regard to its origin.

The loss of revenue to the state is particularly critical as the government is struggling to fund oversight mechanisms. Reducing illicit financial flows would greatly contribute to the state's resources and its ability to deploy much-needed development initiatives.

In both 2006 and 2013, the government organised swoops on illegal gold miners. But while these raids resulted in the arrests of hundreds of Chinese miners, they only captured low-level workers who were easily replaceable and had no useful intelligence into broader operations.

In addition, the quick release of many of those detained has led to allegations of widespread police corruption. In one case in 2017, a Chinese national not only allegedly escaped from prison after being arrested, but soon had his car, which had been seized by police at the time of arrest, returned to him.
Local activists report collusion between district police and illegal miners. They suggest the police gain significant financial benefit from protecting, or turning a blind eye to, the industry. Many of the guns used by Chinese mining groups are also reportedly purchased from the police themselves.

These factors have led to growing clamours for the government to properly tackle galamsey and punish those involved. The media outlet Citi FM launched a #StopGalamseyNow campaign this April, while key national media houses jointly established the Media Coalition Against Galamsey.

These campaigns have thrust the issue onto the centre stage, and the government appears to be responding accordingly.

Previous administrations have been accused of tempering their resistance to galamsey due to China's heavy investment in the country. But the current administration seems to be avoiding this pitfall.

Following arrests of illegal miners last month, Chinese officials called on the government to "guide the media to give an objective coverage on the illegal mining issue" and complained of "distorted or biased reports and stories on Chinese people". It also suggested that any casualties incurred from the arrests would be "extremely harmful to the bilateral relations". Rather than placating China, however, Ghana's Information Minister responded that "the Chinese threat or whatever does not bother me at all". Media representatives confirmed to the authors that the government has not "guided" them to temper their reports. The tone of this response suggests a shift in attitudes.

As well as standing up more forcefully to China, the administration launched the five-year Multilateral Mining Integrated Project this March. This initiative seeks to direct small-scale miners towards areas where the presence of gold has been confirmed and where destruction caused by mining can be limited. The government also said it will use computer software to track earth-moving equipment used in the illicit activity and may consider using drones to monitor the activities of illegal gold miners.

The three-week ultimatum issued in April meanwhile led to over 500 excavators and 1,000 dredging machines being removed from illegal mining sites. This policy was also accompanied by an intense advocacy and engagement programme aimed at educating miners about the harmful effects of galamsey.

Finally, there are indications that legal enforcement against galamsey is on the rise too. Ghana's Chief Justice recently designated 14 courts to hear illegal mining-related cases in a bid to expedite them. On 17 April, the vice-president announced that the government has suspended the issuance of small-scale mining licenses until galamsey is tackled.
In its approach, the government has fallen short of issuing a blanket ban on all metal mining activities, legal and illegal. El Salvador became the first country in the world to adopt this strategy in March, and some groups in Ghana have called on the government to follow suit. But officials have made it clear that they are not considering such a move. Instead, they say they will support small-scale miners seeking to operate within the law.

With gold mining accounting for around 8% of Ghana's GDP, a blanket ban would significantly cut into government revenue. It would also be disastrous for those who rely on mining for their livelihoods; these individuals that are often the most vulnerable in society.

Nevertheless, the government's clampdown on galamsey has affected official gold production rates. The Minister of Lands and Natural Resources suggests this drop means the policies are working, recognising that a significant proportion of Ghana's gold exports are illegally mined.

In order more comprehensively to assess the efficacy of the government's new measures, a spokesperson for the Media Coalition Against Galamsey informed the authors that it is hiring an external consultant to compile a report. The spokesperson pointed out that the effects of actions such as the seizure of machinery are typically temporary. Instead of these figures, the spokesperson said that real progress must be measured by rates of land reclamation and levels of enforcements of the ban, aspects on which the report will focus.

The problem of galamsey will be very difficult for Ghana to solve. From the centrality of actors from China, one of Ghana's biggest trade partners; to the importance of small-scale mining in creating jobs in a country suffering from high youth unemployment; to the allegedly close relations between criminal networks and regional police; galamsey is deeply woven into many aspects of Ghana's current reality.

Tackling the problem will, therefore, take a range of strategies that must be pursued comprehensively and in a long-term manner. This will be particularly tough for the NPP given that it has inherited a cash-strapped state and problems of endemic corruption.

The new administration has adopted an approach of pursuing those involved in illegal mining whilst also pushing people towards legal alternatives. Clamping down can often end up simply pushing the activity further into the illicit sphere, and whether Ghana can buck this trend will only be seen in the long run.

Nonetheless, the combination of energetic media attention, grassroots campaigns and a host of government policies perhaps provides the best hope for some time that the country can truly tackle galamsey – and, with it, the associated problems of rising crime, lost revenue and environmental destruction