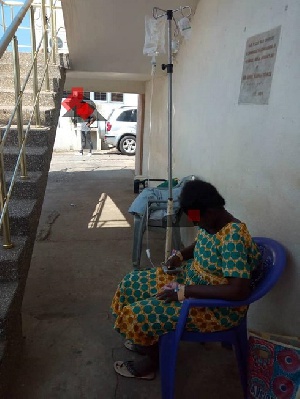 Ghana has pockets of healthcare facilities across the country which are largely useless if you are seriously sick or in need of advanced treatment—because of the lack of necessary facilities, including common beds to sleep on.
With timber and teak trees scattered all across Ghana and almost every street with a young man skilled in carpentry, how can beds shortage be this shamefully ubiquitous? Of course, it's not just beds in a lot of cases, there are no buildings to place beds in even if some are made, purchased or freely given.

And the situation at Korle-Bu Teaching Hospital, Ghana's flagship healthcare facility is worse. The many healthcare delivery problems of Korle-Bu coupled with the incompetent manner the governments of Ghana, more recently the NPP government has handled the management structure seems to suggest that government is sabotaging healthcare delivery in Ghana.

Until yesterday, July 13, Korle-Bu Teaching Hospital did not have a board to govern, direct and inspire management as well as approve needed policies—and this was the case for almost two years, including throughout the period that Dr Felix Anyah was the acting CEO.

Without a board, anyone in charge of a byzantine bureaucratic facility like Korle-Bu was literally a shadow whose hands were tied, as the person wouldn't be able to implement any worthy problem-solving policies or effectively deliver on management apart from merely scrubbing the surface with his limited power.

Dr Felix Anyah's proficient leadership skills, though could not fully be put in use because of the absence of a board that crippled his tenure, he solved one of Korle-Bu's long-standing problems—and that is, he brought a much needed industrial peace to the somewhat labour-chaotic institution, which was mostly distracted in self-destructive revolts.

Despite Dr Anyah instituting calm, focus and elevating operations at Korle-Bu and receiving overwhelming support and trust from stakeholders to steer the ship ahead once a board several people including himself were relentlessly calling for was constituted, his acting tenure was carelessly truncated by President Nana Akufo Addo on June 6, 2018.
For the first time in the history of Korle Bu, when there was an attempt to remove the CEO, people complained and even demonstrated, which hasn't ever happened—and this is obviously due to the confidence held in Dr Anyah, on the back of what he had done during his brief period as the acting CEO, albeit, extremely crippled by the lack of board.

It's interesting, perhaps it even supports the notion of government sabotage that a few weeks after Dr Anyah, the able hand Korle-Bu has had in a long time was removed, the government has now constituted a board which has been missing since it came to power, chaired by Member of Parliament for the Ledzokuku Constituency, Dr Bernard Okoe-Boye.

And this comes, just days after the health facility has been trending in Ghana over patients receiving treatments on floors, car parks and some sitting in plastic chairs for drips.

It's disgraceful, probably it rests on sheer wickedness that in the face of the devastating healthcare problems we have in Ghana, the only facility that's our 'Messiah' swims in what seems like "political witchery."

Korle-Bu is not in a ping-pong tournament. People's lives are at stake but the government stands as the tallest barricade to effective healthcare delivery at the hospital. And that's sabotage, nothing less.