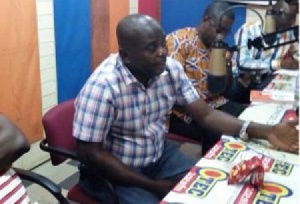 The act of fasting, as a form of worship, is an exercise willfully executed by Muslims towards the attainment of their personal and physical purification. It is a cleansing exercise which is geared towards enabling a believer to guard against harm and suffering as well as evil and sin.
In order to validate a fast as an act of worship, falsehood, foul and indecent language, violent behaviour and other anti-social conducts must be discarded.

According to Hazrat Mirza Bashirudeen Mahmud Ahmad (Allah be pleased with him), Second Khalifah of the Founder of the Ahmadiyya Muslim Community:

The purpose for keeping fast is not to keep anyone hungry and thirsty. If it only took the pangs of hunger for one to earn paradise, disbelievers and die-hard hypocrites could have also easily attainted paradise because dying as a result of hunger and thirst is not any difficult thing to do. It is common to find prisoners embarking on hunger strikes in protest against their incarceration.

In confirmation of this basic fact that fasting stimulates man's spirituality, the Holy Prophet Muhammad, on whom be peace and blessings of Allah, admonishes believers thus:

Whoever is observing fast and yet does not abstain from telling lies and indulges in foul and lascivious talk, as well as practically behaves in accord with such lies and vain talk, such person should take note of the fact that Allah does not stand in need of his abandoning food and drink in the form of observing fast.
It is the inalienable right of man to eat and drink as well as indulge in conjugal relationship with one's spouse. Notwithstanding, when man willfully denies himself of these privileged rights because of God, he, in doing so, is led to a station where he becomes firmly grounded in piety and learns to strive to distance himself from unwholesome conduct.

A major moral and ethical lesson that we learn through fasting is honesty. Honesty is a trait which refers to a facet of moral character. It also connotes positive and virtuous attributes such as integrity, truthfulness and straightforwardness.

Honesty and integrity are universally accepted as important leadership qualities through which we are able to make a distinction between good leaders and bad ones. It is, therefore not merely coincidental that the two traits happen to be the foremost moral lessons that we learnt through fasting.

In the past few days, revelations about immoral and unethical leadership have drowned all other discussions on our media front dealing a blow to the conscience of the good people of our country and awakening us to the realization that the country is engulfed in an epidemic of immoral and unethical leadership. The Anas Aremeyaw Anas videos have only become an icing on the cake.

Let me state regrettably, that we have arrived at this sordid state of affairs as a nation through the inability of those among us placed in leadership positions in the past political dispensations to arrest the gradual moral decay and socio-economic decline in our country. Sadly, they, themselves, were disciples of immorality of the highest order. These leaders are found in the areas of politics, civil service, private sector and religion, among others.
There is no doubting the saying that a nation gets the leadership that it deserves. In effect, this is to say that the barometer for measuring the moral and ethical standing of a people is the material and colour of their leadership. That why history teaches us that nations have perished and been swept away because of the immoral posture of their leaders.

On this occasion of Eid-ul-Fitr after we have fasted for 30 days and in so doing learnt a lot of moral lessons, purged our hearts and souls, as well as gone through both physical and moral cleansing, we are cautioning the leaders of our country to be wary of our collective trust which we have reposed in them and dare not let this nation down. It also behoves us all, as Ghanaians, to collectively bow down our heads in shame, repent and seek forgiveness and help from Allah.

The Muslims of this country must demonstrate the way forward, having drunk deep from the moral and ethical lessons of the holy month of Ramadhan. As a stock exercise and an opportunity for introspection, Muslim brethren have been enabled, through fasting, to guard against evil and harm. It has afforded us the energy to reach out to one another and to mend broken fences in order to achieve unity and live in purity. Through fasting, we should be able to inculcate in ourselves moral values such as chastity, self-discipline and tolerance. We must ensure that these values reflect in our lifestyles