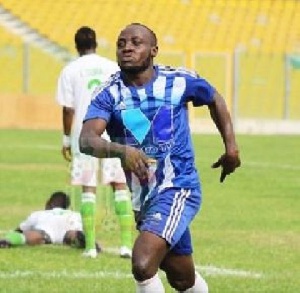 Thu, 12 Jul 2018 Source: Abel Manomey
I watched Godwin Attram when he featured for the Black stars, wearing the number 12 jersey, as he was part of the team that contributed to Ghana's first qualification to it maiden World Cup in 2006.
He played more of an attacking midfielder, confident in appearance and had good technique on the ball. This didn't surprise because his calibre and style of play made him captained the Black Starlet in 1997.

In September, 2016,i was invited by the Board members of Accra Great Olympics Football Club, after they felt I was needed to be part of their playing body for the commencement of the new Ghana Premier league.

He was part of the meeting and the only word he told me after much deliberation with them was that, "I will want to see him for a week and then I will take a decision on him". That words alone was enough for me to prove my worth to a coach I saw will challenge me higher heights.

I scored 13 goals in 8 pre- season games through his tutelage, coaching and directions that made me more confident than ever. He brought out the best of every single player, using inspirational and motivational words, methodology of coaching was player centered and seek to have the player interest before himself.

He was part of the training exercises as his involvement alone was a booster to individuals and new players like me, in a new setting, compared to the rest of the colleagues who are conditioned to it already.

On the morning when Accra Great Olympics Football Club played Ashanti Gold Fotball Club in Obuasi, which was the club's first outing in 2016/2017 Ghana Premier league campaign, he led the fort as ever,playing the role of a cheerleader, as we players and technical team sang and chanted songs of praise and worship to the most high God.
He led this example in every single match we played, raising morales of players and preparing you for a challenge unknown. His board work conversations before games was always on point, as he reminds players on their roles on the field of play. He has his own form of psyching players before every match, telling you how important you are and what he wants you to do for him, for the team and fans as a whole for the particular match.

He played a dual role as a player and coach respectively as his charges was a model who brought life to games, in the events when things become difficult. One experience was when Accra Great Olympics Football Club hosted Aduana Stars in Accra. We were two goals down and his presence and contributions changed the rhythm of the game. His one two passing with Bernardhino Tetteh Osae, after dribbling his way through from the center line to the 18 box, led to my fourth goal of the season.

Though we lost that game, I learnt so many lessons from that experience of who a leader is after the game. I felt honoured to be coached by a gem who knew what he wanted and will take the horn to the bull when the occasion rises.

The Godwin Attram factor in the shape of my football career, showed a selfless lifestyle to human kind from my perspective. He always choose to have peoples concern paramount to his and made sure people are comfortable so they can give out everything towards a good course.

In times when salaries were delayed, he funded players with his own money and in addition paid winning bonuses as well when salaries and winning bonuses were delayed This was motivation to us players, as every match showed that players were ready to give in their all for him as coach.

You spent minutes and hours with players,correcting techniques, taking players through various forms of goal scoring phases and motivating us, as you take us through your life experiences.
You gave people opportunity to show what they have in them and never discriminated against anyone. I still recall the facial expression my mum gave, as I introduced u to her, as Godwin Attram, the coach of Accra Great Olympics Football Club, during the demise and pre- burial service for my late father at the Sacred Heart Catholic Church in Accra. She felt she was not alone in her lost but your presence with the rest of my colleagues, present at the mass,was enough for her to be strong and seek solace from God.

For the opportunity to play my first premier league match, bringing out the best in me, challenging me to high heights, reminding me everyday that humility,selflessness and hard work is what I need to fight the storms of life, I am grateful.

Thank you.

Abel Manomey.
Source: Abel Manomey