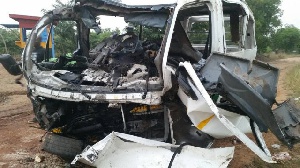 When Ebony Reigns (Priscilla Opoku-Kwarteng) died, someone circulated a WhatsApp message stating that when Lady Diana died, forensic and accident reconstruction experts were called to investigate the cause of the crash, while in Ghana, Mallams, Okomfuo and Pastors were called by radio presenters to tell us the cause of Ebony's death.
Noting the daily parade of Pastors and Men of God trooping to radio stations to claim credit for predicting her death first, this observation is not just right on point but also points to our debasement as a people.

We Ghanaians are too superstitious for our own good - period! The most shameful are those of us who call ourselves educated. Everything that happens is ascribed to some unseen evil force or to God. Our superstition has long run into abject insouciance, paralyzing us from technically analyzing situations and taking informed corrective measures.

Ebony Reigns did not die because of any prophecy, curse or divine will. The simple truth is that three young people, including the rising star Ebony, died because a road contractor, in an act of gross negligence left a heap of sand on the road, blocking traffic, leading to the fatal accident. The police report indicates that the car Ebony was travelling in run into a bus in an attempt to avoid crashing into the heap of sand, which according to reports, had been left there for over two months.

What happened to Ebony is not unique. But for the grace of God, I would have suffered a similar fate. I went to Ghana about a year and a half ago on vacation. I decided to visit my parents at Akatsi in the Volta Region. I reached Sogakope at about 5:00PM and had about 30 minutes left to reach my destination. Just a few miles from Sogakope, I was suddenly confronted with two large heaps of sand covering about a quarter of the road. It took some deft maneuvering on my part and the fact that no other vehicle was coming from the opposite direction, for me to escape unhurt.

In August 2016, I went with my wife and children to Ghana on a visit for the summer. After spending some time at Accra, we decided to visit my wife's hometown of Wassa Akropong. We made it safely into town. Just before entering the town, we saw a broken-down truck with a load of either cement or cocoa with no warning signs whatsoever. In the evening, my wife and I decided to go and visit some friends.

Just as we got to the roadside, we heard sirens, later followed by an open-back crew-cab truck with a load of dead bodies dangling in the back being taken to the Akropong mortuary. Upon enquiry, we learnt that a minibus travelling to Kumasi had crashed into that very truck we saw a few hours earlier, killing 21 people including two mechanics who were under the truck fixing it.
I am sure there were also "Prophets", "Pastors" and "Men of God" who predicted that accident. I can imagine the parents and relatives of the deceased with funeral banners heralding their "call to glory" and attributing their fate to God – if not blaming it on the poor old lady at home minding her own business.

The fact that they would not have died if that truck had been moved off the road or had had adequate warning signs posted would have been lost on everyone. The owner of the truck would go scot-free after greasing a few palms. The members of our National Road Safety Commission would happily go on collecting their allowances and remuneration while the carnage continues on our roads.

Why is it so difficult for us in Ghana to do very basic things? At the very least, every police station nearest a broken-down vehicle ought to have responsibility for moving the vehicle off the road – as is done in other countries. The government should resource the police stations with tow trucks for that purpose. If the vehicle needs to be off-loaded, young men and women should be hired from the town where the police station is situated to do the off-loading.

The vehicle should be towed to the nearest police station for storage and the owner billed for the cost of towing, off-loading and storage; to be paid before the vehicle is returned. Vehicles that stay for too long at the police station and are not retrieved should be auctioned off and the money used to pay for the off-loading, towing and storage.

This simple exercise, if carried out effectively should clear the roads and drastically reduce road accidents in Ghana. The situation where a broken-down car, truck or bus is left on the road week after week posing a dangerous hazard would cease or at least be minimized.

In the case of other hazards blocking the road and posing a risk to travelers, the police should be empowered to find the culprits and have them remove the hazards or process them for court if they refuse to remedy the defects. In those cases, the police should be provided police-issue hazard signs to be placed by the hazards to warn drivers, especially at night.
The death of Ebony at such a young age, added to all the hundreds of deaths on our roads should wake us up to action. Let us leave the "prophesy," "evil spirits," "witchcraft" and the "I leave it to God" syndrome and take concrete steps to ameliorate our situation and enhance safety on our roads.

In that spirit, I would implore Ebony's parents to ignore all the doom-loving so-called Pastors, Prophets and Men of God and hire a lawyer to sue the contractor who left the sand by the road. She should also sue any supervising government entity that has responsibility for that portion of the road.

If such people are held to account, they will think twice before creating such hazards in the future. The courts must also be innovative enough to award exemplary or punitive damages in such cases, since awards in wrongful death cases in Ghana are too paltry and make a mockery of the justice system.

I hope that the Ghana government and the National Road Safety Commission will finally have a grip and take concrete steps to alleviate the slaughter on our roads.