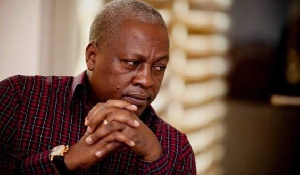 "Oh! what a tangled web we weave when first we practice to deceive." (Sir Walker Scott). The MO has always been to send out the attack dogs and I expected nothing less. There shouldn't be any doubt the objective of their attack is to conjecture enough and obfuscate the critical issue of whether or not, John Dramani Mahama is our best candidate and if forcing him on the party is helpful to our objective of victory 2020. It's all an attempt to cover up the fact; Mahama gave us the most emphatic and worst electoral defeat in the history of our nation.
Arguably, JM inherited a stronger party than what it is today. What happened?! They want to change the subject. After delivering the worst electoral results in the history of our party, it makes little or no sense to return JM to lead us in 2020. They recognize it's impossible to present good arguments in favour of why it's in our best interest as a political party to return the candidate who lost, not only as a sitting president but also with the largest margin of defeat in the political history of Ghana, so they choose to demonize and engage personal attacks. I am not perturbed.

Our truth is simple; JM was rejected by the electorate and we suffered the worst and most demoralizing defeat in our party and country's history. We can't afford to repeat that. They'd love nothing more than to see the debate degenerate into personal attacks, but I'll not give them that pleasure. Sinare and I are not that important.

As a parliamentary candidate and as DCE I refused to be called Honourable. I prefer Daniel and for those who insist, I compromise on Comrade. I am not sure why a write up stripping me of Consul General, Ambassador, Head of Mission, Head of Dubai Mission, or whatever title, somehow addresses the "fierce urgency of now" in engaging an honest discussion on our party's future and why JM is by far, the worst candidate to present in 2020 or how the despicable spectacle of actively preventing party leaders to speak at the unity walk is helpful in uniting our party.

If it makes Sinare feel any better, I relinquish any and all titles earned as a consequence of my post to Dubai, and add it to his. He may now call himself Ambassador Ambassador Sinare, or Ambassador Consul General Sinare, or Ambassador Head of Dubai Mission Sinare. We can't afford to be distracted by the silliness and a man who entered secondary form one at the ripe age of 21-years-old and earned six 9s (9 9 9 9 9 9) on his O'levels. His kind needs the titles to feel good about themselves. Amazingly, not only did he share this history of himself, he talked about it in the presence of others. I was stunned then, but not surprised they selected him to come do their silly attack.

Sinare, tread cautiously. Maybe you can start off with the horrible joke about the "big fat ugly elephant" you shared with me as I nursed you back to life from the jaws of death.
As a fellow northerner, maybe Sinare should explain to all of us why and how Bawumia and the NPP successfully encroached on our votes in 2012 and took away seats from us and did it again and took away, even more, votes and seats in 2016 and how bringing back JM, the same man the North keep rejecting, will improve our electoral fortunes in the North. Any thinking person can see electorally, the north has concluded; Mahama's values are not their values and has rejected his leadership. Like most of the country, Northerners are thinkers and observers. They've experienced JM and concluded; never again! If we make a mistake and impose him on them, they'll spit him out like bad cola and the result will be devastating. Let us not allow JM to reduce our great NDC to another CPP.

We should entertain and support JDMs bid if and only if we can deduce a calculus that can predict accurately that those NDC sympathizers who stayed away from the ballot box will now go to the ballot box and vote. Also, the 'quiet middle' i.e. the independent votes are critical. What has happened with Mahama in opposition that will help entice or swing the independent voters to MAD (Mahama Akua Donkor)'s NDC? Is it the Appiah stadium factor after he ranted on Radio he wants to eat Mahama's poopoo or the Bukom Banku antics or the Akua Donkor noise? What has changed about JDM in opposition to help attract the independent/floating voters?

From the video of him singing Barry white, the needless flagrant display of opulence, to the botched visit to Major Mahama's wife with the media during which he laughingly mocked in the most unpresidential and insensitive manner and asked Major Mahama's young son if he would join the army when he grows up! And had the temerity to put the video online and write on Facebook he "just visited the widow of Major Mahama and gave her money" how many votes has he flipped? This is the man being forced down our throats to become our flag bearer. "When someone shows you who they are, believe them the first time" (Maya Angelou)

It's important, to be honest in our internal deliberations before we hit the open campaign season. Can we afford rebranding for victory, with the same personalities, images and thinking, that uprooted a sitting president, and gave us the vile and humiliating defeat in the history of our party and country? or we hope to deceive with billboards touting how decisive Mahama is, as we did in 2012. It won't work this time. Nobody knew Mahama as a leader in 2012. Now the country has experienced him as grossly indecisive and spineless.

Mahama worked against the party's interest in the 2016 elections period! Maybe the KB report captured some of that or not, but some of us saw the party losing months before the first ballot was cast. Every attempt to forewarn was met with "the president has won already" as if victory was a birthright. We did not dismay. Some of us had to fight to come home and campaign for our party. Has anyone pondered why for the first time in the history of our republic and party, all politically appointed heads of missions were not allowed to come and campaign for the party and only a few handpicked favourites were permitted to come?
Many have questioned why seasoned talents like Hon. Tony Aidoo were not allowed to come and help. It was not accidental. Not only was he sent away to silence him, he was kept from coming to campaign, to contain him. After months of no action on JM's own promise to allow me to come and help implement an agenda we had discussed since 2013 when I confronted him on why the delay, as time was not on our side, JM's response was a pathetic "your minister is too difficult." Think about that for a minute. The president was intimidated by his own minister, so he could not take a decision which was important and could only inure to the benefit of his re-election. I laughed when I saw the video of JM in the last walk in Cape Coast when he admonished Akufo-Addo to "put his foot down" concerning his appointees. Really?! How ironic to see the pot calling the kettle black?

I wanted to prove something, so I fought the presidency, my so-called difficult minister, and was ready to resign if that's what it took. Even after the Ashanti caucus petitioned the presidency to allow me to come and help, they resisted. Why?! I came down and used my own pickups, a V8 and a V6 which I branded with Mahama's image and mounted sound system with DJs and dancers and a team of organizers. I paid their hotel bills, food and salary and had we won who would have been president? Mahama of course. I worked in the most rugged terrains and we won every constituency I worked in, including taking back a seat from the NPP. I wanted to prove to the party and Mahama that there is a correlation between work and results.

I do not hate nor dislike former President Mahama. He's a fun guy. The proverbial nice guy to have a beer with. I desperately want us to win 2020 and have concluded he's not capable of taking us to victory in 2020. On the contrary, I know he's our surest bet to lose and the NPP can't wait for him to come. They crushed him before and they can beat him again and it will be merciless. I am not closed minded. If anyone thinks JM is our best option, articulate your reasons why for all to read and appreciate. It's time to sit up folks.

We don't need KB committee report to know Mahama was rejected by wide margins across all demographics; youth, women, the security services, men, traders, farmers, fishermen. We lost badly across board. Even in the northern parts, we not only lost votes but also seats! What was Mahama's value as a northerner if he couldn't even protect our votes in the north as a sitting president. How many seats did President Kufuor lose in Ashanti region, or President Rawlings in Volta region during their re-election? Even in death, President Mills (May He Rest in Perfect Peace) held the central region together for us in 2012. C'mon guys; enough already.

We can't repeat the same things and expect different results. Let's rise up and think carefully about what must be done to give our great party a chance.