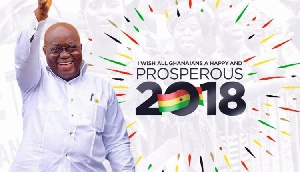 My dearest Mr President, in part I of this series, I promised you "amane3 soronko".
Well, I didn't have to research anywhere to write a thesis on how grossly corrupt John Mahama was as a president, and how audaciously daring he is in opposition, impugning the imminent prosecution of his compatriot thieves in the erstwhile administration of the NDC.

Then, as if it were not enough that we had to put up with such an empty barrel, NDC's schizophrenic General Secretary, Asiedu Ntetia, sought to challenge you, Mr President, with the nauseating odour of his vitriol by daring you to sign the Bill of Special Prosecutor. This morning, I heard the news that you did. Bravo!!! I am almost certain that Asiedu is now squirming in his filth, knowing that he will be axed soon.

I think he should be sent back to Pantang! You see, even the "amane3 soronko" that I was about telling you was made easy by the sputtering of such gross ignominy. Yes, ignominy! You see, people who are daringly mischievous must have an entrenched love for mischief, criminality, terrorism, and outlaw mannerism; and that is grossly shameful!

So, in our bid to eradicate uselessness, incompetence, unpatriotism, fraudulence, and corruption, please let us proceed supersonically in this regard too. I think that you should reinstate the firing squad, and amongst the first batch that must be tried are John Mahama, his corrupt brother Ibrahim, Valerie Sawyer, Ofosu Kwakye, Fiifi Kwertey, Okudzeto Ablakwa, Murtala, Kokoon Anyidoho, Jospong and Amissah Arthur, the latter for his gross idiocy of getting paid for not doing anything; a liability rather than a vice President!

If found guilty of corruption, they must be tried for treason in a second and final step. Then they should be paraded at the range and executed by firing squad. Maybe then, and only then, will the thieves be kept at bay, and corruption be subdued like the effects of retrovirals on Human Immunodeficiency Virus. After all, their party was founded on the shedding of blood, and so they must be given a taste of their own industry!
Jerry John Rawlings cried that we should take on the corrupt people in our house. Well, I agree with him, but where I find him utterly nonsensical is in his negative utterances about you. But, I ask, how can a grossly blasphemous person who took bribes from Nigerian Saani Abacha, The Emperor of Brunei, and so on, be critical of such exemplary leadership as yours? He nauseates me with his hypocrisy. No wonder John Mahama is so hypocritical; an astute student of foolishness!

I read a naysayer's article that admonished you to lead by example by paying your taxes. It is so laughable, really! Ebenezer Annang might not know that you never took a salary as a member of government before, and you are not doing so now as President. How do you pay tax on a salary that you reinvest into charity? And since the example that you set was a charitable one, he should rather direct his ignorance at the leadership of his party, the NDC, whose members took took took and never gave.

They never even paid their taxes while companies that went bankrupt were forced to pay heavily to cover up for the deliberate deficiency of funds at the Central Bank. Ghana's moneys were actually offloaded from the national coffers into Ghana-must-go bags by NDC thieves. Ibrahim Mahama, I recall, gave over 40 dud cheques to CEPS.

By the way, how far with the prosecution of this criminal?

Before I end, Sir, let me speak briefly to a certain prediction that I feel is blasphemous and treasonable. Let us say this statement is a precursor to an article that I shall write on the topic, in very plain and unminced terms.
The pastors of latter day insanity have become overly insensitive; quite foolish and anti-GOD! I will site a quick example of such overstated blasphemy. Recently, a pastor somewhere in Africa, told his flock to prove their faith by drinking rat poison because GOD had revealed to him that HE had made them immortal. They drank the poison…….guess what happened to them! They died a rat-like death! South African Pastor, Light Monyeki, didn't not participate in this deadly binge! The Hypocrisy! The Blasphemy!! The NDCism!!!

In same manner, the pastors of doom and gloom that prophesy blasphemy against you shall die. They shall die like worthless creatures whose extinction brings relief to the ecosystem and purifies our environment! In other words, their demise shall be appropriately described as good riddance!

So, please, do not let them distract you.

We all know that you are focused on making Ghana great again. You promised that in 2018, we shall shift to supersonic speed in development. So I beseech you to release a supplementary manifesto to enable us continue the journey of greatness that we have embarked upon with you at the helm of affairs.

Nyame b3 ma wo kwan tenten. GOD bless Ghana and GOD bless you. Happy New Year once again!