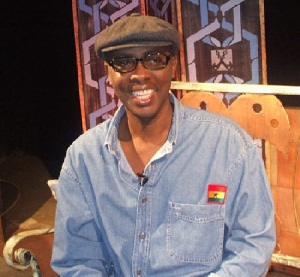 The statement I published last week, as I expected, generated much interest and discussion here at home and within the Ghanaian Diaspora. After all, democracy and discourse go hand in hand. I am therefore quite happy that in my own way, I have been able to shine some light on the thorny issue of ethnicity in our polity and got some more discussion going.
I heard some of the comments first hand in the media, some through second party reporting and others through the internet. They were varied in content, tone and depth. Those I could respond to directly, I did; this statement would address just a few matters arising.

1. Did I have that encounter with Nana Akufo Addo and did he tell me that the NPP was not ready to cede its "Akan Leadership"? Yes I stand by every single word in the original document. Since this is an issue of integrity, honour and credibility, it is up to Mr. Akufo-Addo to speak directly on the issue and not through a spokesperson. I believe there is something called perjury. I am ready to go through that process. The others I mentioned too can avail themselves of the process. That is all I can say for now.

2. The Aliu Mahama Foundation's statement. This is not the first time that the Foundation, through a public statement has decided to cast doubt on my principled stand regarding the late Vice President. It would be recalled that when I objected to the way the public lecture that had been organized to commemorate the first anniversary of his passing, was hijacked by Dr. Mohammadu Bawumia for partisan politics, the Foundation rushed out with a statement castigating and ridiculing me. This latest one is therefore in character.

My comments are as follows. Firstly, I owe nobody any explanation or apology regarding my personal relations with the late Vice President, a relationship that goes way back to when I was a child and pre-dates the many relations that developed in his later career as a politician. Secondly I am surprised that the Foundation has no grasp of posthumous commenting that often makes up the bulk of the primary sources for scholarship on dead leading public figures.
It is most absurd for a Foundation set up to advance the legacy of no less a person than a former Vice President to be so ahistorical and lacking in intellectually/academic rigour. Biographies, films, documentaries and dissertations on such personalities have often involved sourcing out people with first-hand experiences with/of the subject. I am very proud of my relationship with our late Vice President and will reference it as and when.

3. The third and final matter arising is the bad language, insult, abusive words and invective that have spewed forth since the publication. I have seen some of them online, radio/television and others were sent directly to my inbox. Indeed, in a fit of pique, the Deputy Secretary General of the NPP, a lawyer, a man who should understand the value of decorous language was on a television news programme calling me all sorts of names including even a "prostitute"! An aide to Nana Akufo-Addo, one Mustafa Hamid lost complete composure and resorted to rude and abusive words against our Head of State, HE John Dramani Mahama. I will not go their way.

All that I can do is to pray that God Almighty will help them find rooms in their hearts where some civility and decorum can reside. My statement may have been thought provoking or even unpleasant to some but it was neither insulting nor abusive. That is how the public space should be used to advance our country's interests. With regard to ingratitude leveled against me, I find it so embarrassingly petty that I choose not to comment, but only to remark that the NPP should delve into its history to discover its own bigger ingratitude. More on that at a different time …By way of conclusion could Mr. Mike Ocquaye Jnr find out from the older Mike Ocquaye why he disappeared after the 1992 Elections and how he got back into Ghana…