"It's important to enhance the integrity of our competitions, So we are offering a price money of GH¢30,000 to any whistleblower who has credible information of corrupt practices of bribery and corruption and related accusations"- Ghana Football Association President Kwesi Nyantakyi announcing "a well thought out plan" to fight bribery by the Executive committee and key stakeholders after a 3-day seminar on Ghana Premier League reforms. If this attempt represents the FA's best approach in handling bribery and corruption, it's as good as throwing in the towel.
Why seek whistleblowers when key actors have more than echoed through interviews the very act? Why leave all that evidence and call for more? What informed the GH¢30,000 reward? Could that have been on the assumption of the prevailing lower black market bribery price known to the decision makers? Who can whistle blow confidently when bribery allegations are made by "Big men" connected to big clubs against key football people in active positions?

It's a really difficult subject to discuss but an area the Ghana Football Association has failed in woefully, especially coming up with solutions in tackling the bribery menace in our game. The football governing body's latest attempt really shows its almost poorly equipped to deal with bribery.

Football the world over has had similar issues and the point is corruption and bribery would be very difficult to completely eradicate, hence the introduction of many reforms at the world governing body FIFA to sanitize what's left of it.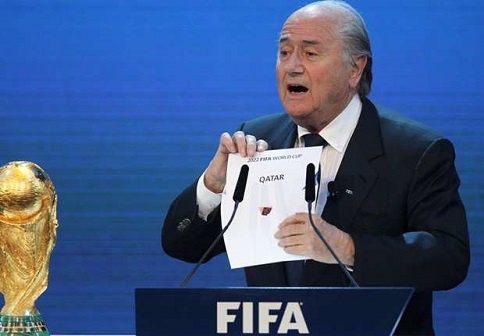 Ex-FIFA boss Sepp Blatter
FIFA acknowledged for the first time that votes were bought in past World Cup hosting contests and was seeking a claim "tens of millions of dollars" in bribe money seized by U.S federal prosecutors. The world body went ahead to submit a 22-page claim to the U.S Attorney's office in New York that sought a big share in restitution from more than $190 million already forfeited by soccer and marketing officials who pleaded guilty in the sprawling corruption case.

So bribery is real and what matters is how you deal with it! While others struggle to get leads or evidence to make concrete cases, Ghana football has the luxury of these with key actors including referees, club owners, members of the FA executive committee all making bribery allegations.

In 2016, respected businessman and politician, Dr Papa Kwesi Nduom, who owns Elmina Sharks, questioned the integrity of referees in the league. The Chief Executive Officer (CEO) of Aduana Stars, Albert Commey didn't think Dr Nduom had any moral right to question referees' integrity. President of Amidaus Professionals, Baba Gedo, is also on record to have said that, he paid bribes to match officials to win matches in the GPL. Also that year Tema Youth Coach Edward Nii Odum fingered referees for taking bribes and had a response from an anonymous referee who confirmed approaches by several league club owners to manipulate games.




Dreams FC players angrily confront referee after defeat to Kotoko courtesy a controversial late penalty in 2015/16 season.
So there is at least a growing perception coupled with damning revelations almost suggesting the FA is far behind in dealing with the menace. So let's talk the approach which is my main issue.

The FA has the Ethics Committee as one of its key organs, which was set up to breath decency and cleanliness into the Ghana Premier League but has failed to bring all these culprits to book further corroborating the presumed awkward happenings in the league. So maybe explains why the Ghana FA had to rethink, but what a lousy measure to financially reward whistleblowers.

How does this prevent the act or make it any difficult to indulge in? The Ethics committee has failed to bring to book culprits who go about granting interviews laden with bribery allegations. So if the FA's body mandated to deal with bribery cannot work why bother whistleblowers at all.

It's difficult to see how whistleblowers can emerge because these allegations of bribery are made against club owners whose activities and membership on key FA bodies make reprimand from any of the mandated bodies difficult, let alone an outsider "whose whistleblowing" activities can easily be deflated through the system.

What's more, the Ghana Football Association at least from what we are told, is in dire financial crisis worsened by the Black Stars inability to qualify for the 2018 World Cup, So why should a plan to solve a problem this long-term, be thought about this way? Think of it, the winner of the last season's Ghana premier league took home GH¢120,000 which is literally four whistleblowers reward for leaking critical bribery information in the same league. Ludicrous isn't it!
Look! its either the FA is simply mocking the football fraternity with this approach at best or pretending to be worried about the current trend at worst. If institutions mandated to execute crucial tasks at the Ghana FA cannot perform or be forced to work, there is no point reinventing the wheel in futility.

Mr President, you have whistleblowers in abundance, you surely have cases waiting to be investigated with proper basis for prosecution, Figures who have been often fingered in these countless bribery allegations are deep in your circles, So get your designated bodies to work rather than promise GH¢30,000 for whistleblowing which will triple your financial woes.

The latest attempt by the Country's football governing body to curb bribery in the Ghana football falls flat on its face and should be common knowledge by now- The Battle has truly been lost.