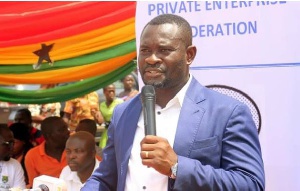 Dear Lawyer John Kumah,
Regarding our recent meeting at your office on Tuesday 7th May 2019, with the management of NEIP, ACEYE likes to thank you for the invitation extended to us.

We are encouraged that some of the issues we articulated in our open letter to NEIP is underway; this is appreciated.

For example, management explained how NEIP arrived at the 7000 trainees mentioned in the article. Looking again, per our in- depth research, we find that some groups applied as individuals such as the Bonwire Kente Weavers Association. Yet, going forward, NEIP should be more specific to differentiate groups from the individuals in order to avoid any ambiguity in the minds of researchers and observers of NEIP.

In furtherance, we appreciate your bringing to our attention the existence of an Online Mall designed to help entrepreneurs assist the Startups based on the four tier SME support ecosystem. Just as you conceded, there is more to be done in that regard.

We are also happy to hear the preparedness of the NEIP to work with angel investors to boost the operations of startups. We would do our part to strengthen advocacy and bring prominence to the need for angel investors to invest in the sector, and collaborate with your outfit in that regard.
We also appreciate your drawing our attention to the fact that British Council is aiding in designing a curriculum. This is a welcomed. We want to suggest that the curriculum should be available on your website so entrepreneurs can access it.

ACEYE also understands the position of NEIP for not incubating and accelerating the startups as a follow-up programme with the hubs. Successful entrepreneurial ecosystem such as Chile's has such a support mechanism. We are not calling for an everyday classroom training but one with intervals.

Alternatively, there could be an online platform with resources, mentors and other key stakeholders to support the work of entrepreneurs. You may equally want to consider partnership with existing online platforms. Our concern is primarily to reduce the impact of why 50% of startups fail within the first three years of operation.

Once again, we wish to thank you for meeting with us and for the warm atmosphere the meeting was held. Just as you have encouraged us to continue with our work in with patriotism, objectiveness and integrity, be assured ACEYE would continue to remain a partner in the country's quest to spur entrepreneurial growth and development. s

Best of luck in the good work you are doing for Ghana.
Sincerely yours,

Emmanuel Acquah

(Co-founder & CEO ACEYE)

Aceye.thinktank@gmail.com