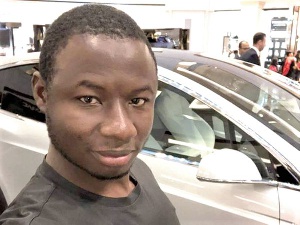 Thu, 20 Jun 2019
Source:
CPJ
Have Ghanaian Journalists and the various institutions that have the responsibility to protect media rights forgotten about Ahmed Hussein-Suale so soon. Who is following up and ensuring that as the Committee to Protect Journalists (CPJ) is asking Pakistani authorities to do, some is asking the Ghanaian Authorities to quickly launch a credible investigation into the killing of Ahmed Hussein-Suale, including whether his journalism was a motive?
What are you doing GJA, NMC, and the various media houses in Ghana?

You fight other causes but neglect your own. How much of your media resources are you dedicating to this fight – to ensure that justice is done to the memory of Martyr Ahmed Hussein-Suale?

When was the last time we heard any report from the police on this investigation?

When was the last time any media house made any comment about the case?

The Legal Fraternity will be celebrating Martyrs soon and what has been the results of their fight against impunity against their kind. But the Ghanaian media will not learn, we are busy fighting the causes of other people but neglect of ourselves, we can and should all of them.
We forget that if we are not free as journalists, without protection for self, we will not be able to properly fight the causes of others.

Please, Ghana Media wake and fight for your right. The death of Martyr Ahmed Hussein-Suale and the attacks of several Ghanaians media professionals are tied directly to our democracy and fundamental freedoms. We are shirking our responsibilities.

Mr. IGP what is the current situation in terms of the investigation into the killing and murder of Martyr Ahmed Hussein-Suale? We were promised regular updates.

What has happened to several journalists and other media persons who have been attacked? Have we found the criminals who beat Iddrisu Latif Bamba at the Police HeadQuarters?

Please Ghana Media, lovers of free speech and all patriotic Ghanaians, let us pray that we shall get a favorable judgment on the 21st of June, when judgment is given in the civil case of Ohenmaa vrs Hajia Fati. I pray a lot of you journalists will throng the courts and cover the sitting. Thanks to Multimedia who have pursued an attack on a journalist to the very end. Ghana media needs to learn from this.
Now read the report another journalist stabbed to death in Pakistan as reported by CPJ.

New York, June 19, 2019 — Pakistani authorities should swiftly investigate the killing of journalist Muhammad Bilal Khan in Islamabad to determine the motive and hold the perpetrators to account, the Committee to Protect Journalists said today.

On June 16, unknown individuals attacked Khan, an independent journalist who ran a YouTube channel where he interviewed political figures and talked about religion and politics, and stabbed him to death, according to news reports.

The government has vowed to investigate the killing, according to Pakistani English-language newspaper Dawn.

"Authorities must quickly launch a credible investigation into the killing of Muhammad Bilal Khan, including whether his journalism was a motive," said Carlos Martinez de la Serna, CPJ's program director. "This brutal crime is not only a tragedy for Khan's family but it is bound to instill fear in the journalistic community until the perpetrators are identified and brought to justice."
In the evening of June 16, Khan received a phone call from an unidentified man asking him to come to Islamabad's G-9 sector. When Khan and his relative Ehtasham ul Haq arrived to meet the man, unknown individuals hit Ehtasham from behind and stabbed him multiple times, and brought Khan to a nearby wooded area and stabbed him at least 17 times, according to English-language Pakistani daily The News.

Khan and Ehtasham were transported to a local hospital following the attack but Khan died en route, according to The News. Ehtasham survived the attack with severe injuries, Dawn reported.

Police said the suspects used a dagger to kill Khan, according to Dawn.

Khan's father filed a first information report, the first legal step towards a police investigation, with the police the day of the attack, according to Dawn. CPJ emailed the Islamabad police for comment but did not immediately receive a response.

Khan had more than 19 thousand followers on Twitter and more than 54 thousand subscribers on YouTube. One of his last tweets prior to his death was critical of the Inter-Services Intelligence, the country's intelligence agency. In his recent videos, he gave political commentary on a recent speech by the prime minister and on a bill that would eliminate sectarianism in the country.
Although killings of journalists have declined in Pakistan in recent years, CPJ has documented a rising trend of censorship under pressure from the military. In 2018, journalist Sohail Khan was murdered in relation to his work and Zeeshan Butt was killed, though CPJ had not determined the motive behind the latter's killing.