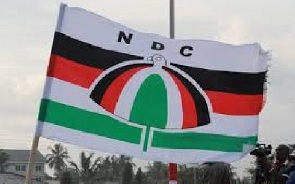 When some people question the conviction of some of us, I just laugh because they do not know some of us. They are are mere latter-day social media "clicktivists". What do they know?
They should go and ask Stephen Opuni and Kofi Adams. In 2008, the history of the NDC was viewed as such a bad omen to the electoral fortunes of the NDC to the extent that even the NDC founder believed it.

Why do I say so? It was the first time the founder "dodged" the anniversary commemoration of the June4. Everyone felt that the new-NDC didn't need the baggage of AFRC/PNDC in the run up to the 2008 elections which we were almost certain of winning - except a few of us.

We thought the founder was thinking like us - at first. We (YFL championed by Sidii and myself) decided that we were going to hold the June4 event in the opposition stronghold of Kumasi - hitherto unheard of.

I was working in Kumasi at the time.

We organised with our boys in Kumasi (Iddi Kamara and co.) and we built momentum for the D-day. We were misled by Kofi Adams to believe that the founder was attending the event. We advertised everywhere. He didn't. Apparently the founder himself believed - at the time - that burying the values was convenient for winning power. I guess he was tired of opposition.

He never showed up on the D-day. We were told he was unable to return from South Africa to join us. Dr. Opuni read his address on his behalf that day.
I gave the welcome address.

In the run up to the event, Dr. Opuni and Kofi Adams wanted to hijack the event. They wanted to control some of us.They began to impose their own ideas which some of us resisted. It resulted in a fracas after I hanged up on Kofi Adams who was trying to speak nonsense to me on the phone upon taking bogus reports from Dr. Opuni about how we went about things.

That was when there were only a few men with conviction left in the NDC. Men who were not prepared to bury principles for power.

Interestingly, we are the same men who got isolated by some of these guys who stood together with us and recognized our NDC roots against overwhelming odds in opposition. These are the same people who falsely claim they know some of us, and gave bogus reports on some of us whiles in government. Why? Because they can't control some of us. If they can't control you, they try to isolate you - with lies and vindictiveness.

Yet, social democracy is all about social inclusion. And that is why I keep saying that our leaders in NDC should be the first people to attend that party ideological institute they intend to establish - that's if they ever establish it. They, more than any other in the party, need some serious lessons in social democracy. Social democracy is about inclusion not exclusion on the basis of divergent opinions.

Enough of the leaderlessness!!!