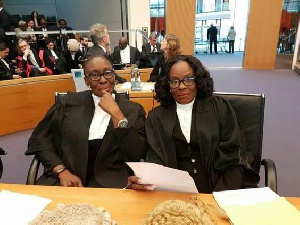 It appears as though the only news in Ghana, these days, are those of corruption scandals; GHC51million here, $72million there, even the Judiciary, where we should be taking these corrupt officials to, are themselves appear not to be up to the task.
I remember the jubilation that greeted the announcement of Ghana's oil discovery. It felt to me, as though, all the problems that confronted our nation were over; after all we already had cocoa, we had gold too, and at that time we had not completed destroying our water bodies with Galamsey, so we were fairly ok.

Even in 2009 when Woyome took that commercial money, we knew that we could safely say "never again" should such a robbery happen to a small country such as ours. I only felt worried when Woyome's scandal ended up opening Subal, Isofoton, and so on. Since then I have had my ears violated with the language of hundreds of millions in the conversation around corruption.

In all of these I was never lost on what has happened to Nigeria, oil discovery becoming a curse rather than a blessing. The violence in the Niger Delta is clearly underwritten by oil and its associates. So I was not surprised when our neighbouring brothers, Cote d'Ivoire, jumped in, to claim portions of the sea where our oil was discovered. Hopefully the resultant sea dispute, which has now been settled by the Chamber of the International Tribunal of the Law of the Sea (ITLOS), will remain the only dispute that would have confronted us in our journey into oil exploitation.

Already, we have begun to soil ourselves with the revenues from the oil heritage. Last week the Public Interest and Accountability Committee repeated their call on the government to, as a matter of urgency, conduct a forensic audit into projects funded with the oil money. This was after it was discovered that several projects funded from oil revenues were non-existent although monies have been disbursed for them.
We, in recent years, gave over GHS317 million of the oil money to be spent on capacity-building, to prepare our youth for employment in the oil industry. The following were the Institutions reported to have been given the money: Venture Capital Trust Fund, MASLOC, Na­tional Youth Employment Program, NADMO, and the National Youth Authority, do you get it? Every single one of those institutions that benefited from these capacity-building allocations has been rocked by corruption scandals, with most of the monies finding their ways back into the pockets of those who held them.

While we were stealing the oil monies, we left the ITLOS battle in the hands of two women, Marietta Brew Appiah-Opong (former Attorney-General), and later Gloria Akuffo (current Attorney-General). They have given us victory, and we are told Ghana has saved over $49billion; what an opportunity to celebrate our women!

The ITLOS victory has happened at the time Ghana is 60 years old, and it is just right that, at this time in our history, we celebrate the women who made us proud; the likes of Yaa Asantewaa, Ester Ocloo, Efua Sutherland, Ama Ata Aidoo, and all those who have achieved great feats in governance, and in business.

Last year, a female medical student of KNUST, Fathia Karim, swept 13 out of the 15 academic awards on offer; no such victory could have happened a few decades ago, a testimony that we have come far.
I will like to repeat myself, here, that, in all of these, I have never overcome the trauma of learning, that, there was in this country a nursing mother, who was also a High Court Judge, Cecelia Koranteng-Addow, was murdered in the most difficult circumstances. I might have been too young to know what happened, but I have always avoided being able to read this history, in whatever the form it comes, whenever I have encountered it in any literature; that we, as a nation, Ghana, superintended over the killing of a nursing mother, that we took her away while she was nursing her baby, and slaughtered her, slitting her throat as her cold blood poured.

How did this happen? That we snatched away a breast-feeding mother, from the love of her baby; the baby cried while the mother was going through the red hot bread knife; we all watched, stroke up, stroke down, stroke up, stroke down, as the knife paced through the stretched throat, and as she shook under the oppressors' fists, trying to escape from the clutches of the men who held her down, and when we were done cutting into her, we celebrated as the blood spilled; eiii Ghana, y3 wo akukudur ooo.

Anyway, we finally had a woman Chief Justice, Justice Georgina Wood, but we all lined up to insult her, with some sharp teeth threatening her with rape. The Montie 3 shame still lives with us, Salifu Maase, Ako Gunn, Alistair Nelson, and (add Oti Bless) are still reigning as kings in this country.

Georgina Wood, a woman who was supposed to have been the fourth most powerful person in the country, rather became the lowest commodity on the lips of people whose only claim to fame was political patronage; they had nothing, but for the irresponsible application of power.
We did not learn any lessons from what happened to Justice Koranteng-Addow. That incident did not inspire us to give higher punishment to those rotten minds. Rather we freed the lunatics to humiliate the only female Chief Justice we had, and we put them on our campaign platforms, to campaign for us, to get us more votes; the deserving result is what we got, a defeat that looked as though even the gods voted.

The President, Akufo-Addo, recently predicted that a woman will, one day, become the President of Ghana. Of course this is an easy prediction to make, that before the world comes to an end, a woman shall become President. The question is, how soon? Do you think a woman can soon become the President of Ghana, when we have militarized our elections?

Who are the winners of the big contracts in this country? Who are the front-liners of corruption in this country? Who are those in possession of guns, and money? Who are those in control of the unemployed illiterate idle youth in this country?

Many high level scandals have rocked our country; Subal, Isofoton, GYEEDA, Akonfem, Woyome, SSNIT, Venture Capital, these are all men-related scandals that hit hard at the bottom line, involving several hundreds of millions of Dollars, the only one involving a woman was the Smartys deal, which involved something less than GHC2million, and which we quickly got the money back. So the men have the contracts, they hoard the money, and during elections they use the money to hire human assassins to brutalize the weak, and to share largess; how do you expect a woman to succeed when you have created an uneven starting point?
I will like to see Nana Oye Lither becoming the President of the Republic. I will like to see Ursula Owusu-Ekuful becoming the President of Ghana, and I have said this many times, that I have no doubt that Zenator Rawlings will become the President of Ghana.

But first we will have to remove the bottlenecks. It is not enough to implement a Free SHS program, and expect that all is well with women equality. Yes, it creates equal access, and equal opportunities, but it does not remove the bribes that woman are forced to pay at the Registrar General's Department, it does not remove the bribes that women would not be able to afford to pay to public officials, for which reason they would not secure that contracts, and it would not insulate Ursula Owusu-Ekuful from Nii Lante's Odododiodoo thugs.

I will not ask government to distribute free money, to empower women, no! But I believe if we solve the problem of public corruption, women would feel comfortable doing business, and earning their own income. If we stop wrong machoism, abolish the Azorka and the Invisible thugs from our politics, women will believe in the security system, and would put themselves forward for elections.

We say congratulations to the two gallant women who stood for the nation, and won this ITLOS victory, and saved us this good money. The one way to secure the integrity of the opportunities we are all given, and to ensure that women stood the chance to become President of Ghana, probably in honor of Gloria and Marietta, is to insulate this $49billion money from the greedy eyes of your men, and to secure a leveling playing field for all the participating stakeholders, regardless of gender and political affiliations.