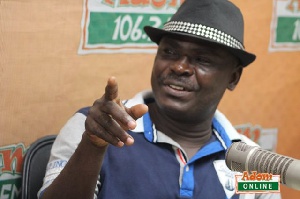 By Kwarteng Francis
Notwithstanding the preceding contentions in Part 3, it bears pointing out lest we overlook it, that, Prophet Daniel Asamoah-Larbi, Akosua Agyapong's husband's sanctimonious claim that Dark Suburb are "idol worshippers" and "demonic" and that the band courts evil influences are out of place, a mere talent-killing pontification.

After all, there are Christian rock, punk, metal, and hardcore bands all over the place especially across America (see Mark Powell's "The Encyclopedia of Contemporary Christian Music").

We will suggest to the members of Dark Suburb, formally Faint Medal, to simply ignore him and rather to concentrate on churning out great musical productions, such as their classics "Mama" (with Wiyaala), "Egobe," "Get Out," "I Dey Feel You Die," "Jump Off A Cliff," etc., and entertaining their fans from around the world including this author.

Interestingly, if not rather ironically, Dark Suburb's versatile guitarist Kyekyeku, the man Wanlov Da Kubolor featured on his great track "FOKN Country," is probably one of the most gifted or greatest guitarists in Ghana today.

Prophet Asamoah-Larbi needs to address his sanctimonious diatribe to his colleague sakawa pastors, Bishop Obinim and others, and his sakawa gospel musicians and singers. He should leave secular musicians alone.

This is because those costumes with skeleton designs which the band members of Dark Suburb are known for represent the core definition of their brand.

In case he does not already know, Prophet Asamoah-Larbi should be made aware that he needs to fight Christian Europe and the racist legacy of painting the Devil and evil black and Christ and angels white. Significantly, the Dark Suburb is right to call the so-called prophet "a blatant liar."

Perhaps Prophet Asamoah-Larbi has not paid close attention to Dr. Paa Bobo's "Wo Nyame Som Mpo Ni."

In fine, we shall advise Prophet Asamoah-Larbi to take his place at the forefront of or to focus on lifting gospel music to the refined level that Prof. Kofi Abraham, Daughters of Glorious Jesus, Tagoe Sisters…exactly placed it and left it!

Contemporary gospel music is losing its grip on spiritual consciousness, namely losing its primary purpose which is saving souls, glorifying God, and enhancing the spiritual relationship between God and man and then between man and man, and not a profit-making venture necessarily.
We probably all know of gospel musicians who are only interested in winning music awards and the hearts of women and fame and making money rather than using the platform to win souls and glorifying God.

We also know what is going on between Daddy Lumba and Isaiah Kwadwo Ampong! And that, if we may also add for emphasis, Ghanaian gospel should be properly called "gospel highlife" since its founding directly resulted from the secular foundation of highlife!

For all we know it is possibly prosperity theology and the increasing secularization and materialization of our contemporary civilization, not the suppression of soteriology per se in some religious establishments, which are partly responsible for the moral and spiritual decline of gospel music.

"Man shall not live by bread alone, but by every word that proceedeth out of the mouth of God," says the King James Bible.

Today "the mouth of God" has become a means to the self-aggrandizing pursuit of materialism. Many Christians and pastors today see "the mouth of God" as an "atonko public toilet" deserving of open defecation.

Sadly, and this is so very true, there are some of these pastors and some religious people in general who view secular musicians as reprobate and for that matter bound for hell. Yet much of our traditional highlife repertoire, particularly of the older generation, abounds in tons of positive life-changing teachings and lessons and wisdom which gospel musicians do not necessarily cover.

It may be for this reason that Prophet Emmanuel Badu Kobi, founding overseer of the Sakumono-based Glorious Wave Chapel International, recently chose Daddy Lumba and Amakye Dede as his favorite musicians in spite of the well-known fact that the former, especially, has certain controversial songs which, together with their accompanying music videos, are clearly un-Christian given their earth-shattering eloquence of risqué or suggestive lyrics (and sexually suggestive dance moves in the said music videos).

We recently witnessed some commentators' reactionary indictment of a viral video in which two pastors, a Roman sister, and members of a women's church fellowship danced to Bisa Kdei's classic neo-traditional/neo-folk highlife tune "Brother Brother." These pastor- and Christian-commentators are the very ones who will dance naked to Shatta Wale's "Mo Maame Twe," Rex Omar's "Abiba," and A.B. Crentsil's "Moses" in the privacy of their bedrooms with other people's wives, concubines and girlfriends.

Some important observations

Ghanaians, like others around the world, generally love catchy choruses, lines or lyrics as well as dance songs, or songs they can dance to, and, while individual musicians must positively respond to this special preference of fans and general listeners, they also have a responsibility to look at the bigger picture, that regarding the diversity of cosmopolitan preferences of fans of those musicians who look forward to building a global fan base.
These musicians should weigh these considerations against a backdrop of their acknowledging the increasing sophistication in the evolution of musical tastes across the world, of their expanding the instrumental repertoires of their songs (adding new instruments), and of their releasing live albums (in addition to studio albums done with professional session musicians or their own bands).

Those of our record or music producers, singers, musicians, songwriters, etc., who cannot play any musical instruments should learn to play some of these instruments themselves. They can learn from Babyface, the late Prince, Fela Kuti, Nana Kwame Ampadu, Bob Marley, Isaac Hayes, John Collins, and several others from around the world.

Finally, we also need to strengthen as well as enforce copyright laws against privacy and bootlegging across the country. We have belabored this issue elsewhere and will not do similarly here.

Concluding thoughts

The hiplife generation is generally a generation of musical decadence from the standpoint of aesthetic quality, artistic production, and lyrical sophistication, the latter especially in the larger contexts of moral epistemology, Afrocentric consciousness, humanism, social philosophy, critical pedagogy (conscientization), critical philosophy, social justice, universal love, community and solidarity, critical theory, traditional eschatology, social and political and moral empowerment, etc.

What we are in effect saying is that any good musical repertoire is self-critical; has internal cohesion in terms of thematic diversity; deals with topical issues of science and technology and industrialization; addresses itself to mundane matters such as material possessions and playful boastfulness and romance and serenade and trysts; raises and attempts to answer spiritual matters of life and death; and looks at serious issues of the environment and education and family and politics and economics and war and peace and…

Such a musical repertoire should raise questions of great concern to communities, nations, and individuals.

Such a musical repertoire should have a great capacity for evoking the deepest of human emotions—an impetuous passion for romance, sadness, nostalgia, happiness, joy, and so forth.

The older generation almost had it all. Yet, coverage of controversial topics such as pollution and environment consciousness are few and far between in both highlife and hiplife. As far as we can remember Daddy Lumba's reggae-influenced highlife classic "Children of the Future" and Wanlov da Kubolor's acoustic guitar-driven hiplife "FOKN Country," to name but two, touch on the environment.

These are the kind of topics that should receive more attention in our music. In fact this is also the more reason why our singers, musicians, record producers, and songwriters need to be well-informed ambassadors of knowledge, scientific and non-scientific, a feat they can partly achieve by reading and paying close attention to happenings in their communities, the country and the world at large.
We simply cannot overemphasize this point—Late rapper Tupac, Chuck D of Public Enemy, Bob Marley, David Hinds (Steele Pulse), Fela Kuti, KRS-1, Burning Spear, Nas, Lucky Dube were/are well read. Socialization, travel, and intense reading are what will raise the historical, cultural, political, moral and social consciousness of a singer, songwriter, musician, or music producer.

It appears then that the hiplife generation is merely a generation of atumpan-scrap noise-making factory or manufactory. Sankofa may be part of the solutions.

Do we remember the following classic highlife tunes?

Teacher Boateng's "Oheneba Ne Nea No Papa Te Ase" at all?

Or Slim Young's "Ye Obi Dee Yie"?

Or Obouba J.A. Adofo's "Owuo Mpaso"?

Or Adomako Nyamekye's "Adwoa Penema"?

Or Nana Tuffour's "Owuo Se Fie"?

Or Thomas Frimpong and Eric Agyeman's "Menamu"?

Or Alhaji K. Frimpong's "Kyenkyen Bi Adi M'awu"?
Or that timeless classic Ga highlife "Esther" (Yo Bibio)?

A word of advice

The way forward is for the new to marry the old. The old should chaperone the new in this newly proposed formula of artistic hybridization. Thus sampling is just not enough. It must be more than simply that. Here is a word of advice from musical genius and versatile guitarist Koo Nimo:

"It is the quality of music that will make you succeed in the industry and not the number of songs or albums you have churned out…Your first wealth is your health, so take good care of yourself and bear no grudges…My only prayer is for God to help me impart more knowledge to the young ones before I die."

The pure heart of Koo Nimo's statements somehow summarizes the moral power of Samuel Owusu's music. We could not have stated it any clearer. Even less so, we also guess a word to the wise is pointless, needless! That being said, we hope the new generation and its fans are listening?

We shall return with Part 5.

References

Ghanaweb. "Pastor Larbi Is A Liar Dark Suburb." August 27, 2016.

Ameyaw Debrah. "Ghana Gets A Rock Band, Faint Medal." May 27, 2012. Retrieved from http://ameyawdebrah.com/ghana-gets-a-rock-band-feint-medal/

Ghanaweb. "Compose Good Songs—Agya Koo Nimo." May 31, 2016.