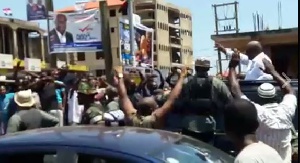 By Dr. Michael J.K. Bokor
Thursday, Oct. 13, 2016

Folks, I have watched several times the video clip on what the NPP supporters at the Kokompe spare parts joint were "captured" as doing when President Mahama passed through that area on his electioneering campaign tour of the Greater Accra region. They were shown hooting at President Mahama and thumping their chests in resonance with the clarion slogan of "Change is coming". I saw their actions and heard the noise they made—and I laughed out loudly at it all.

Some have attempted interpreting that hostility to the President in different ways. To the NPP machine, it was a confirmation of their optimism that President Mahama has lost Election 2016 in advance. They are only waiting for December 7 to seal his doom.

Some in the NDC have condemned the conduct of the NPP elements even as some sought to deny that such an incident occurred while the President was in the area. They parried everything off by saying that President Mahama didn't visit Kokompe at the time that the incident happened.
Kofi Adams, the NDC's Election 2016 Campaign Coordinator, has confirmed that such an incident occurred, saying that "the persons who shouted in disapproval are known undisciplined NPP supporters, which makes their conduct not surprising." (See https://www.ghanaweb.com/GhanaHomePage/NewsArchive/Undisciplined-NPP-supporters-hooted-at-Mahama-Kofi-Adams-477010).

MY COMMENTS

Interestingly, when President Mahama visited Kokompe on his "Transforming Ghana, Changing Lives" tour, nothing of the sort occurred. We saw pictures of the events that portrayed a huge show of support for him there. What has changed since then to bring out these NPP hooters to confirm their notoriety?

I don't know what impact the hostility shown to President Mahama has negatively affected his psyche or political mobilization strategies and efforts; but I know that he has put that incident behind him and successfully interacted with the chiefs and people in many parts of Accra and the Greater-Accra Region, generally, to justify why he is seeking a renewal of his mandate.
I have watched video clips on his interactions in many areas and can say with confidence that he is unfazed by the isolated Kokompe incident. At all the venues, where he addressed rallies, enthusiasm sky-rocketed, indicating that he remains connected with the grassroots. That's what matters most.

In any case, it will be preposterous and dangerous for anybody in the NPP camp to think that openly showing hostility to the President will be a beneficial political strategy to woo voters on Election Day. It won't, clearly because it only goes to feed into the NPP's negative public image as a violent party. It sustains the negative opinion of Akufo-Addo as a violent man whose main political tool is instigation of his followers to cause mayhem.

In a democracy, negative acts of the sort put up by the NPP elements at Kokompe have no place. The exchange of ideas to woo voters is the best approach, not hooliganism.

Of course, if the NPP thinks that lining up its supporters to hoot at the President will win the day for it, so will it invest resources in it; but at the end of the day, discerning voters will go where they feel comfortable to be given the peaceful atmosphere in which to live their lives, regardless of complaints about the cost of living. At the end of the polls, these NPP hooligans will end up biting their tongues for doing acts that have rather detracted from Akufo-Addo's worth in the eyes of the voters. Hooting at the President is an impotent and misguided political tool.
The truth is that wherever President Mahama goes, he pulls crowds. Those who think otherwise can do all they please until December 7 stuns them.

One lesson, though: Once the NPP people have begun using unorthodox means to sustain their rogue politics, our security agencies have to be on their toes. Their recourse to worse political tools should be foreseen and stemmed before anything horrible happens. The hooting is just the tip of the iceberg; but it is a clear harbinger that must be proactively monitored and dealt with before it turns into something ugly. I am speaking in parables here.

We wait for more developments to confirm the notoriety of these sore losers who have chosen open hostility toward the Lion of Gonja that their negative politics over the years hasn't succeeded in degrading.

Interestingly, the NPP leaders haven't said anything about that hooting incident. They appear to be happy that it happened. The party's followers are celebrating it as an accomplishment, describing it as a clear demonstration of bravado to foretell Akufo-Addo's victory at Election 2016. I pity them.
I hope that NDC supporters won't counteract this negative attitude by doing anything untoward against Akufo-Addo when he enters their space. Decency counts in the search for votes!!

I shall return...

· E-mail: mjbokor@yahoo.com

· Join me on Facebook at: http://www.facebook.com/mjkbokor to continue the conversation.