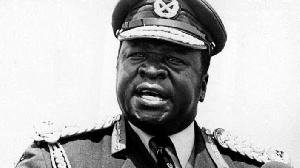 The Duke of Anjou, Louis XIV's [The 14TH] Second eldest grandson had become the king of Spain by the throne name Philip V [The 5th] in 1700. Philip V was a dual citizen of both France and Spain through his grandfather, Louis XIV of France marriage to his grandmother, the strikingly beautiful queen Maria Theresa of Spain.
Louis XIV had the following advice to Philip V: "Be a good Spaniard—that is now your first duty, but remembers that you were born a Frenchman, and maintain unity between the two nations; this is the way to make them happy and to preserve the peace of Europe."

Charley, hang on, as I cut to the chase! Ghanaians living abroad have every right to be good citizens or residents of Britain, USA, Germany, Netherlands or whatever country; that is their first duty, but they must remember that they were born Ghanaians or Africans! African culture frowns upon humiliating strangers or elders in public.

Ghanaians who demonstrated against President Akufo-Addo in London were full of embarrassment and nastiness, remaining in the darkest oubliette of ignorance relative to partisan politics.

Such disparaging and counterintuitive conducts, depicting congenital buffoonery must not only strike every conscionable Ghanaian a cord of discomfiture but must be sources of consternation to all and sundry. A big shame on you!!!!

Demonstration abroad against our presidents are inappropriate. I was equally hot under the collar when some unthinkable oafs disgraced former president John D. Mahama, in USA and Germany. What is our glory as Ghanaians if we fail to promote the good name of our country. As black people, we are our own enemies. Putting it in Orwellian perspective: "All men are enemies. All animals are comrades."
The black racial stock is not liked by many people, because of the African holocaust; slave trade and colonization, and it does not serve us good when we embarrass our leaders in the foreign land. Wherever we are as Ghanaians, we must envisage an abstract community or state representing and describing us as one people.

This is the essence of nationalism or patriotism. In our hands, not Akufo-Addo's hands lie this portentous issue of sinking the image of our leaders abroad. Nobody has a registered oath in heaven to develop the country alone! The development of Ghana is a collective responsibility.

Idi Amin Dada, who murdered almost 800, 000 Ugandans was never described as a Satan. As of today, I cannot believe myself, this bold president has implemented Free Senior High School with the boarding component. I am doubting the sustainability but not the policy.

The good news is that it has been implemented. Every policy of Nkrumah like the construction of Akosombo dam, Tema Motorway, Tema city, and many factories were opposed needlessly. We vilified and bastardized Nkrumah, who had no single house for himself in Accra. Just take a walk through, the KNUST campus and you will realize that Nkrumah's vision for Ghana was 150 years modern.

You call someone using taxpayers' money to educate Ghanaians at high school freely, a Satan? How long must we sacrifice our leaders on unholy altars of partisan convenience? I somewhat do agree with Napoleon Bonaparte that stupidity is never a handicap in politics, even so, describing a democratically elected president as a Satan was very below the bar of maturity! Shame on you!! My President ignore those irredeemable sociopaths and the psychopaths who called you a Satan in London!
Cut down your egos and cope with the economy. How do you survive by depending on a perfumed rice from Thailand? One of my uncles called me from the Brong Ahafo region and complained people are not buying his yam, cassava, and plantain. You want to depend on KFC and perfumed rice, and you think Akufo-Addo must sponsor them? You give your money to pastors who give you false hope rather than Catholic father Campbell, who will give it back to you, in the form of hospitals and schools.

Believe you me, our presidents are doing what they can! Some of the charismatic church leaders are the cause of the challenges of the country. Why? As of, 1927, the colonial government had only Achimota school and about 4 elementary schools. The Christian missions had over hundred elementary schools, the Presbyterian Teacher Training College at Akwapim- Akropong, Mfantsipim School in Cape Coast, St. Nicholas Grammar school (Adisadel College) in Cape Coast, Accra High School (By a Serra Leonian Rev. Robert), and Wesley Girls High School in Cape Coast! Even cocoa, the unmitigated blessing of the country was brought to Ghana by the Presbyterian church before Tetteh Quashie, who himself, was a Presbyterian trained goldsmith brought his "amelonado" cocoa pods to Ghana in 1879 from the Island of Fernando Po, modern Equatorial Guinea.

In 1911, Ghana was the leading producer of cocoa. Cocoa is on the list of Ghana's foreign exchange earnings and constitutes about 30% of all the export revenue representing about 57% of overall agricultural export. Do you give your limited resources to church leaders who only think of themselves and want the government to transform you within 18 months?

Think of the number of Catholic, Methodist, Anglican, Presbyterian, SDA and Ahmadiyya Muslim Hospitals and schools in Ghana, and redefine your religious convictions. I have decided never to attend a church that does not render accounts to the members again! My president, please follow Paul Kagame's footsteps relative to religion.

We must stop embarrassing our leaders needlessly! Dear, President Akufo-Addo, I think you must appoint government spoke persons on economic, social policy and political issues to complement the ministry of information! Bring on board, people like Nana Ohene Ntow, Kwabena Agyapong, Andrew Awuni, Nana Akomea, Nana Yaa Ofori-Atta, and Elizabeth Ohene.
It appears, there are communication lapses, though Oppong Nkrumah is doing a terrific Job! You must be ashamed to call your president a Satan in England! To lead or not to lead is the dilemma of many technocrats who could join politics to contribute to the development of Ghana.

Intellectuals and decent citizens are running away from politics because of insult. Show me a successful country and I will show you a mature way of making leaders responsible! God Bless Our Homeland Ghana

By Nana Yaw Osei, Minnesota, USA, n_yawosei@hotmail.com