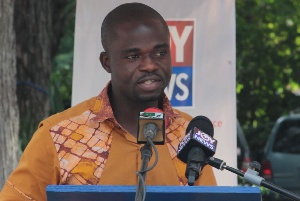 Dear Manasseh Azure Awuni,
I hope this letter finds you awake from the incessant snoring.

I have watched you rant ignorantly about the KELNIGVG contract in your irresponsible comparison to the dismissed chairperson of the Electoral Commission, Mrs Charlotte Osei in terms of the charges brought against her by her own subordinates which would earn her a dismissal letter based upon findings of the Chief Justice's committee set up to delve into the charges and now parachuting onto the SUBAH saga.

"Folly is bound up in the heart of a child but the rod of discipline drives it far from him" proverbs 22:15.

You are so overwhelmed and ignorantly particularizing your attention on the National Communications Authority's contract with KelniGVG which is largely aimed at raking in more revenue for the state whilst ensuring that the state is not short-changed by the telecommunications companies thereby betraying your intelligence with that analysis you made.

First, in your letter to President Akufo-Addo, you would seek to equate the procurement breaches incidental to Charlotte Osei to what you believe is with the KelniGVG contract. Impliedly, the same procurement breaches which cost Charlotte Osei her job are the same as those found with the KelniGVG contract, and for that matter, it is hypocritical on the part of President Akufo-Addo to ignore those of the NCA/KelniGVG contract while ousting Charlotte Osei. I would have pardoned your ignorance but it is important to disabuse the minds of Ghanaians as well as yourself that the facts of the case apropos the KelniGVG contract are completely worlds apart from the spurious claims you wrote in your uninformed and needless letter to the President and its accompanying comments.
Much as it is your inalienable right to express your opinions on matters of national importance, it is also important that you do so based on facts and not assumptions and rumours. You goofed!

It is a figment of your imagination to think that the contract was murky and that is why the ministry is unable to furnish those asking for details with the contract documents. The Ministry of Communications has not failed to furnish IMANI Ghana and OccupyGhana with the documents relating to the KelniGVG contract. The documents have since been supplied to the High Court where the complaint was lodged. Obviously you have been dazed.

Is it not strange that you would forcefully make these claims without accurate information? Which court of competent jurisdiction has found the NCA guilty of procurement breaches as regards the KelniGVG contract for you to claim same in your write-up? Which body or committee has found the contract to be defying the laws of the land to force you to come to such a conclusion? You based your claims on emptiness!

Manasseh, not long ago, you peddled palpable untruth about NCA board to the effect that members on the board were resigning and more would follow suit due to the cloudy nature of the KelniGVG contract. You were exposed later and in consonance with your conduct, you did not find it prudent to render an unqualified apology to the authority for spreading that lie. You are superhuman and cannot, therefore, get it wrong and if even you do, you do not do the decent thing by apologizing. Coward who thrives on public sympathy!!!

It is safer concluding that you either got your facts wrong or you deliberately set out to create a wedge between the Ministry/NCA and the good people of Ghana so that the two outfits would become subjects of attacks and verbal vituperations. The facts do not support your claims, and it is just right that you are told in no uncertain terms that you cannot compare apples with oranges when they do not belong to the same family.
Manasseh, peddling falsehoods like these is not responsible journalism. You owe your readers and all Ghanaians a duty to do diligent work in terms of fishing for accurate data or information before you run to town with it. My Little experience with the Red Cross thought me that blood collected from a donation point should be processed before transfusion.

As a journalist, seek to verify your supposed facts before running to town with it else you will be tagged a maniac.

Only an unqualified apology would assuage the Ministry of Communications and the NCA of the false impression you have created. We wait patiently to read that from you in your next epistle. Be a gentleman thus if you aren't one already.

Cheers.