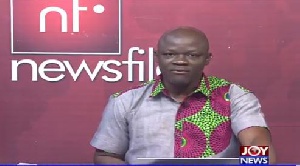 What?! This certainly is the last you expect to hear from me. I know. But why am I not allowed to agree with the infamous interdicted woman-beater police officer's plea to a criminal charge of assault? Is it because I lead her to seek justice?
Well, to avoid a civil suit against Midland Savings and in compensation for the punches, trauma and embarrassment, we just closed a rather 'generous' deal that removes her from the kiosk to owning a brand new house and from the streets hawking toffee to a woman now with multiple bank accounts.

Yes, her worries no longer include how to feed her family and provide healthcare for the two months old baby. Her 270-Cedis savings account now holds a six-figure sum. Her dilemma is simply deciding what dignified trade to invest in. Patience is certainly overflowing with gratitude for the opportunity of a dignified life for herself and dependants.

But here is my worry. He pleaded not guilty in court! What is there to change the ocular proof that enraged all who saw the assault and shouted for justice? Don't tell me a lawyer is not supposed to agree or disagree with Fred Amanor's plea! Okay, I am writing only in my other professional capacity as a reasonable human being who fears God and has a conscience that is not seared by virtue of my legal training and practice.

We are only human and fallible. There is nothing wrong in admitting guilt and mitigating. An accused who conducts himself in such a sincerely remorseful way is also deserving of leniency and that is the criminal jurisprudence. In so doing, we avoid wasting everybody's time, the State and the Court could channel such resources and energy into some productive venture.

I heard had really good things about Skalla and how he was simply totally out of character on this occasion. Like the victim, I am prepared to forgive and hope the criminal justice system does not make him suffer what is more than adequate to deter and reform.
He certainly has lost his job, and he has a wife and children. Maybe he will change his plea at his next appearance because a defence of "use of force for the preservation of order" in the exercise of his official duties under the law will be a huge gamble.

In fact, the police may be accused of seeking to protect their own by preferring merely a misdemeanour charge of assault with an expectation he might eventually be handed a small fine and bonded to be of good behaviour or in the worst case he might get six to nine months instead of the full three years sentence. The prosecution is clearly aware this is not a mere assault but assault with actual battery.

They certainly know this is aggravated in degree and that Skalla should be facing multiple charges including the felony of causing harm with the potential of ten years in jail. It is also possible they might have contemplated and added a further charge of exposing the baby (child) to danger. I watched them increase the charges for "Lebanese" Jihad Chaaban for his infamous pepper assault at the restaurant.

Never let anger get the better part of you. Criminal law doesn't exactly forgive sins.