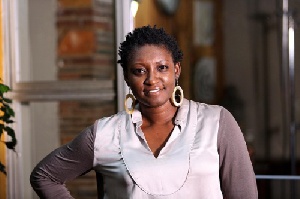 Juliet Asante discovered the power of storytelling during a crisis in her early teens. She suffered an infirmity that left her wheel-chair bound. She was dependent on others and needed help to get everyday tasks done. Books and the stories they contained were her only solace. In them, she could walk again and be any of the heroes she read about.
Through her parents' determination to find a cure and her own tenacity, she finally let the chair go. She resolved to walk her own path from then on and not place her life or aspirations in other hands. "I guess because everyone told me what to do", while I was dependent, "I decided I'd tell myself what to do instead".

Acting was the path she chose. It would be the best way for her to express her love of stories. But she found the film industry of the late '90s a rather poor one. It was receding from earlier glory days. "The industry was so poor that if I wasn't careful I was going to die a pauper".

But she decided she could make money by running her own film business - she needed to control the process and put up better productions. She didn't agree with the way some stories were told.

"A lot of the productions were not good so I thought you know, let me make it a business and then I can also do the productions that I want."

Defining moment
Asante's family had fled to Ghana from Liberia, just before the civil war, penniless having left a lifetime of business interests and assets, they would start over from scratch. Asante was separated from her parents for a time, "living with people", "in mere servitude conditions".

It was a period of readjustments, hardship and servitude. But she endured. She thrived. She would not let these circumstances define her. She worked hard.

She was head girl in Secondary School, she competed in a Unilever writing competition and won, she got good grades in her final exams. While waiting to get into University her acting career began.

She walked into Ghana Film Company and asked to be allowed to act. Veteran Filmmaker Ernest Abbey Nii Quaye took her under his wings. She had now to learn the ropes. In '96, Asante was cast in Deadly Voyage - a Hollywood motion picture that first showed her what film as big business could look like.

Strategic direction
It was a sharp and pleasant contrast to what she'd been used to in her early acting career. This was confirmation of her belief that there was a better way to produce movies. She left for School to Study Business, but switched in third year to a degree at the National Film & Television Institute (NAFTI).

Since then she has acted, written, directed and produced movies and TV shows; and run a video content service for mobile phones as CEO of Eagle Productions Ltd, the production business she set up in 1999. She has also traveled the film festival circuit around the world, and seen how other countries benefit from the economic activity and opportunities their film festivals have attract.

After NAFTI, Asante got a diploma at the New York School of film, then two Masters (in public policy and public collaborations between film administration) from Harvard's Kennedy School of Business.

She lived her aspirations in spite of the many difficulties. She had lived through some endured tough circumstances in the US too: nights when she had had to sleep in hotel lobbies to keep warm and times when all she had left was change to buy tea so her daughter could sip and keep warm.

Asante admits she has had to "have a stomach for failure" to suffer setbacks but stick with her entrepreneurial journey. She considers flexibility as essential to success in entrepreneurship. Although, her ventures have made her a tidy sum of money, she could never allow herself an extravagance.
She always had big dreams - her movies, her social enterprise projects, her other ventures like Entertainment Today Magazine that needed seed funding. Her Porsche would have to wait longer.

Encouraging strategic collaborations

Asante recently embarked on her latest venture, The Black Star International Film Festival - an event to encourage strategic collaborations between film makers in Africa and elsewhere, and hopefully create opportunities that Ghanaian film makers can benefit from.

She has set her sights, in the next five years, on making real economic impact - jobs, revenue for the local economy that supports the festival and from the collaborations that are born from it.

Her observations while participating in other festivals and the results of economic studies into their impact have convinced her, wearing her public-policy hat, that she has the right strategy.
Juliet Asante believes the best part of her story is yet to come. She believes that the magic of film and storytelling can transform society, the film industry and all of Ghana. The promise of her latest venture - The Black Star International Film Festival certainly makes a believer of me. The tape rolls.