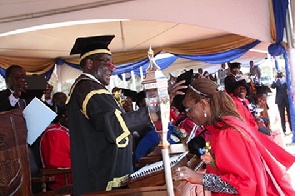 I will tell you what I do when I desperately need to fight off feelings of boredom or deep sadness. I go on the net and search for 'Mrs Grace Mugabe's Graduation.
I look at the pictures of that glorious day of August 2014 when she was awarded Doctor of Sociology just three months after she was first reported to have enrolled.

The then First Lady was personally capped by her husband, President Mugabe, who was the Chancellor of the University of Zimbabwe. Often, I laugh till I cry.

That practice ceased when I read Bank of Ghana's report detailing how seven Ghanaian banks collapsed. I was struck by the parallels between the circumstances that culminated in Grace Mugabe's PhD thesis and how the affected Ghanaian banks were able to do what they did for years.

It's simple. There were people at the University of Zimbabwe who saw what was going on but kept mum. Knowing Africa, with the reign of terror under powerful men and women in government, I conclude that those in the university who looked the other way acted with 'wisdom'. They knew the consequences to their lives and their families if they had as much as whispered the deed.

In the graduation day pictures, you see vice chancellor and other hooded academics applauding.
And who wouldn't! Those who did, acted in 'wisdom'. Many of them may have read George Orwell's book, 'Nineteen Eighty-Four' (often titled '1984') and concluded that what took place in the fictional country, Oceania, was very possible in Zimbabwe. In Oceania, Big Brother knows those who fail or refuse to cry or laugh or applaud at the appropriate function; he even knows those who fake the anger or sorrow.

If you want to see a modern-day version of the future George Orwell was predicting as far back as 1949, use the internet to recall the death, in 2011, of Kim Jong ll, the North Korean leader before the present one. In the video, watch every face in that nation in its moment of sorrow! As a citizen of Oceania, as a citizen of North Korea, as a citizen of Zimbabwe, and a few times as a citizen of Ghana, you dared not fail to cry or laugh or clap with all your might when everybody is crying or laughing or clapping with all their might. Big Brother will know.

Well, in Zimbabwe, there were a few exceptions. Big-ups to students at the University of Zimbabwe who boycotted their end of term exams to call for Grace Mugabe to be stripped of her PhD.

It is true that a few academics came out to condemn the First Lady's thesis as 'the greatest academic fraud', but this was after Mugabe was out of power.

I have gone on as above because what took place in Zimbabwe is what took place in Ghanaian banking circles. People who knew better refused to talk: they feared for their jobs. To some, it was that the personalities involved were gods. To those in the latter category – and there are millions of us in this country – how dare they question!
Those in middle-level positions knew what pleased oga at the top, and they knew board members who either drank with oga or in whose presence oga trembled.

Society recognizes them for their power and might. Their names are coupled with success. They are the well-heeled before whom society bows, recipients of many awards.

We are only too pleased to prostrate before them. Not only that: we consider ourselves privileged to have them walk on us in their three-day-old shoes bought in shops which are only real to us in celebrity pictures and movies.

In the company of a Ghanaian MP, I was in the Parliament of a European country recently. Even the Ghanaian MP could not believe it when the Speaker was pointed out to him. Such unpretentiousness! Many of the other African delegates stared in disbelief at the simplicity of the seats in the august House – in a country from which many of African nations beg for loans.

The only reason I want to be President, Minister or MP is to find out why, in that exalted position, some people think that the country belongs to them and their wives!