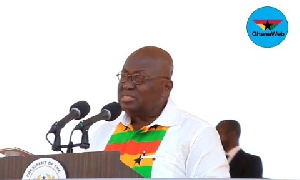 The past week has witnessed two separate sod-cutting events which led me to my musings today.
First was the sod-cutting for the construction of Phase Two of the Kumasi Airport as part of its transformation into an international airport. Second was a similar ceremony for our first deep-sea harbour, Takoradi Harbour, to transform, modernise and increase its capacity to handle the growing volumes of ocean-borne commerce and trade in the West African littoral.

Then it was reported elsewhere that both grand ceremonial and political functions were duly performed by our previous government. I ask myself what is happening here? Are we creating facts in pursuit of a political agenda?

In the meantime, as phase one of the Free Senior High School (SHS) Policy of this government is about to end successfully, the completed phase one of the University of Ghana Medical Centre remains unopened for use. To top it all, one Mr Opoku Acheampong, who was a stationery supplier to the C&J Hospital at Adabraka and, therefore, must have been known to the facility, was turned away from the hospital during an emergency because presumably there were no beds, and he died six hospitals away at Teshie after the no-bed excuse was repeated everywhere by fully trained health professionals at each facility his family took him for emergency care.

Recurrence

Why do these things keep repeating themselves? Is political change to alter our lives for the better a meaningless empty exercise by harassed citizens? Why has the recent habit of the creation of a different world view for political advantage attained the status of a crude art in this country?
"Alternative facts" came into being only last year July in America in the rather pointless haggle over whose presidential inauguration attracted the most television viewers and visitors, former President Barack Obama or current President Donald Trump. One of the effects of this recreation of facts is that late author George Orwell's book 1984 sold 9,500 per cent over the previous year, a record for book sales. Americans understood the haggle to be fundamentally Orwellian, that is, where words mean the opposite of what they normally denote and connote. It established that ''Alternative facts'' constituted a ''provable falsehood' as Chuck Todd riposted to its creator, Presidential Counsellor Kellyanne Conway, in the famous interview.

What will the victor in such a patently meaningless quarrel have attained if the known facts confirmed anything? Election results are only valid for the tenure that they legitimise, not before or after the tenure had ended. Is this concern proof of enduring insecurities and complexes of the victors, the type of campaigning which secured victory or the false belief in the permanent victory or superiority of the victors?

Audit

It will appear that last week, the two sod-cutting ceremonies brought "Alternative facts" into existence in Ghana; because we know that almost all major contracts awarded in the previous regime were halted for purposes of carrying out value-for-money audits.

President Nana Addo Dankwa Akufo-Addo himself repeated this allegedly anti-corruption policy at the last state of the nation address to Parliament last February and his later media encounter. I say allegedly because the chosen auditors were all known ruling party professionals looking for dirt and nothing else.
Komenda Sugar Factory

Thanks to the media, we now know that the vicious campaign mounted prior to and after election about the Ameri power project and which endured similar crisis of alternative facts has now been okayed by our Attorney-General. Has this not taught any lessons? Is it not a wonder that the spanking new Komenda Sugar Factory remains unused a year and half into our new government? The wasted period could have seen at least two sugarcane harvests for processing by the factory into sugar.

We now know that both the Kumasi Airport and Takoradi Harbour ceremonies were superfluous since they had been performed earlier by the previous regime. Logically, it would have been far better to put pressure on the contractors to speed up construction so one can commission the completed projects in one's tenure and claim it, no matter how tenuous, as an infrastructural achievement of the current government. With the over-a- year suspension of an ongoing project, and the normal delays attending government projects, this cannot now be a feasible expectation.

Unnecessary schemes

In the meantime, the lavish monies being planned to be spent on unnecessary schemes such as revenue assurance in mobile telephony and on a national identity card could easily have been used rather to construct durable pavilions with thousands of beds at our major health facilities to prevent the needless death of Mr Opoku Acheampong and others in similar situations.
I note with sadness that the spokespersons for the medical association, the Ghana Health Service, and the ministry have nothing positive to say to assuage this serious lapse of professionalism on their part, but turn around to blame political leaders.

Alternative facts may seem like an attractive option to demonise one's opposition with, but it wastes precious time and resources which could have been spent on the durable things which outlive mere words, and are of permanent advantage to the masses. The opposition gains from mendacious attention being paid to its legacy, because no one will sit mute as his legacies are being denied and downplayed.

Worse, the reliance on alternative facts implies the emptiness or lack of initiatives on the part of the ruling government. We are yet, in all this, to see the first constituency member of Parliament announce proudly that the constituency has received its promised one million dollars.

Not one dam has been commissioned in the three northern regions to ensure all-year-round farming and bumper harvests; not one factory is even at foundation stage in any of the districts of our country. In the long run, it is the presence of these tangibles which will outlive the mendacious reliance on alternative facts to explain away official laziness.