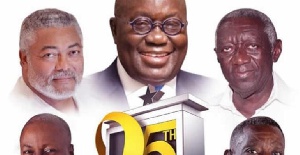 Folks, Ghana is lucky to have its three (3) former Presidents still alive and making their presence felt on the political landscape for diverse reasons and purposes. I don't think that any other country, especially in Africa, has that luck.
The United States, though, carries the day because it has 4 of its former Presidents still alive and playing diverse roles without saddling themselves that much with the onerous duties of political office. I see Jimmy Carter, George H. Bush, Bill Clinton, George W. Bush, and Barack Obama in this perspective.

Although they may make their voices heard on issues affecting them or the country/world, they hardly project themselves as if still in the saddle, and are respected for contributing much through their "foundations" to serve society. They use their experiences in political office for purposes other than breathing hot air over the shoulders of the incumbent. They have found better ways to serve society.

Let's zero in to see what the Ghanaian situation is. In our time, we have Jerry John Rawlings, John Agyekum Kufuor, and John Dramani Mahama to showcase the nearly three decades of our Fourth Republican experiment in constitutional democracy. How are they faring?

John Jerry John Rawlings

Jerry Rawlings had the lion's share of political office holding and ruled Ghana for two terms (January 7, 1997 to January 7, 2001), despite his previous reign as a military dictator in the era of the AFRC and the PNDC, making him the longest-serving Ghanaian Head of State.

What he did or failed to do and its implications for the country and its people has been debated all these years. Evidence is available all over the country to lionize him or to consign him to the dustbin as a villain.

How do I rate him? Really low!!

Now, out of office, he still comes across as a "split personality" still full of whatever catapulted him into office. He can't break away from the past and continues to behave as if he hasn't left office.
His rants and open bad-mouthing of those he chooses to gore underline his politics of attrition. He is still fixated on his own choice of strategies for national development, indicating that he is caught up in time warp.

If it were possible to solve all those problems with the strategies that he continues to tout, he would have done so in the many years that he ruled Ghana.

That Rawlings can't see the difference between what has happened in Ghana after him and will happen for as long as our democracy survives is pitiable.

More than that, Rawlings hasn't established any concrete project for society's good unlike what the ex-Presidents of the United States have done.

It appears that Rawlings has too much time and too little to do, which makes him still involved in daily political discourse. He claims to be writing a book, which I strongly support in the hope that it will shed light on his ideals and give us some food-for-thought.

For now, I rate him as a bad example of a former Head of State for as long as he continues to rock the boat instead of helping steer it on course for Ghana's good.

Do I blame him? In part, "Yes"; and on the other hand, "No". Still finding it difficult to come to terms with his fate, he still nurses the feeling that circumstances could return him to post. We have heard him say that he would love to become Ghana's President, even if for one day. What malarkey!

What Rawlings' posturing tells us is that the Oliver Twist in him isn't dead yet. At 71 years, he is suffering from self-deception and should be pitied. The door to the Presidency is shut tight to him. That to the leadership of the NDC is equally shut firm. He won't attempt opening that of his wife's mushroom NDP because there is no hope for him therein.
Why he has chosen to be in the marriage of convenience with Akufo-Addo and Co. is best known to him. He doesn't belong there, though.

So, what next? He will continue raving and ranting all over the place only to deepen his own crisis of self-delusion.

John Agyekum Kufuor

Even before I say anything elaborate about Kufuor, let me commend him for comporting himself and conducting affairs in the best manner possible. Naturally, he is not the bellicose type, and reacts vigorously only when pushed to the wall (Characteristic of every human being).

When he chose to establish the Kufuor Foundation just after leaving office, we commended him on that laudable vision. I hope the project is on course and that it will give us input with which to govern ourselves for our country's good.

Beyond that personal investment, Kufuor has receded to the background and comes into the limelight only when necessitated by events. He has attended several functions and aired his views on goings-on, not to infuriate, excoriate, or present himself as the paragon of competence to be deferred to.

His public utterances thus far have been tempered with sense and candour. Unlike Rawlings, he has accepted his departure from the Presidency and settled down to live his life in measured comfort, supported by the windfall that his entitlements offer him as specified by our Constitution.

John Dramani Mahama
Mahama is still hurting from what caused his loss at Election 2016 and is in the public sphere, doing and saying whatever will keep him "alive" so he can lead the NDC at Election 2020. All that he has participated in (the NDC's series of "Unity Walk", for example) and his persistent comments on happenings under Akufo-Addo speak volumes to indicate that he is gearing up.

Should we rate him as behaving in a manner unbecoming of a former President? No, I should say, especially, given the fact that he has the legitimate right to seek another term in office.

He knows that as a former President, much is expected from him to reinforce efforts at solving problems that he couldn't tackle while in power. As reaction from the NPP camp to whatever he says against Team Akufo-Addo indicates, he is least expected to condemn the incumbent; but he must have his say, which he does at will.

In terms of personality, Mahama still remains his usual affable type. No ranting or needless stoking of the fire by him as he focuses attention on issues of national interest that Team Akufo-Addo needs to know and tackle.

I recall here his reaction to the thunderous condemnation of him as "incompetent" when he was in office and the pieces of advice that he gave Akufo-Addo (Governance is a process that needs much more than the criticisms being churned out... the Ghanaian Cedi is depreciating not because of the government's ineptitude but other factors...).

His reaction at the time meant nothing to Akufo-Addo and Co. until now that they are in office, facing the very challenges (minus "Dumsor") that they had damned him over. Is the Cedi still not depreciating under their watch?

Mahama will continue to be active on the political landscape for as long as his burning desire to lead the NDC at Election 2020 continues to influence what he does or says. In that light, we won't write him off as a nuisance.

We will wait to see what happens at the NDC's national delegates congress to choose the party's flagbearer. If Mahama loses the slot, we will see how he conducts himself as a former President.
MY CONCLUSION?

Thus far, Kufuor stands tall as a former President attracting goodwill to himself. Mahama is in-between. Rawlings is the worst off. For as long as these former Presidents live, we will expect them to know what it means to leave the Presidency at the end of the constitutionally mandated tenure.

Whatever the case may be, the old order definitely yields to the new one. Circumstances differ and one must not behave as if one is the only pebble at the beach. The country has many citizens who can step up the game to become its leaders at one time or the other. Our former Presidents are expected to help us grow our democracy. The way they do and say things matters.

I shall return…

By Dr. Michael J.K. Bokor

(E-mail: mjbokor@yahoo.com)