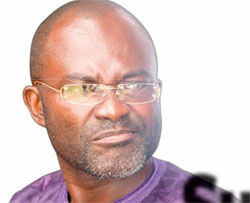 Firebrand politician, Kennedy Agyapong has dominated the Ghanaian airwaves for almost a week for the wrong reason after he accused the Electoral Commission Chairperson, Charlotte Osei of securing her job in exchange for sex.
While the Maverick lawmaker is admired by many, others dislike him due to his inability to tame his tongue which leaves him making foul statements much to the anger of a large majority of the public.

Hon. Ken Agyapong is certainly not a good communicator and requires an extensive course in communication studies, but he undoubtedly is a shrewd businessman.

The Member of Parliament for Assin Central is widely known to be wealthy and will probably make the short list of rich Ghanaians currently in the country.

The 53 year-old firebrand politician who's widely considered to have an acerbic tongue, defines success as "how well you place yourself in society to affect people's lives".

From a humble beginning selling P.K chewing gum, chocolate bars, blades and buckets in streets around Circle, Ken Agyapong had an opportunity to travel to Germany and U.S in 1984.

The hardworking young Ken worked two jobs – a bakery and gas station, and earned $400 a week (without a green card).
He saved $100 of this small fortune and bought his first taxi. Out of a bakery, a gas station and a taxi, Kennedy Agyapong bought 8 taxis in 7 months. Being thrifty in his spending, he used $ 3,000 he saved from these 11 sources of income to buy auctioned cars at $1,500 and shipped them to Ghana for sale.

In 1988, at 28 years, he bought his first house valued at $24,000 in East Legon near Ambassadorial Hotel.

However, the vituperative politician insists his breakthrough was 30th September 1996, when a Regan-administration instituted a US- Visa lottery that could enable one win a green card to stay in the U.S.

At a fee of $ 5 000, Kennedy Agyapong shipped 257 Ghanaians to the U.S. Do the math……$1,285,000.

That was really the beginning of his riches, making him become a millionaire at an age considered to be fairly young.

A father of 14, Ken Agyepong is said to have shipped 400 from his village including his wives and children to the U.S.
He relishes having his children around him; he says they are the source of a huge drain on his finances as they attend good schools abroad. As at 2013, he was spending over $187,000 in school fees.

The eccentric MP boasts of several houses in Accra and Tema, has 14 businesses with his media empire Kencity as one of his lowest sources of income.

Ken is MD, Assin Farms; MD, Supercare Group of Companies and several other business establishments including large cold stores in Tema.

He never goes to borrow from the bank for fear that a bank will come and confiscate his properties.

In Parliament, the four-term MP serves on the Parliamentary Committee on Communications as its Ranking Member