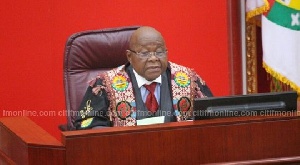 By: Kwame Okoampa-Ahoofe
He did not really apologize for anything, so I don't know what Speaker Aaron Michael Oquaye meant by ordering the man who used underhanded means to steal Mr. Adamu Sakande's Bawku-Central seat to "Go and sin no more" (See "Ayariga Renders Unconditional Apology to Parliament" Ghana News Agency / Modernghana.com 4/8/17). The fact of the matter is that "sinning" is what the two most notorious Ayariga Brothers, namely Hassan and Mahama, do best.

They clearly lack the sort of polished manners that qualify one to live and comfortably rub shoulders with the civilized and wise. When caught mired in his own vicious concoction of lies, the Northern-Nigerian and Harvard-educated Mahama Ayariga was asked by House Speaker Oquaye to apologize for bringing the name and reputation of Ghana's Parliament into abject disrepute, the former Information and Environment, Science and Technology Minister under the Mahama-led regime of the National Democratic Congress (NDC), rudely retorted as follows: "If the Speaker says I should apologize, then I apologize."

To be certain, I don't doubt that he may know a thing or two about the law; but you see, they don't teach common sense and good manners at Harvard these days. They used to when good, old Cotton Mather was the boss there. But that was a couple, or so, centuries ago. Common sense and polished manners are behavioral tangibles that you learn from either your parents or grandparents, or sometimes some generous and kindly hearted relatives.

You also learn quite a chunk of good behavior and civilized manners from the society and community in which you were born and raised. But, unfortunately, there doesn't seem to be much of these precious intangibles left among the people whom Mr. Ayariga came to the nation's capital to represent, a remarkable number of whom have reportedly affirmed their unstinted solidarity with his uncouth behavior.

One also begins to eerily appreciate why Bawku township has been rife with the sort of Stone-Age violence and internecine strife that has led to the wanton spillage of human blood intermittently. I had expected that the least punishment to be meted this brazen political scam-artist – some have even called him a certified robber-baron – would be suspension without pay, and then the rendering of an unqualified apology to the full-membership of the House, the failure of which would then have logically resulted in his summary and permanent expulsion.
But, of course, there was already the other part of me that feared the worst, which was that Prof. Oquaye's being an ordained Baptist Minister, it was quite likely than the urbane and avuncular Old man would even fall a tad short of the "Reprimand" recommended by the Ghartey Committee, charged with investigating the allegation of bribery made by former President John Dramani Mahama's favorite political pet against Messrs.

Joseph Osei-'Wusu, the First-Deputy Speaker and Chairman of the Parliamentary Appointments Committee (PAC); Mohammed Mubarak Muntaka, the Ranking Minority Member on the PAC; and Boakye-Agyarko, then-Energy Minister-Designate.

The petulant young man clearly appeared to have been spoiling for an epic battle, perhaps one that transcended the hallowed confines of our National Assembly's edifice. He had publicly and imperiously announced that he intended to make up his own evaluation and assessment after Speaker Oquaye, the former Dean of the Faculty of Law of the country's flagship academy, the University of Ghana, had handed down his verdict and much-anticipated punishment.

In a quite refreshing sense, the erudite and prolific political scientist preempted a predictably bellicose Mr. Ayariga by preventing this clinically certified buffoon from taking down the high level of cultural and intellectual deportment of the bulk of the membership of the House down to his guttersnipe's level. Which is all well and good. Except, of course, that I keep wondering whether it was a great idea at all to have an apparently devout man of the cloth, as it were, play Jesus in the resplendent raiment of the Speaker of the House on a Good Friday.