How you can do things better without invectively attacking your NPP flag bearer contestants, oh Kennedy Agyapong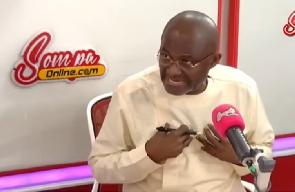 I am compelled to rush out this publication before things get out of hand for the NPP as a political party aspiring to break the progress-retarding cyclical 8-yearly rotation between the NDC and the NPP.
Many are those coming out to condemn the style of campaigning by Kennedy Agyapong (Hon.). From their condemnations, I could hear, read and understand that Kennedy on almost every campaign platform he mounts, tries to rubbish the Vice President, Dr. Alhaji Mahamudu Bawumia. Such a style of campaigning should be a no, no!

Any serious contestant from within the same political party will tell what and how he can do things better to improve upon the current state of things without necessarily seeking to destroy their political opponent to have favour in the eyes of the electorate or the Ghanaian public.

Raining invectives on your political opponent from the same party, in the absence of the opponent diabolically attempting to deliberately destroy your winning chances, should not be the way forward. Unless Kennedy is holding on to the typical Ghanaian-mindedness of "if I can't have it, then you can't either".

Such a belief and attitude will not in any way help advance the nation in the manner discerning Ghanaians are looking forward to.

Kennedy may have been pushed to go on that tangent by some supporters of Dr Bawumia through their childish pronouncements directed at denigrating and destroying Kennedy.
When he first started his campaign, did he attack anyone? Did he not sack his employee Kwaku Annan from his Net2 TV station for even using a different platform or medium other than Net2 TV to insult Dr Bawumia? How come that today, Kennedy, himself, is maliciously destroying Dr Bawumia as being said by some people?

Once, I learnt how Annoh Dompreh, an NPP member of parliament at a campaign venue in Nkawkaw told the audience that Kennedy was not a presidential material. He was addressing the audience in a capacity as a supporter of Dr Bawumia.

Who is a presidential material in our current-day Ghana, if I may ask?

If people behave irresponsibly towards you and you happen to hold bullets that can counter their attacks to render them ineffective, won't you use them probably as a payback?

In physics, there is what is, "action and reaction".
Therefore, the supporters of each of the NPP flag bearer contestants should cease attacking or casting insinuations at others to avoid further situations of what Kennedy is being accused of which if not stopped, will greatly harm the NPP going into the election 2024.

Kennedy, much as you have my support, I cannot countenance your vituperative attacks on Dr Bawumia. And, Dr Bawumia should not be seen to relish in the attacks on Kennedy by his supporters but be seen to advise them against belittling Kennedy for all stupid reasons.

NDC is in no way a better alternative to NPP so we should not do anything silly to pave easy way for them to come back to the presidency and in government come December 2024.

My advice to all NPP members, supporters and sympathisers, is very simple. They should be mindful of their campaign words and messages so as not to step on the toes of the rivals of their idol contestants, for there is bound to be retaliation if one is unduly attacked for selfish and myopic reasons.