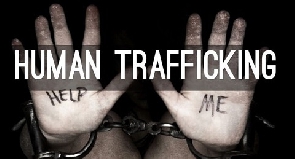 Worldwide, human trafficking is a canker that eats into the fabrics of every nation and impedes its development.
The indigenous and the marginalised people who suffer abject poverty, and are politically and economically disadvantaged are the most affected in this quagmire of inhumane treatment.

The victims are vulnerable to commercial sex.

These unexpected victims who, most at times, suffer from lack of access to education and their basic human rights, fall prey to their masters through false promises of greener pastures.

People who engage in trafficking for sexual exploitation are usually an organised cross country groups or gangs who operate under the pretense of job providers but in actual fact work to certify the services of cross-country dating industries.

They could be intra-country or cross-country and the vulnerable victims are persuaded out of their communities or countries as caretakers, stage performers and any other lucrative jobs and are rather sold to commercial sex industries.

The 2016 United States Department of State report on human trafficking identified Ghana as a source, transit, and destination country for men, women, and children subjected to forced labour and sexual exploitation.
It also said women and girls voluntarily migrate from Vietnam, China, and neighbouring West African countries and are subjected to sexual exploitation in Ghana.

Victims of trafficking for sexual exploitation suffer from bonded labour where they are required by their traffickers to work and settle cost incurred through their transportation, recruitment, up-keeping among others.

It is disheartening that Ghana could be accorded as the host and centre for the wicked and abominable act of human trafficking and its worse forms of sexual exploitation trafficking and forced labour.

This is a lukewarm attitude on the part of the authorities responsible for combating human trafficking in the country.

The 2016 United Nations Global Report on Trafficking in Persons indicated that among all detected cases worldwide, trafficking in persons for sexual exploitation was more frequent than trafficking for forced labour.

Statistics from the report showed that trafficking for sexual exploitation made up of 54 per cent of trafficking in person while 38 per cent were for forced labour.
The report identified trafficking for sexual exploitation to be rampant in the Central and Southern Europe and the Western and Southern Europe with 65 per cent and 66 per cent cases recorded from 2012 to 2014.

It is, however, prudent to note that children, women and girls are the most vulnerable groups in the business of human trafficking who do not only suffer from sexual exploitation, but also sham marriages, fraud and production of pornography among others.

The report also revealed that globally, women formed 51 per cent of all forms of trafficking in person while 20 per cent were girls, 21 per cent men and eight per cent boys.

Target 8.7 of the Agenda 2030 requires all nations to take immediate and effective measures to eradicate forced labour, end modern slavery and human trafficking in all its forms and secure the prohibition and elimination of the worst forms of child labour, including recruitment and use of child soldiers, and by 2025 end child labour in all its forms.

It however requires all hands on deck to meet the target by the stipulated time period to achieve global unification and development to make the planet a better place for the future generation.

It is worth noting that human trafficking in any form is harmful to the development of the victims, it mars their personal dignity, denies them of their basic fundamental human rights and impedes their ability to diligently serve their communities, nations and the world at large as expected of every patriot.
We must also bear in mind that we owe it a responsibility, to safeguard, the unalienable rights of women and children as they are the most vulnerable group in the game of sex trafficking.

As Urmila Bhoola, the United Nations Special Rapporteur on Contemporary Form of Slavery stated: "We must do more to remove children from slavery, address the root causes that push them into slavery, ensure their effective rehabilitation, reintegration and psycho-social wellbeing and involve them as equal partners in creating a sustainable and inclusive society premised on development and social justice."

It is therefore an obligatory on governments and the appropriate stakeholders to put in stringent measures to curb the menace if not completely but to the barest minimum if the welfare and dignity of the people must be protected.

In respect of this, the governments and benevolent organisations as well as the international community must increase their financial commitment towards the fight against human trafficking in all its forms including sex trafficking.

Every government must effectively implement her laws, acts and other legal frameworks regarding the eradication of human trafficking.

International organisations such as the United Nations, African Union, and Commonwealth among others must equally play their part and to implement treaties and agreements geared towards combating human trafficking in all forms globally.
The law enforcement bodies must note that it is not enough to investigate and arrest perpetrators of human trafficking without prosecuting and punishing them.

Culprits must be brought to book and must be allowed to face the full sentence and any other punitive measures therein.

Victims of human trafficking in any form including sex trafficking must be rendered the maximum protection, rehabilitation and reintegration into the society and be provided with the necessary support to help them live a fruitful and successful life.

The Department of Social Welfare for instance must adequately equip the government supported shelters and rehabilitation centres in Ghana with the necessary logistics and finances to effectively ensure psychological, physical and emotional wellbeing and transformation of recued trafficked victims.

In efforts to prevent human trafficking, state governments must provide the basic life necessities to improve the living condition of the people which is a major factor that influences the potential victims to caecum to promises of nonexistent jobs by potential traffickers.