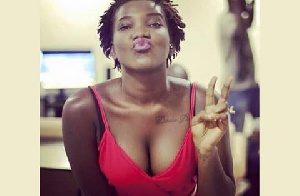 I am not happy that Ebony including the others who met their untimely death, in fact when I heard the news that Ebony is dead in a car accident, as usual, everybody will feel bad after hearing news of someone's death even if that person is your enemy.
The fact that I don't like Ebony's dressing and some of her lyrics in her songs doesn't mean I wanted her dead, NO!, I know others too were like me who didn't appreciate her dressing but we should not forget she was some people's source of happiness and most importantly an asset to her family, friends and fans.

The fact that I didn't like her dressing and certain stuff of her doesn't mean anything because you don't expect everybody in the world to like you and likewise I know some people too don't like me for certain things I am doing that they don't feel good about.

My reason for not liking Ebony was because of my religious and cultural background and these things are what shape my mind and thinking.

Others may say I am primitive but I think there is no need of being hypocritical here, I don't want Ebony back and I am speaking for myself, please don't forget we don't necessarily need to be perfect before you know what is not appreciated by your religion or culture.

I know one day I will also die and people who didn't like me for certain things I used to do will also express their thoughts like this, and I know no one is perfect we all have our shortfalls.

There is someone's write-up that is linking her death to her dressing, please death itself is not a punishment or reward to anyone because everybody is going to die whether you dress well or not.
She is dead and gone, and we have absolutely nothing to do about it and once again I don't want her back.

But the most annoying news I am hearing now is that the soldier man who died with her is going to face court. Really?

Are we for real at all, please the fact that he was not on duty with her or he goes against the rules of the military oath doesn't mean anything again because he is dead now, what are we trying to show, do we want to say the law is more important than the people?

No, the people are more superior as compared to the law, the person is dead instead of sympathising with his family, you people are there talking about law, where is our conscience as human beings.

I don't get it, it is too annoying, anyone trying to champion this issue of the late soldier man court matter has lost his or her humanity, we sometimes go against our rules to save lives.

Give us peace