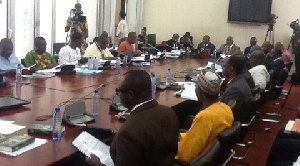 In 2014, a South Korean Prime Minister, Chung Hong-won, resigned over a South Korea ferry which sunk in the sea, living over 300 people dead. Chung's resignation came amid rising indignation over claims by the victims' relatives that the government did not do enough to protect or rescue their loved ones.
The doomed ferry, Sewol, which was privately owned, sunk while ferrying several hundreds of people, including high school students.

The Prime Minister gave his reason for resigning from office as; "As I saw grieving families suffering with the pain of losing their loved ones and the sadness and resentment of the public, I thought I should take all responsibility as prime minister.

There have been so many varieties of irregularities that have continued in every corner of our society and practices that have gone wrong. I hope these deep-rooted evils get corrected this time and this kind of accident never happens again."

In 2001 we had the Accra Sports Stadium disaster, with over 120 football fans dying, but no minister resigned. Not even the GFA nor the GHALCA officials who were directly in charge of football, resigned. Three years ago there was a massive flooding at Circle, which resulted in fire, killing over 150 people. The Mayor of Accra kept his job and drew his salaries. The Greater Accra Regional Minister also kept his job.

Rather, all of them came out, to take advantage of the presence of the media, to market themselves, and to make more promises, of what government intend promising, setting up committees to look into why they will fail again, and committees to look into how to pretend to care. A year later we marked the anniversary of the disaster with pageantry, while flood occurred shortly after the anniversary, at the same venue where the previous year's flood occurred – democratically endorsed men of no conscience.
Our public officials don't seem to feel that they can be blamed for anything that happens in the organizations that they lead. The only time you will hear of a public official resigning is when he has been pushed out. Even if they are dying, they will still keep their jobs, till death do them parts. These men and women have no feelings for those who become victims of the failings of the systems they spearhead, and fail to recognize that resigning, even if you are not directly responsible for the disaster, is a way of accepting ultimate responsibility, and helping families of victims to be able to deal with their grief.

Within a spate of one week we have had several reports of deaths occasioned by hospital staff turning away patients, claiming there are no beds to admit them. The Deputy Attorney General, Joseph Kpemka, has narrated how his wife was turned away from five public hospitals due to the no-bed syndrome, before she died at Ridge. We woke up to the news that one Prince Opoku-Acheampon has died after being turned away from six hospitals, because the hospitals claimed there were no beds.

Since then many more have said they found themselves in similar situations, but they had to pay their ways through to be given beds. So it is not necessarily because the beds are not available; they are available, but our rich corruption has designed itself in such a way that what is supposed to be free has now been turned into cash and carry.

In the wake of Anthony Acheampon's death, the Minister of Health, Kwaku Agyemang Manu, has set up a Primary Committee (PC1), to probe into the event that led to six different government hospitals turning away a 70 year old man, for no bed, and eventually leading to his death.

The Director-General of the Ghana Health Service is also reported to have said the Ghana Health Service was also going to set up an Investigative Committee (IC) to probe the incident. The Speaker of Parliament has already set up his own Parliamentary committee (PC2) to probe the issue, and in addition, the Speaker has tasked the Constitutional, Legal and Parliamentary Affairs Committee (CLAPAC), to investigate and to enact laws, to make the no-bed syndrome a criminal offense.
In the meantime the Ministry of Health has on its own immediately set up a Medical Intelligence Unit (MIU), which is virtually another committee, to address medical no-bed things, as well as Another Committee (AC2) he has formed to oversee the committees he has formed, while at the same time the Ghana Health Service, which is under the Ministry of Health, also has set up its own Investigative Committee (IC2), in addition to the One Committee (OC) that the Presidency is also setting up on its own to probe the committees that have been set up, and I understand, that, each of the six hospitals which refused care for Anthony Acheampon, shall set up their own Local Level Committees (LLCs), to investigate into why a patient was turned away, and the work of these LLCs shall be coordinated by Another Committee (AC2) which shall then report to the Presidential Committee.

Just a day before the death of Anthony Acheampon, I heard that another hospital, the Amasaman Government Hospital, nearly killed a baby, after the medical staff administered expired medications to the child. The father of the child spotted it, and drew the attention of the doctors to the situation. The hospital management saw that, indeed, the drugs were expired, but decided to set up an Expired Baby Drug Committee (EBDC) to inspect the expired container, to come out with a report, so that the hospital will set up another committee known as Expired Drugs Avoidance Committee (EDAC), and this committee shall form a committee to train all the committees they have formed, to be effective at the strategies of forming committees, and so on….

In the midst of all these, those who caused the deaths, are still collecting their salaries, and have been drafted into the committees so that they could receive committee bread, and more committee allowances.

Sometimes I just feel as though we are a wrong posterity. I just have to end this script, otherwise I may write things that might look like I am saying that there are demons ruling the affairs of men.

The CEO of Korle Bu Teaching Hospital's appointment was recently terminated. This stirred controversy, with several of the staff protesting his removal. They seem to be happy with Dr Felix Anyar, and so were doing everything to have him kept.
Of course if you have a CEO who does everything in employees' favor (not necessarily in patients' favor), why wouldn't they protest when that person is being removed? Do you think the workers will protest the death of Mr. Acheampon?

Six hospitals turns one patient away, and the patient subsequently dies. But neither the doctors, nor the nurses, shall be punished for anything. Not even the hospital administrators who have run the system down to fail the way it has failed, will receive any punishment.

These same workers will rather blame the system, for the cause of the patient's death, the same system that they themselves have corrupted. The responsibility is always on the system or the other person – because the other person also blames the other person, until all other persons have blamed the other persons.

Anthony Acheampon did not have a bed, so he has died. His family griefs. I pray that his soul will have rest. But just remember that those who died will die even if they are dead; none will live when they decide to live, even if they live…