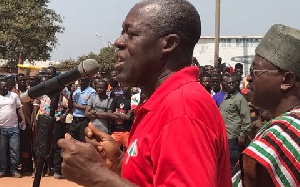 Contri people, make I once more troway salute for your patience in living under dis incompetent Mahama government.
As a student of history and a "statesman" for that matter, I am shocked at most of the negative and reckless statements he has made. All these have reduced him to the level of Bob Okalla, Ajax Bukana and Asiedu Nketiah. If the history of the country is written, his name will surely found itself in the pages of history. This somehow makes him "despicable". But why shouldn't he when everything about the Nefarious Destructive Cancer stinks.

A Nigerian friend of mine once told me that if you see a snake and a member of the NDC contraption, kill the NDC person first, because there is an antidote to a snake bite, but none for the NDC. President Mahama has on numerous occasions berated Alhaji Dr. Bawumiah for accepting to be the Running mate to the party's Flag bearer. He said the NDC will ditch Dr. Bawumiah just as they did to LATE Aliu Mahama.

I believe a little bit of education could do President Mahama a lot of good. I just cannot understand why all of a sudden the President has forgotten the "Dzi wo fie: (eat your house matter) mantra of his late predecessor. We are democrats and we act in accordance to our constitution which makes it clear that there should always be a Party Primary to choose our Flag bearer. It gives no advantage to anybody, including even the incumbent President and the Vice President.

It was not as if that clause was smuggled into our party's constitution when Dr. Bawumiah became the party's Running Mate.

If we should talk of stabbing someone in the back, it should rather be the NDC which has always given the bone to Fantes without giving then the opportunity to have a bite at the meat.
Dr. De Graft Johnson was the VP to Dr. Hilla Liman, but instead of allowing the PNP to complete its term so that De GRAFT COULD BECOME President, The (P)NDC) staged a coup to ensure that Joe Deggie does not take the plum seat. Ekow Nkenson Arkaa, another Fante became a VP to Rawlings. He was shoved aside and another Fante, Professor John Evans Atta Mills Was selected in his stead. What happened to Arkaa? He died under mysterious circumstances.

Professor Atta Mills later became Pre4sident, but the powers that be felt they would not entrust the destiny of the nation into the hands of a fante. All sorts of conspiracies and scheming went behind the scenes. They took him to a juju man to make a juju ring for him was the beginning of the late Professors journey to the hades. Again, making him trot at the airport when they knew that the late President was not sound in health was also another means of "killing the late President by installment". In the end, President John Evans Atta Mills died under mysterious circumstances.

In death, the NDC has not accorded the late Pr3sident his due. It was as if they wanted him out of the way in order to shore up their waning popularity. till date, we are yet to know what killed the late president.

We now have another Fante as Vice President. What is the guarantee that he would not go the way of others who have "come before him? Who has seen a poster of President John Mahama and his Running Mate Amissah Arthur on walls or poles before? When the President convoy comprises between 30 and 40 vehicles that of the VP does not have more than ten vehicles at a go.

Was the VP position created for Fantes only? Why can't Fantes be elected to the highest position in the country, and if by divine circumstance, a Fante becomes President, why not allow him to serve his full term? Why "terminate" his mandate midstream?
This is the reason why I fear for Vice President Amissah Arthur!

Daniel Danquah Damptey (damptey_daniel@yahoocom) 0243715297

(Self-Appointed Special Aide to Nana Addo Dankwa Akufo Addo