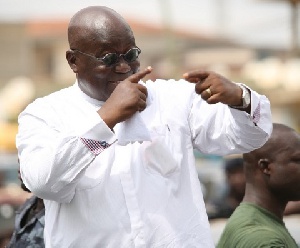 As the elections get closer and closer, I came across an audio that caught my attention.
One aggrieved pastor/Man of God who would offer himself to be sacrificed (killed) if his prophesies do not come to pass.

He would go to this extent because he feels marginalised and not taken seriously because according to him his prophesies have been ignored as a result of his 'inability to express himself in English'.

This man of God, had predicted Prof. Mills' death in 2012 if nothing was done about it; and had also predicted Nana Akufo Addo's defeat that would happen if the NPP did not do some 'things' he had prophesied. He went further to even state categorically that he saw Ghana's elections heading to a court, all in 2012.

In fact, listening to this audio which was recorded by one radio station in Kumasi, as the pastor was being interviewed live on Radio some hours to the election, made me realise that, in fact, as the prophet would say: people in Authority in Ghana do not respect the views of Pastors and even others who have no formal education.

I had to search for this man of God who is by name Prophet Johnson Adu Boahen, to find out from him if he's been contacted by any political party recently as this year's elections draw closer, and he replied in the negative.
So this precious gift to this country is ignored because he's not famous or uneducated to be used by God'?

Take a listen to this audio below and tell if this prophet should be taken seriously or not.

By: Nana Boateng

A concerned Citizen